Remember how it felt like an eternity from July to August's Show Us Your Books? Did it feel like the exact opposite this time? Like we just did this last week?
I thought so.
Still, though, I managed to read 9 books in the weeks since last month's linkup (and, once again, thank you to everyone who continues to link up with me and Steph and welcome to anyone joining us for the first time) which is a little high, even for me. I still haven't finished A Little Life or The Oregon Trail: A New American Journey (I'm committed to doing that this week) but here's a recap of what I did read. For those who are interested solely in which ones I most recommend, skip to the end.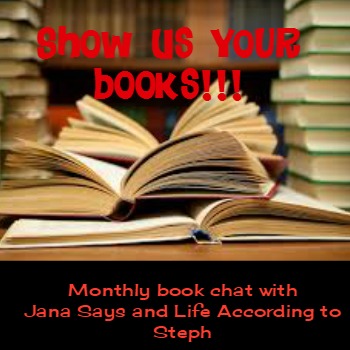 I Regret Nothing by Jen Lancaster. Her newest humor memoir which, thankfully, redeemed her a little bit from her past few efforts (I still haven't read her newest fiction but I'm in no hurry to do that). It still has the bitchy, entitled attitude as all of her memoirs but this one seems to circling back to the introspection that was present in her first few. I actually like how she created her bucket list and, if I'm being honest, she's the reason the husband and I have decided to walk a 10K in the spring.
Inside the O'Briens by Lisa Genova. I'd been wanting to read this book, by the author of Still Alice, since I first learned about it. It did not disappoint. The story bounced back and forth between two perspectives–Joe, a former cop, diagnosed with Huntington's Disease, and his youngest daughter, Katie. This book did remind me of Still Alice and since the author has a PhD in Neuroscience, I appreciated the painstaking accuracy of the disease because it contributed to a beautiful story of family, pain, and love. I could have done without one of the sons, the ending made me angry (I felt cheated) and it also left me wondering why no one ever commented on the wife's horrible cooking (it's mentioned quite often).
Every Last Word by Tamara Ireland Stone. A YA book about a popular girl with OCD (it's actually what drew me to the book. OCD is not a disease that's often a central character in a book). Samantha befriends a new girl, Caroline, joins a secret society of school misfits, Poet's Corner, and makes amends with many people she and her former friends had hurt (including one, AJ, who she develops a huge crush on), and all the stuff you'd find in a typical YA book ensues. It was an easy read, not too memorable, and there was a bit about Sam experiencing hallucinations that bothered me and was way too glossed over.
Girl Waits with Gun by Amy Stewart. I received an ARC of this book from NetGalley and I am so glad I did because this book KICKED MAJOR ASS. It's based on a real woman, Constance Kopp, one of the first female deputy sheriffs in the US, and her two sisters. The women get into an unfortunate buggy accident with a man who turns out to be a huge asshole. I don't want to give too much away but you really need to read the story to find out what happens and how Constance is such a freaking bad ass and how she handles the bullying. You know how sometimes you read a book and you're like OMG THIS BOOK IS AWESOME AND I AM SO GLAD IT'S IN MY LIFE? That's how I felt about it. Quick note: it can be a slow read if you're not as intrigued by the story as I was.
Confess by Colleen Hoover. A fine weekend read. Nothing too special. Typical romance, chick lit type book, perfect to read in between heavy books or to pass the time on a day where it's too hot or cold to go outside. I did like the concept of paintings based on secret confessions, I did enjoy the conflict between Auburn (I hated her name, though) and her son's grandmother, and I did like the way she tied all the main characters together at the end, that was kind of cool, but I am really tired of the "woman being attacked and being saved by the man she thinks she loves" story line. It's boring.
Love May Fail by Matthew Quick. I think Steph is reviewing this book this month as well and I'll say right off the bat that I did not like it as much as my co-host. Don't get me wrong. The hairband mentions and plot points and references were awesome, Chuck and Sister Maeve rocked as characters (I could read a whole book about either of them), and overall, the story was fun and engaging to read. I felt sadness when I was supposed to, happiness when I was supposed to, and I liked the elements of realism he threw into the story. But there were a bunch of gratuitous plot points I could have done without (and they were threaded throughout the book, which is why they irked me) and I really wanted there to be less of Mr. Vernon.
Some Girls Are by Courtney Summers. I heard of this book via a Book Riot post about banned or challenged books so of course I had to read it. You guys, this is such an important book and I implore you to read it. It is ugly, painful, way too real, and necessary to read. It centers on a sexual assault and how one girl in a popular clique uses it to bring on the demise and excessive, horrible, vile bullying (verbal and physical) to the victim (also a member of said popular clique). I felt like crying for most of the book, either because of sadness or anger, and as a parent, it makes me scared for my daughter. I mean, I know it's fiction, but not really. This kind of stuff actually happens.
Hyacinth Girls by Lauren Frankel. Another book about teenage girl bullying. Another important read. Not quite as good as Some Girls Are but definitely close. I don't even know how to talk about this book properly except to say holy shit, girls are awful and parents, don't always think your kids are the good, innocent ones. There is a bit of mystery element to this book that makes sense but did detract from the story a bit but it wasn't so distracting or irrelevant you wanted it to stop and by the time you get to the end, it makes sense why it's there.
Trust No One by Paul Cleave. The fact that a thriller was a nice come down from back to back books about teenage bullying says a lot. It helped that this book was great. Well written with just the right amount of fucked-up. Alzheimer's is a very personal disease for me so I was skeptical of using it as the baseline for a story but the author handled it well, without making fun of the disease and painting a very realistic portrait of someone suffering (albeit in a very different way than Alice in Still Alice) while still creating a great suspenseful plot. Jerry's Madness Journal was probably my favorite part of the book because it was such a unique way to tell this kind of story. Also, this was my last book of the Literary Ladies Summer Reading Challenge!
Read these: Girl Waits with Gun, Some Girls Are, Trust No One, Inside the O'Briens
Now it's your turn! Link up and Show Us Your Books (also, if you tweet about the post, use the hashtag #showusyourbooks. That way it's easy to find)
Loading InLinkz ...
Save