Make sure you read to the end of today's post because there's something extra special for y'all. But before we get to that, let's discuss the books I read last month because today is Show Us Your Books day with me and Steph!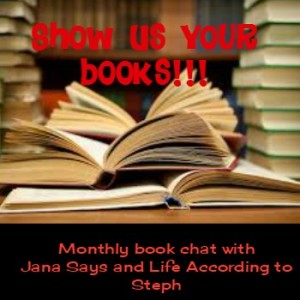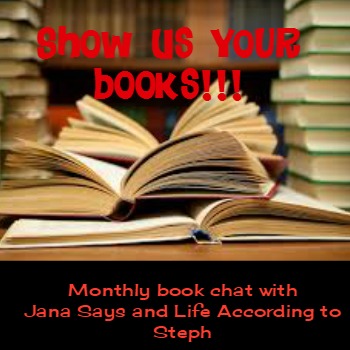 I read 8 books last month but I'm only reviewing 7 because one was a not yet published manuscript of a book written by my friend Nick and they'll be more about his book in a separate author interview later in the month. Meanwhile, you should check out his blog, Confessions of a Terrible Husband. Seriously. Do it.
Now, here's what I read:
Saving Francesca by Melina Marchetta. Probably the most difficult book, emotionally, for me to read. It dealt with miscarriage and maternal depression and the effects it has on the kids, families, parent/child relationships, and life in general. The main plot of Francesca trying to navigate a new high school, new friendships, and all the teenage stuff amidst her mother falling into a deep depression felt all too real to me and it hurt me to read. I felt all the feels. I could relate more than I wanted to. A fantastic read.
The Storied Life of AJ Fikry by Gabrielle Zevin. Read this one in an afternoon. It's a short, quick, cute read about the life of a quirky widowed bookseller and the events that happen after his wife's death that make him "live" again. My favorite part of the book was his little notes/reviews of books and short stories, written as letters to his adopted daughter. The ending doesn't turn out the way you'd expect, which is nice, and I enjoyed how this weird ass bookseller turns a whole bunch of nonreaders into avid readers.
True Story: Murder, Memoir, Mea Culpa by Michael Finkel. Be still my beating criminal justice nerd heart. No joke, I learned about this story because it was turned into a movie with James Franco and Jonah Hill and it seemed like something I had to read. I do love nonfiction, specifically of the memoir kind, and when you combine a fascinating story that seems so implausible it has to be true with great writing, you get a book that is hard to put down. That's what this one was for me.
What Alice Forgot and Big Little Lies by Liane Moriarty. I finally got to read both of these! Kudos to my library for the syncronization (I also have The Husband's Secret on my nightstand for this month). I'm reviewing them together because I have similar comments for both. Liane Moriarty reminds me of Rainbow Rowell in that she knows how to develop characters that feel completely real and puts them in stories that also feel completely real (mostly). She is a wonderful storyteller although, at times, she is a bit longwinded and seems to be stretching the plot simply to fill space. I enjoyed Big Little Lies more than What Alice Forgot for a number of reasons, including the more rapid pace of the book, the more realistic and heartwrenching storylines, and also, as the mother of an elementary school child, I could relate to the playground politics.
The Leisure Seeker by Michael Zadoorian. I think Steph is the one who discussed this book last month and I requested it from the library tout de suite. I finished it in roughly 2 days as it was a fast paced, fun read if not sad and emotional and punch you in the gut heartbreaking, especially at the end. It's not often that 2 sick, elderly people are the central characters in a book; they're typically ancillary or the "problem" that other characters are dealing with. So I loved the fact that the book focused on them, giving their perspective and insight. I enjoy books with non-typical narrators and if you do, too, get on this one. Actually, even if you don't, get on this one, too.
Wonder by R.J. Palacio. This book. Holy shit, you guys. I cannot wait until my daughter is old enough to read it because she will and if you have kids, you need to make them read it, too. You can pass it on to them after you finish it because everyone, and I mean EVERYONE, needs to read this book. Told from the perspective of several people involved in the life of a genetically disfigured boy, including the boy (Auggie) but who's normal in every other sense of the word, it is probably the best "don't judge a book by its cover" lesson I've ever encountered. Nothing I can write about this book will do it justice so I'm just going to stop.
It's not often that I enjoy every book I read in a month but that's what this past month was for me. I can't even pick which ones I'd recommend more than others because I think you should read all of them.
On deck for June/July: Dept. of Speculation by Jenny Offill; The Universe Versus Alex Woods by Gavin Extence (in progress), Forever, Interrupted by Taylor Jenkins Reid; Some Luck by Jane Smiley; The Long Home by William Gay; Missoula: Rape and the Justice System in a College Town by Jon Krakauer; and The Husband's Secret by Liane Moriarity.
Now it's your turn! Link up and tell us what you read!
P.S. Here's the surprise and I'm screaming in my head because it's freaking cool and I can't believe I'm actually excited to see the movie version of a book but this looks AMAZING (except for the fact that in the book, Mark is single and in the movie he's married but whatever). GUYS. IT'S THE TRAILER FOR THE MARTIAN!!!!
Save