Hooray for books!
I feel like I say that every month but it's the truth. Nothing really makes me happier than talking books and each month Steph and I do this, and you guys all join us, it's sends me over the moon with excitement that others like to talk books as much as I do. So, thank you for continuing to join us and show us your books.
This past month, I read an average amount of books for me–7, including one DNF. They ranged from short stories to memoir to fiction yet each book left me with the same thought. What the fuck did I just read?
No joke, I had a hard time wrapping my head around all the books I read this past month. I don't necessarily mean that in a bad way. Just that each book left me scratching my head and thinking about something I hadn't anticipated thinking about (or in the case of a couple, try really hard not to think about). Most of the books were dark and sad and the exact opposite of light and fluffy.
Let's talk about what I read so you get what I mean. There's a TL; DR summary at the end because we all know I'm long winded.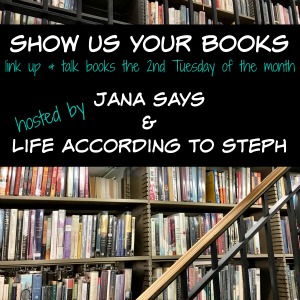 Fortune Smiles by Adam Johnson. This is a collection of really well-written short stories, none connected to each other with any central theme except maybe money, but it was so diverse that if you're not paying attention, you'd miss the theme. For me, the strongest stories were at the beginning, one about a man in post-Katrina New Orleans looking for his son's mother, another about a woman dying of rare disease and her husband trying to cope with it and her seeking comfort in the music of Nirvana, then followed by a few weird ones including a very disturbing story about a guy working in child pornography, and then ending with its weakest story, taking place in South Korea, about 2 North Korean defectors. It's only 6 stories but they are powerful and some could stand as a book but I'm glad they're only short stories.
Tampa by Alissa Nutting. This was not the next book I read sequentially but it has to do with pedophilia so it seemed logical to write about it and just get this whole disgusting subject out of the way. I really don't even know how to fairly review this book because while I love her writing style, the subject matter was so cringe inducing I had a difficult time reading it. The fact that she wrote her vile, repugnant, calculating, pedophile, narcissistic main character, Celeste, in such a way that made you want to keep reading is definitely a testament to how she can write. I don't want to give too much away but the story is about a teacher who purposefully seeks out 14 year old boys to have sex with and the consequences of that. It's a fucking disturbing story. I'm glad she told the story with a female perpetrator, though, and turned the whole "sleep with my teacher" fantasy/trope on its head. I highly caution people about reading this book, though. It is not easy to read AT ALL and there's also lots of graphic descriptions of sex. If you can't handle that, don't read this.
A Prayer for Owen Meany by John Irving. This was my DNF. I tried, I really did. I kept hearing good things about the ending and how beautiful and tragic and amazing the story was but I found Owen insufferable to read, including the way Irving capitalizes Owen's speech (since he shouts), it was a horribly boring plot, the narrator bugged me, too, and maybe it's just not the right time for me to read this book. Sorry, Kathy and Steph. But I gave it 200+ pages before I quit.
Pretty Girls by Karin Slaughter. Standard mystery/thriller with a disgusting, fucked up twist. Snuff porn. If you don't know what that is, I'm jealous of you. It's…I don't even know how to describe it properly because it's almost the worst thing ever (child porn is the worst and we've covered that already). Honestly, I found myself thinking that this was the most fucked up book I'd ever read until I got to Tampa and then it won that crown but this one is a close second. I will tell you, though, it's really only the type of crimes she chose that make this book stand out for me. It followed the thriller formula you'd expect, it was pretty predictable, but the crimes were their own character instead of a plot point which made it a more engaging read.
Crank by Ellen Hopkins. A book of poetry based on her daughter's experience as a meth addict. The first in a three part series. When I saw this was a book of poetry, I was excited because that's one of the categories on my personal reading challenge. I was not expecting what I read. This read more like a narrative rather than what you'd expect from poetry, and reading Kristina's decent into addiction, and it's ramifications (including becoming pregnant by her rapist), ripped out my heart. It reminded me of The Heroin Diaries if they had been written by a teenage girl instead of a rock star. The style of the poetry bugged me at times but not so much that I couldn't read or wanted to stop reading. Or that I haven't put the other two on hold.
Bootstrapper: From Broke to Badass on a Northern Michigan Farm by Mardi Jo Link. This was a memoir about a divorcee and her rise out of debt and poverty (like, no heat or food and close to losing your house in a Northern Michigan winter poverty). She broke the story down by month over the course of a year and it was interesting to watch her mindset and moods fluctuate so much. I think it painted a much more realistic picture but, at times, it got really, really infuriating. You wanted to wring her neck over some of her choices and decisions but, in the end, she makes a really good one. She's pretty likable which compensates for a lot.
Violent Ends by Shaun David Hutchinson (editor). Mother of hell, this was a phenomenal book. It's a book of short stories, each written by a different YA author (17 in all), from different perspectives on a school shooting. It's not a book about the shooting. It's not a book about the aftermath. It's not a book about what led up to it because you'll have to figure out a lot of that yourself and even then, it's ambiguous. It's not necessarily a book about making the shooter, a boy named Kirby, sympathetic. It's a book, like the Goodreads description says, about perspectives. Except not one of the perspectives is the shooter's. They're his bullies, his friends, his victims, his sister, even the gun he used, all of the trying to understand why Kirby did what he did. This book will rip your heart apart in a million pieces and just when you think you can't be any more destroyed, you'll get destroyed again. This is the book by which I will judge all other books this year.
TL;DR: Definitely read Violent Ends, Crank, and Fortune Smiles. Read Tampa and Pretty Girls if you can stomach the graphic horribleness of the subject matter. Read Bootstrapper if you like a fun, easy to read memoir. Owen Meany, though, I'd avoid.
Now it's your turn! What did you read? Bloggers, link up below. Nonbloggers, let me know in the comments. And please make sure you go visit some of the other posts because I have found many a good book in those posts:
Loading InLinkz ...
P.S. Steph and I have a podcast now. It's called The Armchair Librarians. It was supposed to launch today but I shit the bed and couldn't get the tech end ready. We'll have it for you soon.
Save