Second Tuesday of the month. You know what that means.
Don't forget to visit both me and Steph, some of the others linking up, and let me know what you're reading in the comments if you forgot to write a post and/or you're a non-blogger.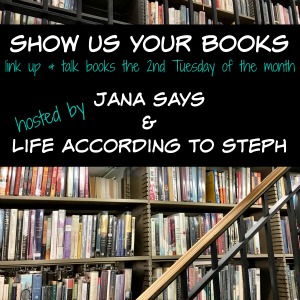 You guys. The Devil in the White City is murdering my reading mojo. The parts about the serial killer are fucking fascinating but getting through the parts about the coming together of the World's Fair is a tedium I've never read through before. Since I'm still working through it, and cannot read more than 20 pages at a time (although I have taken to skipping the World's Fair chapters completely and just reading the murdery ones), I also have a side book. As you do. And the side books this month have all been rather short. I don't think I read one that was more than 350 pages. I was more eclectic than usual this month as well. No real reason.
If you follow me on Litsy (I think my user name is just my name, Jana, because I am insanely creative), you've seen these reviews and I apologize but I am way too lazy to rereview them.
Hurt People by Cote Smith. A decent thriller that I liked, not loved. The premise was great, the plot well executed, the tension was palpable, and he's an engaging writer but the fact that that narrator was what I pictured to be a 9 year old boy became tiring after awhile. I don't know how to properly describe it but there was a lot of what the narrator imagined would happen in a scenario before there was actually what happened. It bothered me. Also, the two main characters didn't have names. I'm sure it's a stylistic choice to make a point but it bothered me.
First Comes Love by Emily Giffin. Emily, you and I are done. Between the last book and this piece of shit, I can't read you anymore. In fact, the best thing I can say about this book is that it was better than your last one. I loathed the characters, the plot, and it was difficult to care about anything that happened, even the sad stuff. And, having struggled with infertility issues, the whole pregnancy/baby daddy/sperm donor storyline was oversimplified and borderline offensive. This was an ARC from NetGalley and I think I'm supposed to thank the publisher for the book, too, but I can't remember who it is. Sorry, publisher.
The Invoice by Jonas Karlsson. This book sort of reminded me of a literary version of Defending Your Life (the movie with Albert Brooks and Meryl Streep where he dies and goes on trial to see if he goes to heaven or has to try life again. It's a great movie if you've not seen it). What I liked most about the book was not the writing or characters, which were good and interesting, respectively, but the way it makes you think about the value of happiness and how we measure a life. It's a quick, thoughtful read and while it starts off slow, it's worth it to keep going. This was a NetGalley ARC as well.
Real Artists Have Day Jobs by Sara Benincasa. After this book, I am now obsessed with her and I swear it has nothing to do with the fact that she regrammed my blurb about her book on IG. She's just fucking awesome and I cannot wait to get my hands on her other books. This book, though, is funny and real and honest and packed with self-help information that anyone of any age can use and she gives it in such a noncondescending way that you feel empowered after you read it. She says that she loves Amy Poehler (there's a whole chapter about it) and this book actually reminds me of Yes Please. Personal stories with a tinge of self-deprecation intertwined with life lessons and almost no ego or braggadocio (and trust when I say she has plenty to brag about). Even if you don't like self-help books, read this one.
The Notorious RBG: The Life and Times of Ruth Bader Ginsburg by Irin Carmon. If you listen to The Armchair Librarians, you know my thoughts on this book but to sum up: what a badass, pioneering, smart, determined woman we have sitting on the bench. This country is better because of her. Not only did she advocate and fight for equality but her own personal struggles and triumphs over the discrimination she faced made it all that more compelling of a read. Her relationship with her husband was incredible and the chapter at the end for how to live like RBG is probably my favorite. The only con is reading through the legalese but the authors break it down pretty well.
Tuesday Nights in 1980 by Molly Prentiss. I'm not sure exactly what it is about this book that made me enjoy it so much. But there was something about the way the characters intersected and the way she wrote, like she was in my living room, telling me a story instead of writing it, and the backdrop of 1980 and the NYC arts scene that made it a compelling, heartbreaking, and beautiful read. I feel like this book is what Sweetbitter tried to do.
Listen to Me by Hannah Pittard. I enjoy Hannah Pittard as a writer. Having read all of her books, I say that with certainty. She weaves a story with beautifully and perfectly choiced words, and, since her books are short, precision. She tells wonderful narratives and constructs realistic plots. That said, this book did not do what I wanted it to. The defining moment of the plot was rushed, and I felt completely misled as to what it was going to be, and there was too much minutia instead. And that type of climactic moment usually reduces me to tears but in this book, it felt too clinical and matter of fact. There was no emotion connected to it. And Mark, the husband, is a raging turd. He almost ruined the book. I hated him and wanted him to go away.
TL;DR–Add Tuesday Nights in 1980, Real Artists Have Day Jobs, The Notorious RBG. The Invoice if you need a quick vacation book. Avoid Emily Giffin. Watch Defending Your Life. 
Your turn. You know what to do. Next one is September 13.
Loading InLinkz ...
Save