Before we get started, let me just wish all my awesome booknerds a happy National Library Week! It's mostly a coincidence that this month's Show Us Your Books happens this week but it's not a coincidence that libraries are The Armchair Librarians' topic this week (well, we hope. Lots of tech problems) so make sure you look for the new episode landing on your favorite podcasting app this Thursday.
Now let's talk books. I had a huge reading slump this month, leading me to only read 5 books which is the same as last month but given the extra week between linkups it should have been more. I mostly blame Skippy Dies by Paul Murphy. I just could not get into that book (it was a DNF after 10 pages) and it sort of put me in a tailspin. But I accept that reading slumps happen and I'm not overly stressed about it. Mostly because I've come out on the other side but also because I read so much that to go a few days of not reading a book isn't really the worst thing in the world.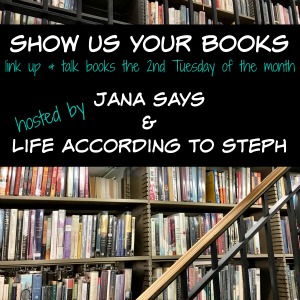 As I predicted, Evicted by Matthew Desmond brought me out of the slump and now I'm back to my old reading pace. I need the library to stop holding out on me and give me what I want (namely, the 7 books I have on hold) but I'm finally working through all my NetGalley books. I also have a bunch of books on my bookshelf I've been meaning to read (and, thanks to Erin, I'll plan to do that this summer. She and Dani are launching another reading challenge in June and this one is dedicated to reading the books you have on your shelf that you just haven't gotten around to reading. Make sure you're following her to get updates about that challenge which, incidentally, has a prize at the end!)
Beasts and Children by Amy Parker. This is a book of short stories all about, well, beasts and children. It is extremely well written but all kinds of horrible things happen to kids and animals and that made it hard for me to read at times and, if I'm being honest, I actually did not finish a few of the stories because I just couldn't do it. I did enjoy how many of the stories were connected to each other, which is different from most books of short stories I read, but overall, this not my favorite collection of short stories. Definitely not my favorite book of the month either. I did like it more than Skippy Dies, though.
American Housewife by Helen Ellis. Also a book of short stories but one I absolutely adored. All of the stories revolved around different types of women, mothers and wives mostly. My favorite ones were her "how to…" stories but there were some with crazy ladies, overworked ladies, and a few that were just straight up bizarre. The variation kept me reading and engaged and I couldn't wait to find out what happened in the next story. I read this while on vacation in Massachusetts and it was a perfect vacation read. It's really a good anytime read but it worked well while in the midst of a reading slump on vacation, too.
Fallout by Ellen Hopkins. The final book in the Crank trilogy. This one is told from the perspective of three of Kristina's kids, and while it still was in that sonnet/poem format which plucks all my nerves and I wish she'd written these books as novels instead, this particular book was probably my favorite of the three. She did an incredible job telling the story of her grandkids and the impact having a meth addicted mother has on them. This could probably be a standalone book if you don't want to read the first two. I'm not sure that I'll read more of Hopkins's writing but I'm extremely glad I read this particular trilogy. I like books that tackle ugly subjects and take care not to sugar coat anything but still handle the subject with respect.
The Readers of Broken Wheel Recommend by Katarina Bivald. I have mixed feelings about this book. On the one hand, I love the quirkiness of the characters, the obvious affection for books (this book is essentially a love letter to books and authors), the addressing of what happens to dying towns, and the writing. On the other hand, the book had A LOT going on, it was pretty slow until the last 100 pages, and there were way too many characters. I needed some sort of character map to keep them all straight. It was a decent book and had I read it not in the midst of a reading slump, I might have felt differently about it because this is the kind of book you need to read at the right time. I don't know what that time is, exactly, but definitely not on the heels of a book you hated.
Evicted: Poverty and Profit in the American City by Matthew Desmond. Holy fuck, did I love the hell out of this book. I got it as an ARC from NetGalley because it's right in my wheelhouse for nonfiction, and I figured I'd like it. Never imagined I'd love it as much as I did. It's an ethnographic study of renters and landlords in Milwaukee, focusing primarily on 8 families and their quest to find safe, affordable, decent housing and two landlords who own the properties and how they make money on the dilapidated properties they own. There's a lot about eviction (as expected from the title), relationships between landlords and tenants, and housing policy and it was fucking fascinating. Also, he is an incredible writer and the amount of research he did for this book beyond his own field work is amazing. Fun fact: The author won a MacArthur Genius Grant for his work on poverty.
Currently reading but didn't finish in time to include it in the linkup: Crooked Little Lies by Barbara Taylor Sissel. So far, it's a decent read. Update: thanks to a raging case of sleeplessness, I finished this book. Don't bother with it. I give the author an A for effort but it's a terrible mess of a book. It can't decide what it wants to be and while it's definitely a cozy mystery, it's poorly done. It worked too hard when it didn't need to and then no hard enough at other times. I can't even with the dialogue throughout, and the rest was just meh. P.S. This was also a NetGalley book.
Now it's your turn! Bloggers, link up with your posts and nonbloggers, tell me in the comments what you've been reading. Don't forget to visit Steph as well as some of the other bloggers joining us this month:
Loading InLinkz ...
Save