Holy shit, you guys. I cannot believe this is the THIRD ANNIVERSARY of Show Us Your Books. I think I can speak for Steph when I say that we are thrilled you guys love our little linkup and we are astonished that it's lasted for three years. If that doesn't speak to the power of books and how book lovers come together, I don't know what does.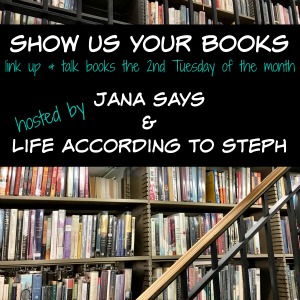 As a thank you, we have a little giveaway for you (you can find it at the end of the linkup). But before we get to that, let's check out what I read last month. It's a bit less than I'd hoped but you know, it's hard to read when you can't stop crying. Also, we were supposed to reveal the new button this month but I suck at life and responsibility lately so next month for sure.
As always, my reviews are copied/embellished from my Litsy reviews (I'd encourage you to follow me over there but honestly, it's very boring):
Miss Kopp's Midnight Confessions by Amy Stewart. To know me is to know how much I love the Constance Kopp books and how much I love Amy Stewart for bringing her into my life. This book is a little busier than the other ones but it ties itself up so well at the end. The social politics of the time are infuriating but necessary to read because without that context, you don't realize how Constance is so groundbreaking and such a pioneer and integral to feminism. An unsung and under-noticed hero. This is the only historical fiction I read for a reason. (P.S. This review is Amy Stewart approved. She liked it on Litsy!)
Janesville: An American Story by Amy Goldstein This book is sad, eye opening, frustrating, maddening, inspirational, and every emotion you can think of. She immersed herself in this town and legit cares for it and the people and it shows in her writing and careful portrayal. It's a very political story but she does a phenomenal job of removing her biases. This is a fascinating look at what happened to this town during and after the Recession and for me, is on par with Matthew Desmond's Evicted.
Bird Box by Josh Malerman I have no idea what the flying fuck I read. Some sort of bizarre apocalyptic commentary on mass hysteria and what our imagination can do to us or a terrifying horror novel? That is a question I can't answer and won't even attempt to but I do know I was not a fan. I didn't hate it and would recommend if you like weird novels with strange endings and a tinge of horror but if you like linear books that actually make sense, pass on this one.
Grist Mill Road by Christopher J. Yates Sometimes you read a book and despite the fact that it has all your plot pet peeves rolled into one, you love the book anyway. It's about the dangers of secrets and friendship and what can happen when you don't know the whole story and it's set in the aftermath of a tragic event (and also the Recession which made for an interesting side story). It's horribly sad, a little thrillery, and wonderfully written. ARC from NetGalley.
The Locals by Jonathan Dee This was more of a character study and analysis of a town in the wake of 9/11 and through the Recession and the Occupy Wall Street movement and all that rather than a novel with a tightly woven plot. Similar to Did You Ever Have a Family?, it was sad and beautifully written and SLOW and there was a distinct story progression that including the importance of otherwise peripheral characters but you kept reading because you wanted to learn about the people. The end was not the payoff I'd hoped for but the journey there was great.
American Fire: Love, Arson, and Life in a Vanishing Land This short book about arson on the Eastern Shore of VA is engrossing, interesting, and meticulously researched. It explores the region, the crimes, criminals, the firefighters, investigators…everyone and everything in a careful and sympathetic manner. Her bias does show but her sympathy shows more. It balances history with the way things are done currently and the only part I found lacking was an exploration into motive and the relationship between the arsonists. (P.S. My in-laws live near the Eastern Shore and my mother in law confirmed that this was BIG NEWS when it happened a few years ago so that's pretty cool)
TL;DR. With the exception of Bird Box, I loved every book I read this month. If you're not a nonfiction fan, Janesville won't be for you but American Fire might be. The three Recession books in one month were unplanned. As was two books by women named Amy.
Currently reading: Little Fires Everywhere by Celeste Ng with The Both Die At the End and Caroline in the queue.
Now it's your turn! Link up, visit some other bloggers, and show us your books (and don't forget to scroll to the bottom and enter the Amazon giveaway)!
Loading InLinkz ...
a Rafflecopter giveaway