It's my favorite day of the month because it's the day we all talk about books! Yay for books!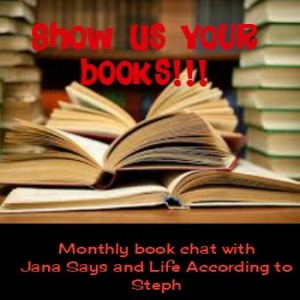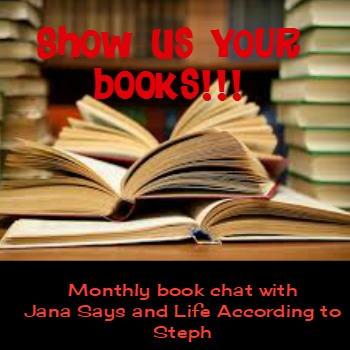 Let's get right to it.
For this month's review, I've got 6 books for you. I'm in the middle of both As You Wish: Inconceivable Tales From the Making of the Princess Bride and The Journalist and the Murderer but I didn't finish either of them in time for today's post (because naps and football and weekend laziness and I watched Apocalypse Now on Saturday so there went my whole life because holy fuck is that a long movie) so we'll talk about them next month.
Here's what we'll be reviewing today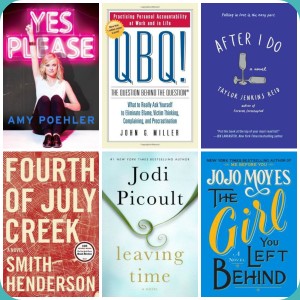 Yes Please by Amy Poehler. Jana Says: Like basically everyone everywhere, I love Amy Poehler. She's pretty much the best. Same with her book. It was filled with all kinds of personal stories and sound advice and it's broken it up into sections that sort of made sense together and famous people names but what I loved most about the book was a) she refused to bad mouth her ex-husband and b) the love and passion she clearly has for her family, friends, and career. She comes across just as you'd think she would–confident and humble and hilarious. It's a great read with one huge downfall. The book weighs about 2390478 pounds. It's printed on photo paper and it's freaking heavy. Be careful when picking up this book.
QBQ! The Question Behind the Question: Practicing Personal Accountability at Work and in Life by John G. Miller. Jana says: I read this at the recommendation of my friend Nick who I respect a lot. However. I did not enjoy this book at all. I mean, it's well written and ridiculously short and has so much potential but rather than full of practical advice, I found it filled with short anecdotes, motivational quotes, and platitudes. Kind of like what you would get at a one day seminar your day job sends you to. There was no depth to the book, even in the chapters that seemed the most promising. I'm upset because the author seems like a genuinely nice guy who wants to help people but for me, the book fell completely flat.
After I Do by Taylor Jenkins Reid. Jana says: I finished this book in a day. Correction. A few hours. I love the premise behind the book–a married couple fall out of love with each other and seek to figure out their marriage not by divorce or by affair but by separating and cutting off communication with each other entirely. Or do they? Marriage is freaking hard work and I enjoyed how the book tackled that head on. It's not always popular to dispel the fantasy of fairy tale marriages or ones that end in disaster and while the ending wasn't my favorite, the rest of the story made up for it.
Fourth of July Creek by Smith Henderson. Jana says: I don't even know how to review this book. If we're friends on Goodreads, you'll notice I gave it no stars. That's not because I hated the book. Not since The Story of Edgar Sawtelle have I both loved and hated a book so much at the same time. I mean, it is an incredibly detailed, intricate, interesting story of a social worker in 1980s Wyoming who is simultaneously trying to find his runaway daughter, deal with a mess of teenage client, and save a survivalist and his son. Completely engrossing. But sometimes, it got to be too heavy, too tedious, too long winded to read. And honestly, I don't get the 1980s setting. It could have easily taken place in any decade. And as a former social worker type, I truly don't understand how Pete wasn't fired for some of the shit he did.
Leaving Time by Jodi Picoult. Jana says: Oh, Jodi Picoult, how I want to quit you. And I almost did a few books ago. But then you churned out The Storyteller and now you gave me Leaving Time and I can't let you go. What a great story you wove with this one. The ending was the first time one of your books actually caught me by surprise with your formulaic and expected twist and using a teenager, a real, complex teenager, as the narrator means that the next book you write will be on my to-read list. The only part of this book that got a bit tedious for me was the almost preachy tone about the elephants. I get raising awareness but it was too much at times.
The Girl You Left Behind by Jojo Moyes. Jana says: I had high, high hopes for this book after reading Me Before You a few months ago, which was probably unfair to the book and the author. And I did enjoy the first part of the book with Sophie and the painting and France and World War I (as a reader, I liked that she chose to set the beginning of the book during WWI. WWII is getting to be an overused setting and it's almost too easy) and Liv's sadness and loneliness in the present day are heartbreaking. The back and forth between present and past made for engaging reading but like After I Do, the ending was too easy, simple, and clean. I would have preferred a messier ending to a story like this.
Now it's your turn. What did you read this month? Link up below or, if you're not a blogger, tell me in the comments:

Loading InLinkz ...
Save