via GIPHY
This best describes my reading pace lately. It's not that I'm not reading; I read every single day. I'm just reading painfully slow. I don't know if it's the books or me or a combination but it's starting annoy me. I know it's not a race. But still. You guys understand.
As always, make sure to visit my co-host, Steph, and some of the other bloggers joining in. Maybe visit someone you haven't before. Nonbloggers, let me know in the comments what you've been reading. And mark your calendars for 3/13 for the next one.
Now, the paltry sum of 7 books I've read since the last time we all met.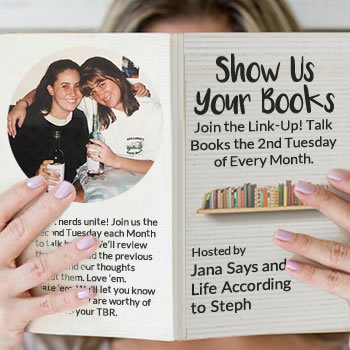 The Life We Bury by Allen Eskens. I liked this book. A LOT. It was everything I enjoy. Good writing, interesting and compelling story, great characters, mystery, conflict…all of it. Then the last 100 pages happened and it went off the rails into superfluous nonsense and too much story and trying way too hard to be action packed and just way too hard in general. It did cal itself down for the last 10 pages or so, which was nice. I still wound up liking but didn't love it as much as I thought I would.
Bluebird, Bluebird by Attica Locke. This is a mystery that's less about being a mystery and a thriller and more about being a commentary on family, secrets, racism, choices, and how they all intersect. It's not an easy book to read, and there's a ton going on (sometimes too much and it's hard to keep track) but it's engaging and interesting and well written. I didn't love the ending, it seemed a little too neat within the context of the rest of the plot, but also open ended enough for another book. Which I'd happily read.
Dear Martin by Nic Stone. This is a Very Good Book about Very Important Things and I'm glad she wrote it and did so specifically for teenagers, It talks to them about issues in a way that they'll understand and makes sense in their world. Doesn't mean adults can't read it but unlike The Hate U Give, which this book is often compared to, adults might not appreciate it as much. It feels juvenile. Which it should. YA books sometimes need to be written for that particular audience. They need to see themselves in literature. And in the book, the kids' frustrations and anger are palpable and it's maddening that this is the world we live in.
The Road Out of Hell by Anthony Flacco. I saw this on BuzzFeed(?) as described as the most disturbing book you'll ever read. Awesome! Sign me up! And it was disturbing. Gross, horrifying, and also true. And I love some true crime. But something about this book was lacking. I think it was the writing. It just didn't connect for me. I'm not sure if it's his style or the way he dragged out certain parts, especially the end, or what but while the story is fascinating, it deserved a better telling. Oh, and Brother by Ania Ahlborn is WAY MORE disturbing.
The Dry by Jane Harper. I'm totally late to the party on this one but I liked every single thing about it. The plot, the writing, the characters, the setting. All of it. It's such a well-done book, and exactly what a thriller should be. There's really nothing left to say except I can't wait until the library forks over the next one.
The Blinds by Adam Sternbergh. You know how when you watch a puppy it's like the cutest most awesome thing but it's also a disaster? That's this book. The premise is fantastic but it's all over the place. The writing felt like three different people wrote it, the plot was more consistent than the writing but there were too many damn people and I hated the character names. It read like LOST meets Welcome to Night Vale meets The Pines which is cool but also a hot mess. But also great.
The Comedown by Rebekah Frumkin. ARC from NetGalley. I don't know what I think. I loved the main plot and how it read like Did You Ever Have a Family or the movie Crash, exploring the way different lives are interconnected by one single event or person and the ramifications of those and how even people that seem insignificant actually are. Her writing is excellent and I loved her respect and honoring of Judaism (like taking out the "o" when writing G-d. If you want an explanation as to why we do this, I'm happy to explain). But the extended backstories of each character was tedious and annoying. I think it's a definite add to the TBR but also take your time.
TL;DR: Add The Dry if you haven't read it, Bluebird, Bluebird, and The Blinds. The rest are good but not must-adds.
Currently reading The Breakdown with 13 Minutes, Providence, and a couple of others TBD on deck. P.S. Providence is the new Caroline Kepnes book. There's no Joe but I'm excited to read it anyway.
Now it's your turn. Link up and show us your books!
Loading InLinkz ...