The timing of SUYB this year has been impeccable. In February, it fell on Valentine's Day. This month, it falls during National Library Week. No joke, I would be lost without my library. At the very least I'd be broke and living in a book fort (which, admittedly, does not sound bad). And it's not just me. Libraries are an invaluable community resource providing everything from books and movies and music to wifi and computer access to educational, family, and fitness programs (mine offers yoga twice per week!) to a shelter from the cold or heat to pretty much anything else you can imagine. Communities are stronger and more informed because of libraries so please, support yours in any way you can.
Moving on to the books I read last month in no particular order except the order in which they were read. As always, reviews are copied, with some embellished, from Litsy. Don't forget that when you're done here, visit my co-host Steph and some of the other bloggers who linked up with us today.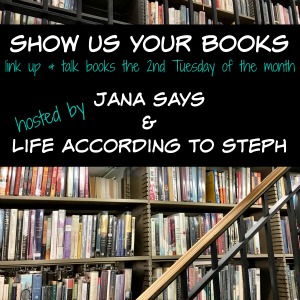 I read a disproportionate amount of fucked up books this last month. I'm currently on a three book detox that started with Dave Holmes's book. It's been glorious. But I plan to resume all the fucked up when I'm finished with them.
Never Let You Go by Chevy Stevens. What I like most about Chevy Stevens is that you can always count on her for a fast paced, engaging read. There's simimlar themes throughout her books but they're reliable and don't disappoint. That's how I felt about this book, too. I sort of figured out the twist but it was okay; I didn't want to quit the book as a result. I liked the strength of the characters, the mother-daughter relationship, and there's a dog! If you're sensitive to domestic violence, maybe this isn't for you, though. Thanks to NetGalley for the ARC.
Midnight at the Bright Ideas Bookstore by Matthew J. Sullivan. I thought this would be a cute little cozy mystery but it turned out to be a dark, twisted mystery filled with fascinating characters, a tightly woven, well written and constructed plot, and a hell of an ending even after I figured out the whodunit part (I'm pretty good at that, unfortunately). It was exceeded my expectations, I read it in 2 days, and I'm glad I requested and received it from NetGalley. This a great vacation/plane/rainy day read.
The Handmaid's Tale by Margaret Atwood. I struggled with processing my thoughts on this one. I'd never read it before but I almost wish I had in school because this is definitely a "let's talk through it as we read it books" as there's just so much. The dystopian society is not far from what could be reality; it's why it's horrifying. As a feminist, obviously I spent the book outraged. The historical epilogue was cool AF, the writing is amazing, and I get its significance in literature.
Bottomland by Michelle Hoover. This is a depressing story of family, loss, pain, and hardship told through 6 different POV. It's beautifully written but it begins super slow and stays slow but the plot gets stronger as it moves along. The characters become more interesting, tragic, and engaging and I found myself caring about them and what happens to them more than in the beginning. It's a good book, not a must read or a read in one sitting book, but it didn't feel like a waste.
Brother by Ania Ahlborn. A local bookseller gave this book to me for free because she thought it sounded like something I'd like. After reading it, I really need to change how I describe the books I like as this is the most disgusting, gruesome, twisted, horrifying book I have ever read. It wasn't bad; it kept me interested but OMG IS IT DISTURBING. I almost threw up at one point. If you like horror, this is a good one for you. If not, HARD PASS.
The Roanoke Girls by Amy Engel. Disclaimer: I read this immediately after Brother. DO NOT DO THAT. This messed up, disturbing book about a really unpleasant topic was unputdownable. Seriously. It was engrossing despite being gross (I don't want to give anything away but if you read it, the main "issue" is pretty obvious in the first 20 pages or so and I want you to decide if you can handle it without input from me) and a good, strong story. I don't even know how to properly describe what I read and I apologize but I liked the shit out of it. Thanks again, NetGalley.
Party of One: A Memoir in 21 Songs by Dave Holmes. Usually a celebrity memoir feels like there's an air of fake modesty and made up awkwardness to give that relatable feel. Not with this one. Nothing felt fake. Just an honest, open recap of his struggle with himself and how he overcame that (he's gay so a lot of his struggle relates to accepting himself and choosing to be out publicly), all set against the backdrop of music. The lack of humblebrag was nice, too, even when he discussed his time at MTV. The best part is the musical interludes. If GenX lit ever becomes a genre, this is going to be one of the books that makes it so.
TL; DR. All except Brother and Bottomland are highly recommended. Bottomland should be a someday book. NEVER read Brother unless you love horror and have a strong stomach. Please trust me on that last part.
Now it's your turn! Show Us Your Books! And mark May 9 for the next one.
Loading InLinkz ...
Save