It's been awhile since I reported my pioneer project progress. So let's do that today.
Three or so months into the project and pretty much I can say this: I haven't done much. I do notice a difference in my determination and some internal traits but as far as accomplishing things, there's not much tangible proof, save for making butter, a mending basket, and using my crockpot (which is like my version of a pioneer stove).
Let's break it down.
Gardening
This is my husband's area. He busts his ass weekly, maintaining the garden. He's constantly thinking about how to improve it and maximize the results by weeding and rotating the plants and getting rid of the ones that aren't growing so the good ones have more space (we even have some volunteers from the previous owners but that just makes me think of The Hunger Games so I call those our Katniss plants). He even used grass clippings for mulch, which is both frugal and environmentally friendly. So pioneer win on that one. The plants we started indoors are kicking ass and now it's just a matter of watering and pruning and waiting for things to grow. Then I can start working on some pioneer food things like canning.
This our insane cat hanging out in the garden. Because why not.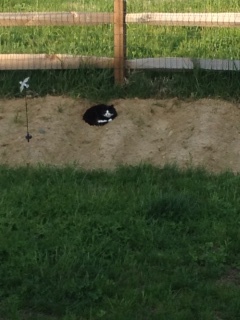 Sewing/crocheting
One word–nothing. I have done nothing to improve my sewing. I even set a goal this month to sew a pillowcase and thankfully the month isn't over yet so I can get working on this. If I can get some pillowcases, napkins, and curtains done by summer's end, we'll call that a victory. And as far as crocheting, I am trying so, so hard on this one. I practice, watch YouTube tutorials, and it's just not getting better. I think I might just need to accept the fact that maybe I am not meant to do it. But not yet. I'm not giving up yet.
Homemaking stuff
In the early days if this project, I set a weekly schedule a la Ma Ingalls. I haven't been perfect with it but I'm definitely keeping to a stricter schedule than I had prior to the project, and I am getting more done. There have even been a couple of times I washed, dried, folded, and put away laundry all in the same day. Baby steps, friends. Baby steps. I have been getting better about having a weekly food prep and baking day, running errands on one day, and staying home more. That last part isn't a problem because home > public.
I still have a few home decorating projects I need to start/work on/finish but some of those involve going to a craft store and those places intimidate the shit out of me. I also don't have a tablecloth which is really more a reflection of my laziness than an inability to do things because how hard is it to order from Amazon? I want a tablecloth for various reasons but the pioneer reason is I love that Ma used hers to differentiate between an all purpose table and the dinner table. That's a fun, practical idea.
Miscellaneous
This past weekend we went to a strawberry festival. That's pioneer like, right? We're also trying to do a better job of heating/cooling the house with windows, fans, blankets, layers, curtains, and other non-electric sources. (Except the ceiling fans. Wow, do those make a big difference.) Composting is still in full effect yet I have still not bought supplies to make candles, soap, or beer.
If I had to grade our efforts thus far, I'd give us somewhere between needs improvement and satisfactory. I suppose it's better than we haven't done shit but as far as proving to myself that I could survive life as a pioneer, I'm not making good progress at all. On the bright side, at least I know how to fix it.
I should probably do that.