You might have noticed some deficiencies in my posting schedule last week. There were a couple of reasons for that. For starters, due to some events in my personal life, my depression and anxiety ramped up big time rendering me unable to do anything except cry. Forming coherent thoughts and writing them down became as impossible as me playing in the NBA. It was at that point I was left kicking myself for not having a queue of posts that can serve as a sort of blog emergency fund for times like that (which, sadly, are becoming more and more common). Needless to say, that didn't help the depression. Or anxiety. Or crying.
Then Thursday happened.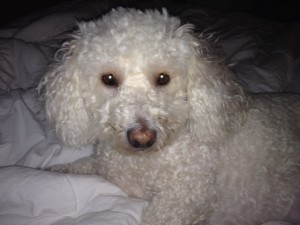 I've mentioned before that I have two dogs. What I don't think I've mentioned is that one of my dogs, Dobie, has an affinity for eating everything. And when I say everything, I mean everything. His most recent obsession is my daughter's toys. Especially Barbie's shoes and purses (and that bitch has a lot). Despite the fact that we try clean up every tiny little piece, it is inevitable that we miss one or two. But Dobie? Does not.
That dog is able to find even the tiniest toy that was left out of the storage boxes. I don't know how he does it but I can't even begin to count how many times I've found that dog chewing on a boot or a purse or even a head (or foot or arm. One time, he ate a plastic table). We're typically able to wrestle the toy away from him before he does anything bad and, even if he does consume a bit of a toy, it's been nothing to worry about.
Until Thursday.
I was awoken at 5 am on Thursday to the sound of my dog gagging. This means that he's about to throw up. In my groggy state, I was able to get him into the bathroom before he puked all over the carpet. As he is a champion puker, this was nothing to worry about. Then he did it again at 6. And throughout the day while we were at work. And 5 more times after we got home. It was so bad that by midnight, Dobie and I were on our way to the emergency room (I should note here that I did try to call our regular vet around 7:40 PM. Apparently, even though the vet's office doesn't close until 8, they turn on their answering service at 7:30PM . I did not know this. I do now).
If you've never had the pleasure of taking an animal to an emergency room, let me tell you here and now that it is EXPENSIVE. For instance, just for him to walk in the door it was going to cost us $130. I had called before we left to make sure that it was okay to take him (there are some emergency clinics by us that will not see animals that are not their patients) so I was prepared for that fee. I also was prepared for some meds and some other expenses like x-rays. What I was not prepared for was the $1300 estimate for him having to stay to be observed.
That's right. After Dobie's x-rays, the vet (who was super nice and a really good doctor) came out and told me that it would be to Dobie's benefit for him to be monitored at the hospital. The observation was going to include several different drugs as well as a second set of x-rays about 8 hours later. Now, I'm all for doing whatever is necessary to help my dog but there was one problem with Dobie staying. That problem? My family had plans to go out of town for the day to celebrate Passover. If something were to go wrong with Dobie at the hospital, we were not going to be around to deal with it. Or go over to the hospital.
So the vet and I talked. Based on the location of the foreign objects (have I mentioned that the x-rays were inconclusive as to what exactly my dog ate?), the vet was comfortable with me taking Dobie home, monitoring him and having him rechecked by his regular vet on Saturday morning. Before we left, Dobie was given a pain medication, a medication to stop vomiting, and a subcutaneous fluid injection to combat the dehydration. I was given very explicit instructions, a prescription of Tramadol for Dobie's abdominal pain and a $577 bill for the 4 hours we were there. Compared to the $1300 I thought I was going to have to pay, this was cheap.
Except it didn't end there. On Saturday, I had to pay another $229 for his follow-up visit which included another set of x-rays. (I feel that I need to pause here and thank the receptionist at the vet's office who, when I called, was so kind as to tell me that if my dog did need surgery, there was no way my regular vet was going to be able to do it and he was going to have to have it at the animal hospital where we brought him Thursday night. Thank you receptionist lady. I very much needed that extra anxiety.) Fortunately, our vet–who is just the most amazing vet I could ask for–did not think that surgery was necessary and said that, based on his assessment, things were "moving along" nicely. He sent us home with the instructions to continue the medication and bland diet regimen until Dobie becomes "regular" for a few consecutive days.
At this point, you're probably wondering why I'm telling you all of this. First, since I appreciate all of you who read this little blog regularly, I wanted to explain my absence over the last few days. Second, I wanted to share that all of Dobie's medical expenses were paid for in cash. We did not have to put one single penny on credit. I have never in my life been so relieved to have no debt as I was this past weekend. Yes, we got lucky and he didn't need surgery or an overnight (overmorning?) stay and that might have made a difference. But the fact that we were able to pay for his treatment in cash meant that we could concentrate on making sure Dobie gets better rather than stressing about having credit card debt again.
I always knew that there was reason financial bloggers and experts extol the benefits of being debt free. This weekend was the first time I really understood what a difference it makes.