It's my favorite time of the month. The day we all talk about what books we read!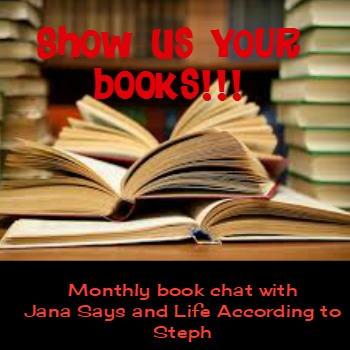 After last month's book reading blitz, I slowed down for November, only finishing 4 (well, 5 but I'm not reviewing one of them). It averages to one book a week and I'm quite pleased with that.
Last month, I also told you that I'd review Laura Vanderkam's 168 Hours: You Have More Time Than You Think because I wanted to work through some of the exercises she recommended. While I fully intended to do those, I maybe sort of definitely didn't do them, although if I want to prioritize how I spend my time next year, I will (specifically the list of 100 dreams and a time study). But I wanted to share my thoughts on the book.
So, Jana Says: The book is loaded with fantastic ideas and concepts for thinking about how to manage and use your time. After reading this, there's really no excuse for complaining that you can't get everything done. It's all about how you choose to manage your time and being realistic with your goals, plans, and how you're really spending your days, and it's essential to figure where you're spending your time. Does it match with your core competencies? Are you as busy as you think? Questions to think about and answer. However. Many of the ideas and concepts are presented with a very middle to upper class privileged bias, and sometimes it's hard to see past her entitled attitude. Also, she believes exercise is crucial and as non-negotiable as sleep and eating. She has a point but I felt like she harped on it too much and almost went out of her way to make those who don't have a regular exercise regimen feel like shit. Recommendation level: High. Even if you don't read the book, check out her website or Facebook page for related information and downloads for the time study.
Moving on to the books I read this month.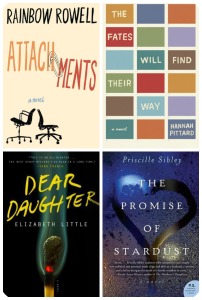 Attachments by Rainbow Rowell. Jana Says: My Rainbow Rowell binge read is finished for the year as this was the last book of hers I needed to read (she's written 4). This lands as my second favorite, after Eleanor and Park. It turned out to be a very cute, very creative love story that kept me reading long after I should have put the book down and I adored that it took place in the late 90s around the time of the Y2K obsession. I found myself liking all of the characters in the book, which almost never happens, and I want Lincoln to be a real person. Actually, thinking about it, he sort of reminded me of Jim Halpert. John Krasinski would be the perfect person to play him if this book ever becomes a movie.
The Fates Will Find Their Way by Hannah Pittard. Jana Says: After reading her book Reunion, I had high hopes for this book. I should have lowered my standards. Told from the first person plural perspective of a group of boys obsessed with a girl gone missing and her younger sister (which continued into adolescence), I found the book boring and tedious at times and some of her depictions about teenage (and later, adult) boys were stereotypical and cliche and annoying to read. At other times, though, it was weird and engrossing and made me glad I picked it up. I'm glad I read Reunion first because if this was the first book of hers I read, I wouldn't read any more.
Dear Daughter by Elizabeth Little. Jana Says: This was a fun little book. If you're looking for an intriguing mystery along the same lines of Gone Girl, this is not it (despite what people say). The writing is more immature than Gillian Flynn's, and the plot gets convoluted, and you don't feel the same emotions but it's still a good read for a Sunday afternoon while your husband is watching football and you need something else to do. I liked the almost real-time element of TMZ updates and blog posts and "breaking news" and the submystery of "where did Janie go". I hated the ending, though. Not in the Gone Girl "I hate this" but I genuinely hated it. I definitely rate it lower because of it.
The Promise of Stardust by Priscille Sibley Jana Says: I genuinely don't know how to review this book. I thoroughly enjoyed reading it, even if the pro-life agenda hidden in the story line bugged me from time to time (it was kind of preachy) but within the context of the story, it makes total sense so I'm willing to let it slide. The backstory between the two main characters was incredibly touching but I found myself getting annoyed with almost all of the characters at one point. The author did a wonderful job of handling the subject of infant loss, giving it the respect it deserves, and the controversial nature of the plot reminded me of Me Before You and some of Jodi Picoult's books that deal with morally ambiguous (I can't think of the actual word I want to use), and that makes for interesting reading.
On the December/January list: Yes Please, Leaving Time, Fourth of July Creek, and Why We Broke Up, among others.
Now it's your turn. Link up below and share what you've read:
Save