I hadn't planned on sharing my reading list for The Literary Ladies summer reading challenge but then I remembered that I do better when I make my goals public (because you know, accountability and the looming threat of public shame if I fail) so I changed my mind. If you haven't heard of the Literary Ladies, it's a reading challenge/book club (book for that is Saint Anything by Sarah Dessen if you're interested in joining) hosted by Kristen, Kay, and Kari. There's also a Goodreads group if that's your jam or you want an enhanced experience or can't wait for the linkups. The reading challenge runs from June 21-Sept 21 and the first book club discussion is August 4 (I think. Please correct me if I'm mistaken).
They picked 10 categories for the challenge so I've listed those below along with my picks. Let me know if you've read any of these so I can reconsider or if I should be even more excited to read one of them.
YA Book: Hate List by Jennifer Brown or Memoirs of a Teenage Amnesiac by Gabrielle Zevin
Book by a non-US Author: The Husband's Secret by Liane Moriarty
Book recommended by a blogger: Dirty Rush by Taylor Bell (recommended by Steph and, to be clear, I'm pretty confident I'm going to hate-read this one)
Book on my TBR list for more than a year: Shotgun Lovesongs by Nickolas Butler (added to my list on 7/23/14. Close enough)
Book with a kickass female lead: Let It Be by Chad Gayle
Book that is or will be a movie or TV show: The Long Home by William Gay (you can see here for the casting for this one)
Book by a comedian/celebrity: Modern Romance by Aziz Ansari and Eric Klinenberg
Book with a one word title: Confess by Colleen Hoover or Us by David Nicholls
Suspenseful/mystery/thriller book: Radiant Angel by Nelson DeMille
Book about summer/with summer in the title: Summerlong by Dean Bakopolous
If one reading challenge isn't enough for you, Alyssa and I will be announcing our Long Hard Reading Challenge in August, Lisa and Shelly run their monthly Page Turners book club, and Erin is also running one. If I missed one, let me know in the comments.
Happy reading!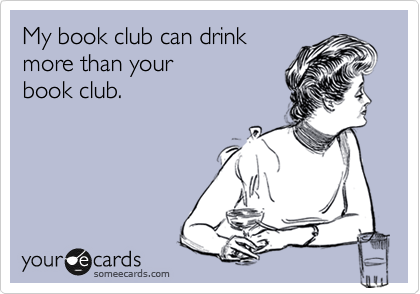 Save