I figured what better way to follow up Show Us Your Books than with Judging Covers? Especially since it's National Library Week and 3 of the 4 we're discussing are from the library. Yay for libraries!
Book #1: Deep South: Four Seasons on Back Roads by Paul Theroux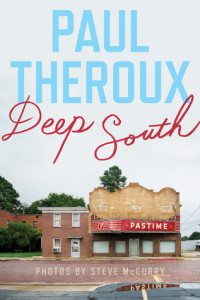 The Child says: I think it's about a southern state that doesn't have a lot of money and is really poor and nasty like New Orleans (Jana says: she probably got that from my absolutely *glowing* review of NOLA) and there is a man there who used to have a very good restaurant that's now all torn up and in bad condition. He's trying to make a life off of where he is because he doesn't have enough money to move to a happier part of his state. And he's lonely.
The Husband says: Is this a picture book?! I think it's a side of the South that is old and now unromantic. The poor side that's there. It's not the plantations and Southern Belles. It's the hardcore, ugly side of South that's not romanticized and that it may have been in the past, given the marquis, but is now no longer.
Goodreads says: Paul Theroux has spent fifty years crossing the globe, adventuring in the exotic, seeking the rich history and folklore of the far away. Now, for the first time, in his tenth travel book, Theroux explores a piece of America — the Deep South. He finds there a paradoxical place, full of incomparable music, unparalleled cuisine, and yet also some of the nation's worst schools, housing, and unemployment rates. It's these parts of the South, so often ignored, that have caught Theroux's keen traveler's eye.  On road trips spanning four seasons, wending along rural highways, Theroux visits gun shows and small-town churches, laborers in Arkansas, and parts of Mississippi where they still call the farm up the road "the plantation." He talks to mayors and social workers, writers and reverends, the working poor and farming families — the unsung heroes of the south, the people who, despite it all, never left, and also those who returned home to rebuild a place they could never live without.
Book #2: We've Already Gone This Far: Stories by Patrick Dacey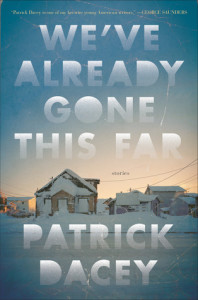 The Child says: I think it's about a poor family who lives in Alaska or South Dakota and they don't have a lot of money and they're trying to survived based off of what they have. And they're all really cold and it snows a lot.
The Husband says: I think it's about, like Erica, Midwest families (Erica adds: because it's snowing!) struggling to stay sane while they're snowed in with their families and can't leave their houses.
Goodreads says: In Patrick Dacey's stunning debut, we meet longtime neighbors and friends–citizens of working-class Wequaquet–right when the ground beneath their feet has shifted in ways they don't yet understand. Here, after more than a decade of boom and bust, love and pride are closely twinned and dangerously deployed: a lonely woman attacks a memorial to a neighbor's veteran son; a dissatisfied housewife goes overboard with cosmetic surgery on national television; a young father walks away from one of the few jobs left in town, a soldier writes home to a mother who is becoming increasingly unhinged. We've Already Gone This Far takes us to a town like many towns in America, a place where people are searching for what is now an almost out-of-reach version of the American Dream
Book #3: Side Effects May Vary by Julie Murphy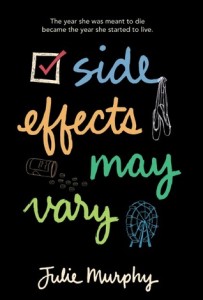 The Child says: From the looks of it, it seems like there's drugs. Also, I think it's about a woman who is really sick and she has one year where she's trying to fit everything in that's she's trying to do but then she goes into a hospital 'cause she sick and they give her a medicine which helps get rid of her sickness and then she becomes almost better. And to celebrate that she goes on a Ferris wheel and gets a job as a ballet teacher.
The Husband says: I think the opening sentence really tells it. She says she's gonna die and says screw it, I don't care if I'm sick or not, I'm going tap dancing. And on a Ferris Wheel and all kinds of cool stuff. Fuck it. I'm going to live.
Goodreads says: When sixteen-year-old Alice is diagnosed with leukemia, her prognosis is grim. To maximize the time she does have, she vows to spend her final months righting wrongs—however she sees fit. She convinces her friend Harvey, who she knows has always had feelings for her, to help her with a crazy bucket list that's as much about revenge (humiliating her ex-boyfriend and getting back at her archnemesis) as it is about hope (doing something unexpectedly kind for a stranger). But just when Alice's scores are settled, she goes into remission.
Now Alice is forced to face the consequences of all that she's said and done, as well as her true feelings for Harvey. But has she caused irreparable damage to the people around her—and to the one person who matters most?
Book #4: Liar by Rob Roberge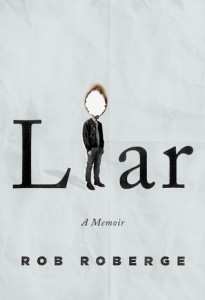 The Child says: I think that it's about the man who wrote it and it's about his experiences with all of the women he's gone out with and one of them he lied to and she got so mad she beat him up and punched him in the face.
The Husband says: To me it's a book about a woman scorned so badly that the hole in the front of it represents her wanting to shoot the person who lied to her in the head.
Goodreads says: When Rob Roberge learns that he's likely to have developed a progressive memory-eroding disease from years of hard living and frequent concussions, he is terrified by the prospect of becoming a walking shadow. In a desperate attempt to preserve his identity, he sets out to (somewhat faithfully) record the most formative moments of his life—ranging from the brutal murder of his childhood girlfriend, to a diagnosis of rapid-cycling bipolar disorder, to opening for famed indie band Yo La Tengo at The Fillmore in San Francisco. But the process of trying to remember his past only exposes just how fragile the stories that lay at the heart of our self-conception really are.
As Liar twists and turns through Roberge's life, it turns the familiar story of sex, drugs, and rock 'n' roll on its head. Darkly funny and brutally frank, it offers a remarkable portrait of a down and out existence cobbled together across the country, from musicians' crashpads around Boston, to seedy bars popular with sideshow freaks in Florida, to a painful moment of reckoning in the scorched Wonder Valley desert of California. As Roberge struggles to keep addiction and mental illness from destroying the good life he has built in his better moments, he is forced to acknowledge the increasingly blurred line between the lies we tell others and the lies we tell ourselves.
Bonus book:Saturn Run by John Sandford. Kathy or Erin suggested this one to me for my husband. Since I already knew what it's about, we had the child give her opinion: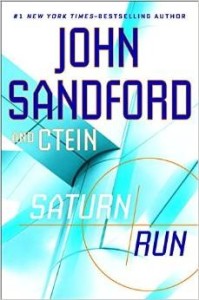 The Child says: I think it's about someone trying to run a marathon on Saturn. And when he needs a break, he jumps onto the Milky Way and hops into his spaceship to go to Earth.
Goodreads says: The year is 2066. A Caltech intern inadvertently notices an anomaly from a space telescope—something is approaching Saturn, and decelerating. Space objects don't decelerate. Spaceships do.
A flurry of top-level government meetings produces the inescapable conclusion: Whatever built that ship is at least one hundred years ahead in hard and soft technology, and whoever can get their hands on it exclusively and bring it back will have an advantage so large, no other nation can compete. A conclusion the Chinese definitely agree with when they find out.
The race is on, and an remarkable adventure begins—an epic tale of courage, treachery, resourcefulness, secrets, surprises, and astonishing human and technological discovery, as the members of a hastily thrown-together crew find their strength and wits tested against adversaries both of this earth and beyond.
Save