Remember that viral video from a few years ago, Honey Badger Don't Give a Shit? Today's confessions is a complete ripoff of that and that's why it's title Jana Don't Give a Shit. Because sometimes maybe I steal borrow great ideas. And I don't give a shit.
Other things I don't give a shit about:
Dancing with the Stars, The Bachelor/The Bachelorette, any Real Housewives, or any of the litany of reality TV shows. Except Teen Mom. Bring that train wreck on!
How much square footage your house is. Unless you're living in one of those tiny houses or a mansion bigger than Delaware, it doesn't matter to me.
What the rain near your house sounds like. Seriously. It's rain. We all know what sound it makes when it hits a building or house or the ground. You don't need to share videos of it.
Your cryptic Facebook status. Instead, post a sign that says "Pay attention to me!!!" At least I can appreciate your honesty while I'm not caring about you.
What any celebrities wear, ever.
Which celebrities are dating, which ones are procreating, and which ones are getting divorced.
How much you paid for things. Unless you're getting a great deal and you can share said deal. Or it's some amazing, creative money saving tip. Then I care. Lots.
Science fiction anything. Books, movies, Comic Con…all of it. And comic books are the worst because, let's face it, they're not really books. I don't like lying. And calling something that's not a book a book is straight up lying.
People breastfeeding in public. It's just boobs and the kid needs to eat. Deal with it (and I was a formula mom so there's no underlying agenda here).
What anyone thinks of my taste in books, clothes, music, home decor, TV shows, or movies. They're not intended to make anyone else happy. They're for me.
How tired you are. We're all tired. Same goes for busy. Quit bitching.
Football. There is truly no way I could care less about it. Unless it's hockey or basketball. Then I care less.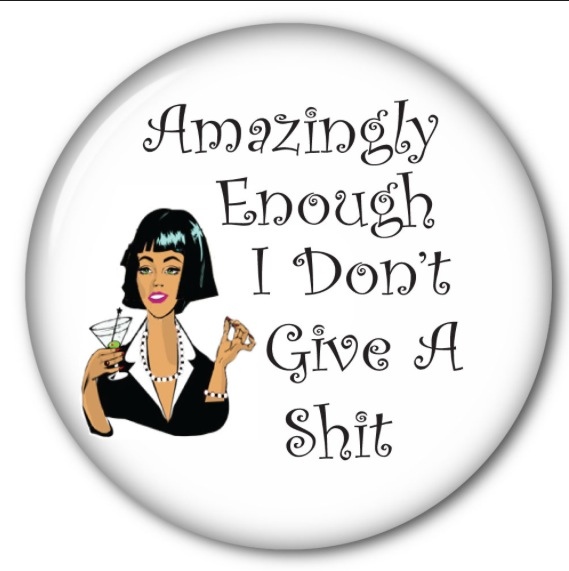 That's pretty much the tip of the iceberg. Maybe it's the first few layers. But I fear that if I keep going about shit I don't care about then you'll stop caring about this post and that would make me sad. So, let's hear from you guys. What don't you give a shit about?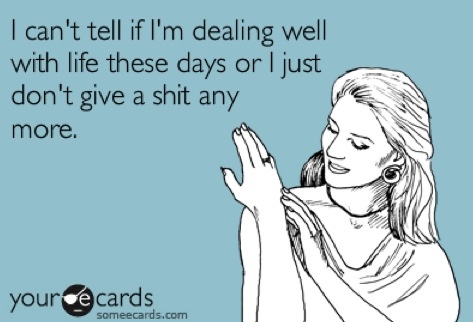 Linking up with Kathy, as always.