You guys liked my interview with myself so much that I turned it into a series! Up first, and it's fitting since we co-host the Show Us Your Books linkup, is Steph from Life According to Steph.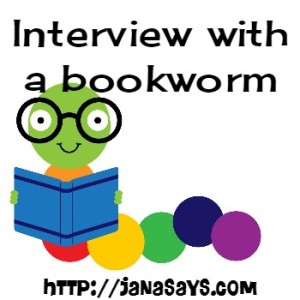 Jana: Thanks so much for joining me. Let's get started with a simple question. Why do you enjoy reading?
Steph: Reading allows me to go to so many places and meet so many people without ever leaving the couch.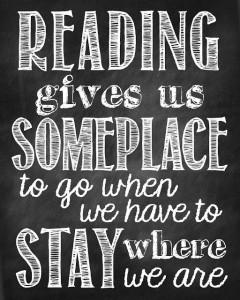 Jana: How do you decide what to read?
Steph: In a very arbitrary fashion. If I hear of a book I think I might like, I add it to my To Read list on Goodreads. Then I request them from the library and read them as they come
in. I don't place a lot of weight on what to read because I'm a fast reader and if I don't like something I will put it down. 
Jana: Who are some of your favorite authors and/or genres?
Steph: I feel like I used to have favorite authors and genres but I don't anymore. When someone says favorite authors my mind reverts to 12 and shouts out Judy Blume! Christopher Pike! When I do find an author I like, I will systematically go through most of their books. I tend to read more literary fiction and mystery/suspense than anything else, I guess. I read Young Adult if it speaks to me.
Jana: What's your favorite book or a book you always recommend?
Jana: A resounding second to The Martian and You. I just started Saving Francesca this week. Yesterday, in fact.
Jana: Do you watch movie adaptations of books? What do you think of them?
Steph: Rarely. I'd rather read a book than do anything else entertainment-wise. I seem to watch less andless movies and TV as the years go by. I will say I liked the film versions of
Gone Girl and The Great Gatsby. The only movie I've seen that I've liked better than the book is Cider House Rules.
Jana: Ebooks, paper books,audiobooks, or a combination? Why?
Steph: Strictly paper books.I don't enjoy ebooks as much and find them easier to put down and walk away from than an actual book. I haven't listened to audio books but I don't really
retain information well that way – my mind wanders and I end up not listening. I recently saw Toni Morrison read from her latest novel and I actually had to get the book out and follow along reading.
Jana: Do you use the library or buy books?
Jana: Does it offend you when people call you a bookworm or book nerd? Why or why not?
Steph: No. I don't care what people call me period but I would consider that a compliment anyway.
Jana: How do you find time to read?
Steph: We find time for the things that are important to us. Reading is integral to my life. There is never a day when I don't find at least 10 minutes for it.
Jana: What's one piece of advice you'd give to people who say they don't enjoy reading or don't have time to read?
Steph: If you don't enjoy reading, I'm sorry. That's about all I can say. If you don't have time to read,I'll say that it' s not that important to you and that's okay.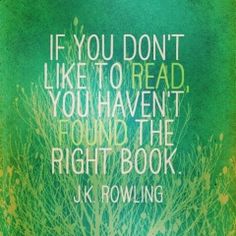 Thanks again to Steph for taking the time to hang out with me today, talking about books. Here's a little more about her if you're not already familiar.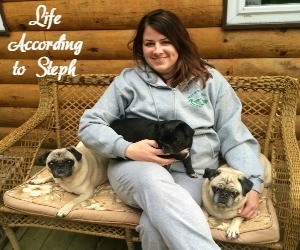 Life According to Steph – telling it like it is live from Philadelphia.
I blog about life in general – recipes, books, my three pugs, things that annoy
me, my card of a husband, and whatever else catches my fancy. Loves: a clean
house, cooking, vacations, lists, framily, coffee, nail polish, creative curse
words, fresh sheets, Dirty Dancing, family, reading real books over e-readers,
being beside the sea, flip flops, laughing raucously, and organizing. Dislikes:
poor grammar, whining, talking on the phone, being patronized, weak people,
heels, entitlement, and tardiness. 
Save