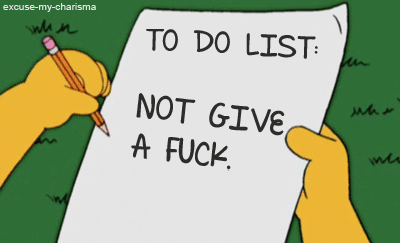 While I try to pay attention to pop culture, and thanks to Facebook and Instagram and Twitter and all the other place, I know more about it than I probably should, there's a whole lot I simply don't care about. And whether not caring makes me old or weird or snobby or not snobby enough or some combination of those or something else, I just cannot bring myself to give any shits to things like:
The new Twilight book. I never read the original ones, never saw the movies, and this one will fall into the deep recesses of my memory in the file "things I once knew but didn't care enough to remember".
Anything related to Harry Potter (sorry, Amanda).
The news Star Wars movie.
Football. Fantasy football. Football weather. Fuck football. (I've said this before, in a similar post I've written. There might be some repeats. We can put that on the list of things I don't care about, too.)
Gilmore Girls being on Netflix. Or the possible planned reunion. See also: most other late 90s, early 00s shows.
The Walking Dead, Game of Thrones, Scandal, Empire, any reality show, and a whole host of others. I like my TV but those don't do it for me.
How much money other people make at their jobs. If you make good money, good for you. If you don't, I'm sorry (but if you're making it work, then I am impressed and you should share what you're doing because many can learn from you). But it's not a competition and we're all adults and your paycheck doesn't determine your worth in my life. See also: blogging stats. There are zero fucks to give. 
Playboy doing away with nude photographs. I feel like this is something I should care about but…meh. 
Celebrities' opinions on societal inequities or politics or whatever. Do I like when they share their personal struggles? Yes. Do I like when they actively try to make a difference? Yes. But do I care what they think when they're not dealing with an issue or exerting any effort to affect change and they're talking because they're self-important douchecanoes? No.
What people I randomly follow on Twitter are sharing. I turned OFF my notifications. Why you still telling me, Twitter?
When my husband gets a haircut. Sorry, husband. I love but your haircuts do nothing for me. I care more when you shave. Because no one wants to kiss stubble. 
What are some things that make you say I don't give a fuck?
Save