This week's confessions are inspired by this post from Babble and this post from Amber at Airing My Dirty Laundry.
I will most likely never win Mother of the Year.
Here's a small sample of why.
I lose my temper, I feed my daughter Chick Fil A probably more than I should, I've been known to curse in front of her, and occasionally, I'll tell her to talk to Siri when I want to stop answering her incessant and endless questions. I admit to looking forward to a few hours silence when she has cheer practice or school or a play date and I definitely will run errands in the evening and pretend it's a vacation.
I'm not even remotely ashamed. In fact, I've written a whole post confessing that some things I do might make me a terrible parent.
Consider these confessions a balance to those. Or maybe not a balance but an accompaniment. Depends on how you want to look at it. I think there might even be an overlap or two.
That's fine.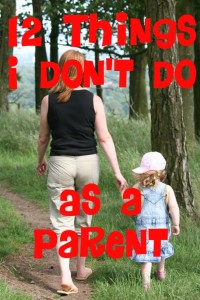 Let's get to it. As a parent, I don't:
Have a panic attack if she gets hurt. Cuts, bruises, scrapes and their ilk are all part of childhood. Not every injury is cause for a freak out session and if I'm panicking, how can I expect her to calm down? Right. I can't. So I stay calm and put a band aid on it. She'll heal.
Lose my shit if she stains her clothes or gets too dirty. Like getting hurt, it's a part of childhood. Kids are messy, filthy little things and my child is no exception. Watching her eat certain foods is revolting, and it's no wonder her clothes eat, too. I also don't buy her such expensive clothes that if they get a stain, it's worth getting angry. I just throw some Shout on it and move along.
Let her win. Losing is a part of life and she needs to learn to do that graciously, too. It's all part of good sportsmanship, especially now that she's older and needs to learn those lessons. Lest you think I am a heartless bitch of a mother rather than just a terrible one, there are plenty of times she legit kicks my ass. I am seriously overmatched in Birthday Party Monopoly.
Play Barbies. Or have tea parties or play dress up or create elaborate scavenger hunts or do a whole lot of playing in general. I'll do crafts, play board games, take her places, and once, I let her give me a makeover. But I am not a get on the floor, play Barbies kind of mom. I did it once and it was terrible. I don't care to do it again.
Watch everything she does. If I spent my days responding to all the "Mom, watch this!" shouts, I'd get even less done. Which is hard to imagine. But I can't stop my life every time she wants to show me how she can spin in a circle or do a cartwheel. I know that shit. I've seen it eleventy billion times. I watch the important stuff. But sometimes I just have to say no to the little stuff.
Give her control of the radio in the car. Or the TV in the living room. We all live in this house. We all drive in the car. She is not the only one, and quite frankly, most of her taste in entertainment sucks a fat one. She has a few gems (seriously, iCarly is freaking funny) but for the most part, it's all terrible. It's hurts my ears, eyes, and soul to watch or listen to it. So I make her share. She needs to be more well rounded anyway.
Keep an immaculate house. I've confessed all my dirty housekeeping secrets before but it bears repeating. And while we're at it, my house doesn't look Pinterest worthy. Or even ready for company. But it's comfortable and clean enough and I'd rather spend time and money on trips, days at the beach, and making memories than cleaning. Having a clean, perfect house is not a priority and quite frankly, it is too damn stressful. Plus I have a kid and pets and a husband and cleaning up after them is about as sensical as shredding cheese with a nail file.
Wait on her, hand and foot. Last time I checked, she wasn't royalty and I wasn't hired help. As such, she can clean up after herself, put her laundry away, get her own snacks and drinks, and do chores. Without being bribed.
Like all of her friends. Have you met some people's kids? Yes? Then you know that some of them are huge assholes. I cringe when my child is friends with one of those kids, and I cringe even more when she hangs out with them. The thing is this, though. They're not my friends. I don't have to like them. And I will tolerate them. Until they do something I can't tolerate. Then the gloves come off (not literally. I will simply forbid my kid from seeing whenever possible).
Live vicariously through her. This is her childhood, not mine. It is not my place to force her to make up for all my shortcomings or unfulfilled dreams and wishes. It would be wrong for me to do that, and would take away all of her independence and ability to make her own choices. She needs to figure out for herself what she likes and doesn't like.
Think she's perfect. I am the first one to admit that my child fucks up. She cops an attitude, she doesn't listen, she makes mistakes, and things are sometimes her fault. She is not free from blame during fights with friends, she messes up in school, and she's not always the superstar. Does she do the best she can? Most of the time. Is she amazing in her own way? Absolutely. But is she perfect? Nope.
Call her my BFF. Remember when Steph wrote about how she didn't marry her best friend? Well, I didn't give birth to mine. I am her mother and that trumps being her friend. It is a role that needs no other definition. Quite frankly, it creeps me out when a parent says her school aged child is her BFF. Really?! That can't possibly be healthy. I love my daughter and would do anything for her. Except call her my best friend. Because in addition to the creepy dynamic, it puts way too much pressure on her. Which isn't fair.
And now you know all my dirty parenting secrets.
My parenting style isn't for everyone and it certainly isn't trendy. But my kid knows that she's loved, safe, and well cared for.
And it works for me.
So I'm clearly doing something right.
Linking up with Kathy and Liz