Things have been quiet around here for reasons I can't get into without breaking down in an explosion of words but I'm hoping to regain some of my inspiration in the next few days so thanks for bearing with me.
Even though I've been keeping silent around blogland, I have been doing things. Here's some:
Reading. Finished Bluebird, Bluebird and now reading Dear Martin. If you aren't read books by women of color, please change that and these are two great ones to start with. Picked up nothing from the library or NetGalley.
Watching. The End of The F*cking World on Netflix and The Chi on Showtime. Remember my comment about books by women of color? Applies to TV, too, and OMG is The Chi incredible (it was created by Lena Waithe). It reminds me of The Wire, season 4 specifically, but also it's own thing. Listening. Atlanta Monster. I know. True crime. Big fucking surprise. But this is done by a guy who's name has left my brain but he's a big deal like Sarah Koenig and his previous podcast actually solved a cold case. Payne Lindsey! That's his name. Anyway, this is about missing kids, specifically black boys, in Atlanta in the late 70s/early 80s and it's fascinating.Wondering. What the actual fuck is going on with this Tide pod challenge. How did this become a thing? Why did this become a thing? I know this country is taking a deep dive into the 10th circle of hell but seriously? Kids are poisoning themselves for YouTube fame?! Failing. At making cake pops. My daughter asked for some and I used to be able to do it before I became a hot mess human. They fell apart, the candy melts got clumpy, and she told me it looked like something the cat threw up. Honestly, she's not wrong and I am not offended. Laughing. At me. I don't know what the hell is happening but I have been unleashing all sorts of crazy on Twitter. Like this gem from last Friday night: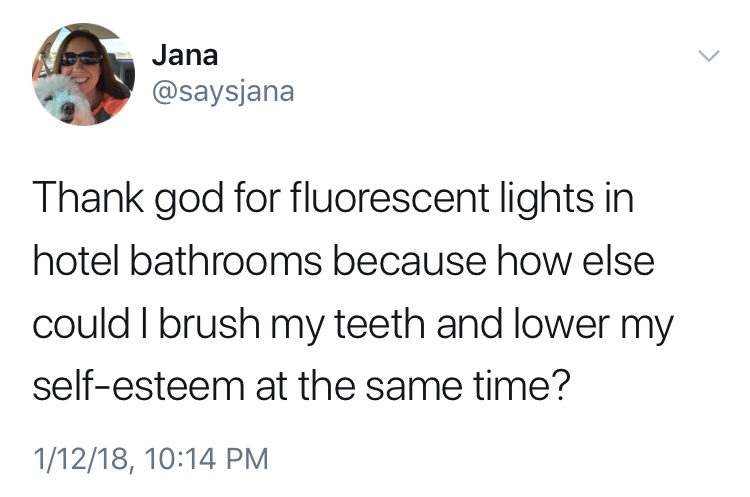 So that's about it over here. Hope y'all are doing well and I really promise to try and catch up next week. Have a great weekend!