You might have noticed some layout changes. That's totally on purpose. And there's more coming. I know you're excited.
I spent this past Saturday at The SITS Girls Bloggy Boot Camp. It was, hands down, some of the best money I've spent on this site (and my wanna be writing career). I was able to hear presentations from some incredible bloggers outside the personal finance niche (which is great to get a different perspective) and got some wonderful tips for streamlining not only my site but my whole approach to blogging. So look for those changes. Because of being totally and completely consumed by that, I totally forgot to write a post for today. So I offer a post previously written for my other site, The Jealousy Files (currently in hibernation until I get the rest of my shit together):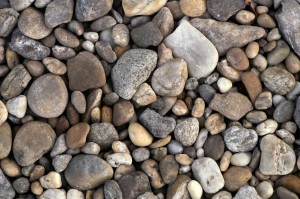 I recently had this conversation with my husband:
Him: Hello?
Me: You called? (after 8 years of marriage, pleasantries no longer exist. Plus, I don't have time.)
Him: (silence)
Me: Again, you called?
Him: Yes.
Me: What do you want?
Him: I wanted to let you know I scored free rocks.
Me: What the fuck are you talking about?
Him: I scored free rocks.
Me: I understand what you said. I'm just wondering how the conversation transpired that led you to getting us free rocks.
Him: Well, rock house (note: that's what we call the house that has their front lawn covered entirely in rocks) was getting rid of some. I was walking the dogs by their house and I saw him loading the rocks into the back of his truck. I asked him what he was doing with them and he said taking them to the landfill. I said that I'd take some off of his hands.
Me: Okay…
Him: So he put some in a wheelbarrow and wheeled the rocks to our backyard. Now we have all kinds of rocks.
Me: Okay…
Him: I saved us like $10 or $15!!!
At that point, I didn't know what else to say. He was so proud of himself for scoring shit we could have found on the ground (also for free) that I didn't want to burst his bubble. But at the same time, I was astonished that my husband actually convinced someone not only to give us free rocks but to wheel them to our house.
I'm a little jealous of his mad negotiating skillz.
P.S. For those who read this post originally on The Jealousy Files and inquired about what we were using the rocks for, I can tell you that my husband artfully spread the rocks around our sad little garden and what was left, he lined against our house because…well, I'm not quite sure because I didn't care to listen to his rambling explanation. But they are no longer in a random pile. Which is good. Mainly because the cat was getting tired of them.