About a month ago, I launched my Very Interesting Blogger series. Up first was my good friend Tonya from Budget and the Beach (you can read her interview here). Then I took a pretty long break from blogging and decided the best way to start again was to share what I've learned about other bloggers. You know, because they're definitely more exciting than me (seriously, the amount of pictures I take of my dogs is an indicator that I really need a life).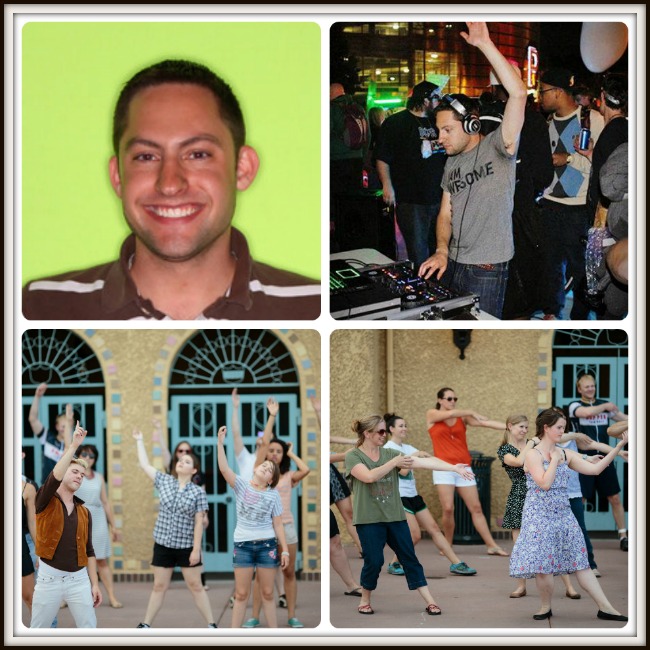 For this interview, I had a little chat with Eric from Narrow Bridge Finance. I've had the pleasure of meeting Eric at FinCon (all 3!) and he is probably the most diverse person I've ever met. He's lived quite an interesting life thus far, and has several rather unique hobbies (also, he's getting married and moving to a new city–head on over to his blog or Twitter and congratulate him). I asked him about two of them:
Me: You're a very versatile guy, Eric. You work, you blog, you do other stuff like DJ and organize flash mobs. Can you tell us a bit about the last 2? What exactly do you do when you're working on them or at an event?
Eric: DJing and flash mobs are both fun side projects that bring in a little extra money here and there. The flash mob business is one that I came upon accidentally a few years back, and after quite a falling out with my former business partner, I took the reins on my own.
Most of the flash mob planning business is taken care of online and by email. I get everything planned remotely beforehand and then, on flash mob day, show up with the big speaker system and video camera to make sure everything goes off without a hitch.
DJing is a little more hands off. I don't actively search for gigs, but when the come to me I show up with my own mixer and music collection to help everyone get their dance on! You can hear some of my mixes for free in the iTunes store or at DJYofi.com.
I'm having a hard time picturing you helping others get their dance on and you not joining in. Eric likes to get his groove on, y'all. I've seen it at several FinCon parties. 
Me: What made you start DJing and organizing flash mobs? How long have you been doing it?
Eric: I always thought dance music was fun and enjoyed putting together playlists and handling the music for get togethers and parties in college. A couple of years later, early in 2010, when I finally had the money for the real DJ equipment, I gave in a bought a mixer. The rest has just been a lot of fun!
I went to my first flash mob because I thought they were super cool, and quickly befriended the guy who planned it and joined in on the fun. We planned a few more "just for fun" mobs before people started approaching us to help them plan for special events. When I figured out people would pay me to run mobs for them, I didn't say no.
How can you turn down someone paying you to organize chaos? You don't! 
Me: Do you do it for fun, to earn money, or both? If you do earn money doing it, at what point did you decide to make the switch from hobby to income earning opportunity?
Eric: I started both DJing and flash mobbing just for fun. I figured there was a way to make money as a DJ if I pursued it, but most of the time I am playing for friends and don't worry about being paid.
I had no idea flash mobs would become such a big part of my life when I showed up to the first one, but when the opportunity to make money doing something I enjoyed, and turned out to be really good at, came knocking, I turned the hobby into a professional business with an LLC.
That's pretty amazing. Always a good thing when you can make money from something you love. 
Me: Tell us about your favorite memory from one or both of those gigs.
Eric: My favorite flash mob memories go back to the first few. I remember being excited and nervous as I started dancing in the mall on Black Friday at the first mob I ever planned, and the same feeling a few months later when I did my first choreographed dance flash mob.
My favorite memory DJing was the first time I had a real crowd at an event in a club. I had a couple hundred people dancing, part of a crowd of six hundred, and more and more people kept making there way to the dance floor. Then I dropped the bass and they all started jumping up and down together. So much fun to see from the stage!
Those are definitely great memories! I imagine it's also a little powerful to realize people are dancing because you told them to. Or maybe that's just me…
Me: What advice would you give someone who's thinking about picking up DJing or organizing flash mobs as either a hobby or a paying job?
Eric: My biggest advice for a new DJ is to hustle and get your name out there. Practice a ton and focus on making the crowd dance, and nothing else, and people will always have fun and want to hire you.
If you want to start planning flash mobs, be prepared for a lot of time and stress. It is harder than you think. I decided I did want to help people plan their own mobs and wrote a short workbook that can help anyone, step-by-step, plan a flash mob. You can check out the workbook on how to plan a flash mob or just try to plan it on your own. But don't forget any detail, or you will learn the hard way what can go wrong at a mob.
The fact that there is a workbook on how to plan a flash mob makes me incredibly happy. Thanks for sharing and participating in the interview series!