Random thoughts from a new(ish) cheer mom
As a second year cheer mom, I consider myself a veteran. Well, not so much a veteran as not a rookie because I still have a lot to learn but now that I have some experience under my belt, I feel totally qualified to share with you the the thoughts that went through my mind during my daughter's first year (and, if I'm being totally honest, I still think some of these and from talking to some experienced cheer moms, some of these thoughts never actually go away; they just become more bearable).
So, just like I provided you with a special glimpse into what I think in the school pick-up line, here's a whole bunch of thoughts from me, the relatively new cheer mom (you can also read more thoughts on cheerleading in the post that started this whole series):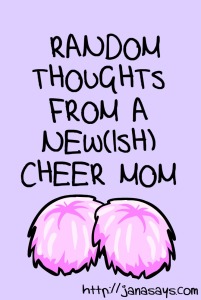 Everything but the competitions
Three practices a week? Competitions on Sundays? Football on Saturdays? Wow, this is time consuming. I did not expect that.
Well, there goes my life. Good thing I really didn't have one to being with.
Holy shit, cheerleading is expensive. Well, there goes my money. We didn't need to eat anyway.
What do you mean, I have to pay more money? I'm going to have to sell my blood or an internal organ to keep affording this. Which ones can I go without?
Seriously, you want more money? I literally have nothing left.
On the bright side, I'm going to get so much done during her practices! I'll be so productive.
I don't know why I thought I'd be productive. I might as well just stay because by the time I get home I'll have to come back and of course the internet connection here is the worst.
Guess I'll just talk to the other moms. It's a shame I'm so awkward. I can't imagine this going well.
I should just stay in a corner or my car and read a book.
Did my child just lift another child into the air?
I hope she doesn't drop that girl because that would make things really uncomfortable between our family and hers. Even more uncomfortable than me trying to make conversation.
How much cushion is in those mats?
Oh, my. This is a mess.
I think I need a cheerleader to Jana dictionary because I have no clue what anyone is saying.
Am I the only one who's confused? I can't possibly be the only one who doesn't understand a word of what that coach is saying. But I look like I'm the only one who's confused.
I'm going to be spending my fair share time Googling these words.
Is there a subtle way to Google while the coach is speaking?
I need to go home before I embarrass my child. I'm WAY out of my comfort zone.
At competitions
Holy fuck, Bring It On is not fiction!!! I will never mock the accuracy of that movie ever again.
It is way too early in the day for this. People should only get up this early if they're leaving for vacation.
If Katy Perry (or Taylor Swift) is in one more team's music, I'm going to lose my mind.
Cheer music is terrible. But not as bad as the DJ. OMG, he seriously needs to shut up.
I'd look ridiculous in a cheer mom shirt. I should get one anyway. I mean, that dad is totally rocking his cheer dad shirt. #noshame at these things.
These vendors must make a killing at these competitions. I should figure out how to make this stuff and sell it at a competition. Then I'd be able to pay for cheerleading and keep all my organs and blood!
These older girls are spectacular. Human beings should not be able to do that. Bending and jumping that way isn't natural.
There are an awful lot of girls here wearing knee and wrist braces. I think I'm concerned.
I have to pee. I've put it off long enough.
I just found a cheerleader free bathroom! This is basically the best thing that's happened to me all day.
Seriously, we have to wait how long before they hand out awards? Haven't we been here long enough?
NO!!! Don't play "The Wobble" again!!!
The DJ is now my sworn enemy.
My daughter's squad really was better than all the others. That's fact.
Holy shit, they won!!! Mat magic is a real thing!!!
Oh, thank god this is over. I can't wait to get home and take a nap.
Save