I've mentioned this before but I have been struggling hardcore lately. I know it's the depression talking and I'm fighting it off the best I can but some days it gets the best of me and I can't muster the energy to do anything beyond the necessities of life. And sometimes it's hard to even do that. But I keep trying and plugging away the best I can.
It's on those days that I think about the things I can do to make me feel like I have my life together. I don't believe in fake it till you make it but I guess this all falls under that. I suppose this list can work even when I'm feeling like my best self because who doesn't want to feel like they have it all together?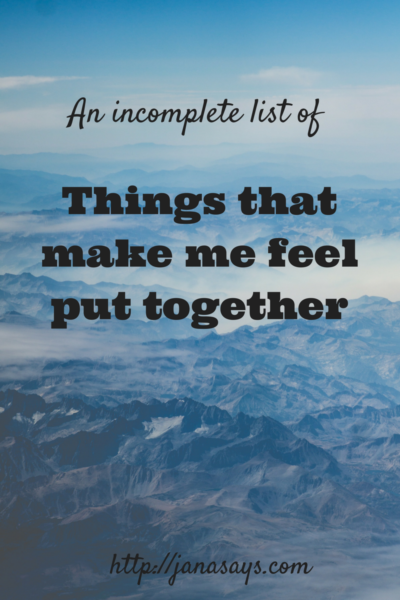 Dinner in the crock pot
Wearing a matching bra and underwear
Bills paid, grocery shopping done, full tank of gas, and no looming laundry mountain
All the DVRd shows watched
All the podcasts current
All the open tabs read and closed
Seeing the living room and kitchen completely clean with no stray items anywhere and everything in its place
Fresh manicure and pedicure, either DIY or paying someone else to do it. Polish colors don't need to match
Going a day without running an errand because everyone has everything they need
The cat spending the whole day in the house without begging to go outside (this is more of a personal victory than feeling put together but it still counts)
Crossing off all the items on ye old to-do list
Getting everything I need at one store (unless that store is Walmart, which is the bane of my existence. I hate that fucking place. I sometimes purposefully drive to four different stores simply to avoid our local Walmart)
Wearing lip gloss even when I know no one else will see me
For the record, these don't all have to be accomplished on the same day. If even one of them is done, I feel like I'm put together.
What makes you feel like you have it all together?
Save