And by "tired", I really mean "too old to care, too indifferent to make the time, and too focused on other things to bother":
Learn another social media. Snapchat, Anchor, Periscope…God knows what else is out there. I'm happy with my Twitter and IG and FB when I remember and honestly, even that's too much most days.
Care what other people are doing with their free time. Do whatever makes you happy, I'll do what makes me happy and we'll all move along.
Compare anything about me to anything about you. Especially our kids. Parenting should not be a competitive sport and if it is, count me out because I hate playing competitive sports.
FOMO. Is that even still a thing? Because I don't pay attention to slang. But I truly have no fear of missing out. If I miss it, I miss it. Except the Oscars the other night. I had to stay up to see if I lived in a world where Leonardo DiCaprio won an Academy Award.
How much you hustle, especially if you try to make me feel bad because I don't do it enough. Hustling is exhausting. It requires a ton of energy and brain power and all that and I don't care to spend my whole life doing it. So let me be.
If your kid took a shit on the toilet for the first time. #sorrynotsorry. I'm too worried about my own bathroom habits and have zero fucks left to give for your potty training toddler. I mean, I'm happy for you because diapers suck but that's where my ability to care ends.
Trendy fashion. At this point in my life, I know what works for me and what doesn't. No need to try anything new.
Friend drama. If you're causing me drama, we're not going to be friends.
You know what I'm not too tired or indifferent to care about? This presidential election. I'm not going to go off on a whole tangent about one particular candidate or candidates but I will say that it saddens me to see what our political system has become. That these options are the best the parties have to offer. That no one qualified and decent is stepping forward, that name recognition and money mean more than credentials, and that voters are willing to ignore major character flaws (and I mean MAJOR) and not demand better. That it's become a student council election run on promises of less homework and more vacation time instead of who's the most qualified and strongest person to run the most powerful country in the world. That a Supreme Court justice dies and it's another platform plank or point of contention instead of showing respect for the highest fucking court we have (now, don't get me wrong. Supreme Court nominations are always contentious between the parties but what's going on with Scalia's seat is a huge steaming pile of bullshit). That the candidates are so divisive and are driving a wedge even deeper into society rather than working to heal some very large, very open, very sore wounds.
And then there's this.
When almost no one is happy with ANY of the nominees, there's a problem. Usually you can find one and you're like, you know what? I can live with this for the next 4 years. Republican, Democrat, Independent…doesn't matter. It might not be the person you want (and, if you don't vote, you don't get to complain) but you can deal with it. But that's not happening this time. No, for this election, it's more of a "well, this person gets my vote because they suck the least according to my own beliefs and let's hope they don't fuck it up" attitude. It's not agreeing with a candidate's views or policies. It's disagreeing with them the least.
It's fine to work for a boss like that. When it's the person running your country, though, that's something entirely different.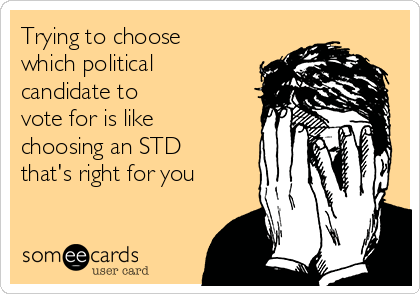 Linking up with Kristin
Save