With the year coming to an end, all the best of lists are popping up all over the place. Steph and I have a special Show Us Your Books planned for December 26 where we'll be sharing our favorite books of the year (we hope you'll join us) and I figured why not share some other things that have entertained me this year.
I might do a list with podcasts and movies but the simplest place for me to start is with TV shows. And by TV, I really mean Netflix since 90% of what I watch is from there. I also waffled back and forth with including this year's seasons of shows I've previously watched on actual TV like Fargo, Stranger Things, Better Call Saul, Mr. Robot, Longmire, Silicon Valley, Ray Donovan, Billions, The Affair, and Last Week Tonight with John Oliver and opted against that although if you're interested in a list beyond the extensive one I've inadvertently provided, I'm happy to oblige. So instead, I picked some shows that I've seen for the first time, even if they're old, and shows that gave me so many feels I still think about them.
I acknowledge that some of these may not make lists put out by actual critics but I am a real person and not paid to critique or look at shows with any sort of discerning eye except for asking myself if I like it enough to keep watching. And recommend that you watch it. There's a mix of stuff here, although if I'm being honest, it's mostly all dramas. I have a type. #sorrynotsorry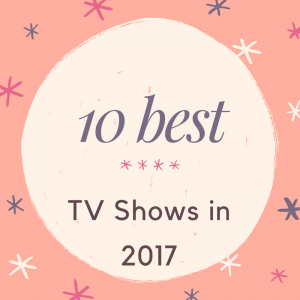 Okay. So. Here goes. The 10 best shows I watched this year in no particular order with where I found them. For some reason, my brain is rejected everything from Amazon but I think that's because I don't watch a ton from there like at all, ever (but I will once the newest season of Orphan Black shows up. My dumb ass forgot to set the series recording and I have all episodes for this season except the first one).
Rectify (Netflix)
American Vandal (Netflix)
Ozark (Netflix)
American Crime Story: The People Vs. OJ Simpson (FX)
Snowfall (FX)
Godless (Netflix)
Westworld (HBO)
The Handmaid's Tale (Hulu)
Alias Grace (Netflix)
13 Reasons Why, G.L.O.W (tie, both on Netflix)
Honorable mention: Mindhunter (Netflix), Mudbound (movie, Netflix), and Big Little Lies (HBO)
Oh, and I know it looks like I watch a ton of TV. And maybe I do. But my habits are unhealthy AF. Like, I'll DVR a whole bunch of stuff, binge watch everything over a couple of days, not turn on the TV for weeks, lather, rinse, repeat. This is also how I deal with all the Netflix shows.
So. That's it. What did you guys watch this year that I should consider for 2018? What do you think of my list?