I'm so excited to bring you the inaugural post in the Little House book club series! Every month, on the last day of the month, we'll discuss a book from the Little House on the Prairie series both on the blog and on Facebook. I hope that, even if you missed this month, you'll join us for the next one!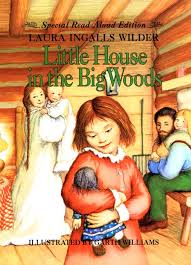 Confession: I have never once, not ever been a part of a book club. This is a completely new experience for me so please bear with me as I muddle through this discussion of the first book in the Little House series, Little House in the Big Woods.
I'm not really sure where to start. For those who haven't read the book, it essentially covers the Ingalls family during their time in the Big Woods (as they call it) in Wisconsin. The 5 of them–Ma, Pa, Mary, Laura, and Baby Carrie–live, as you would expect, in a small cabin in the middle of the woods. For income, Pa traps furs and raises wheat. They have cows for milk, pigs for bacon and salt pork (a favorite of theirs), Pa hunts and fishes (but not in the spring and summer. His ethics, rather than the need to provide his family with fresh meat, kick in during those seasons), a garden, and pretty much everything a pioneer could ask for, including family and friends nearby. They work hard in the summer, spend quality time together as a family in the winter, and are generally happy.
Things are good for the Ingalls.
Throughout the book, Laura describes in sometimes painstaking detail (no joke. It's painful and tedious to read at times), what it was like to be a pioneer during her childhood. Particularly as it relates to food. Laura spends an awful lot of time talking about food. How it's killed, prepared, what they eat and when, how it tastes, and how it's stored. There's one part in the book where she talks about how there's meat and dried fruits and vegetables hanging in the attic where she as Mary played. Literally. They played among deer carcasses and used pumpkins as chairs and tables. And I could not get that scene from Rocky out of my head and also, it's just weird. I like to think that maybe there were some creative liberties taken with that part of the book but honestly, I don't know. It was kind of interesting, though, and demonstrated that they really did use what they had on hand for everything possible. Talk about making do.
Another part of the book that I enjoyed were the stories Laura told about spending time with their friends and family. It must have been fun to go to a gathering back then and actually interacted with people, rather than everyone sitting around on their phones. They talked, danced, ate, played, and took turns hosting. Hospitality was something to be enjoyed rather than a big nuisance. It made their pioneer life seem full and fun, rather than lonely and miserable. But what it also highlighted, at least when they were getting ready for that sugar dance/party, is that even back then, they still cared, maybe more than they should, about their appearances. It was hard not to notice a) that Laura gave almost no detail regarding what Pa or the other men wore and b) that she made it a point to discuss the fact that the ladies wanted to have small waists tucked inside their fancy dresses. I'm not saying it's a bad thing that they cared how they looked when they were going to be in public but it's interesting just how little has changed for women in that respect.
Just something to think about.
Three other parts of the book I enjoyed:
One, I liked how they pooled resources and labor with neighbors to work efficiently. Everyone got something out of it, and it made the work more efficient. They realized that if they worked together, they could get more accomplished and there was an understanding that helping was just something you did. You helped and got help in return. I think that's something we can all do a little more of, realizing that not everything is a competition and we can be more successful if we work together.
The tone of optimism. Throughout the book, even when Laura was getting reprimanded or a family member was stung by bees from head to toe (anyone else think of My Girl when they read that?) or there were wolves, nothing ever seemed that bad. There was hope that it would all work out and that everything copacetic. They were snug and cozy (two words I have grown to loathe as a result of this book). They wanted for nothing. Which makes it kind of hard to figure out why exactly they left and, having read the rest of the books in the series, makes me realize they spent their time after they left the Big Woods trying to recapture everything they had while they were there. Makes you realize that honestly, the grass isn't always greener.
When Laura slapped Mary across the face for picking on her for having brown hair. Nothing is wrong with brown hair, bitch, and you got what you deserved.
I would be remiss if I didn't mention what I couldn't stand about this book. Just a few quick items other than the ones I've mentioned (the overuse of the words "snug" and "cozy", and the sometimes extraordinary detail Laura used to describe some of the most mundane things):
Pa. I'm going to say it. I don't particularly care for Pa. I think he's kind of an ass and his stories bugged me to no end. I thought they were mostly hyperbole and while I understand why she included them in the book, they kind of disrupted the flow of the main story for me. I also understand that Laura admires and respects her father, which is a good thing, but looking at things as an outsider, she seems to have put him on a pedestal that maybe he didn't deserve. This opinion might also be influenced by having read the other books.
Using the cow organs as toys. I get not wanting to waste anything but that just made me sick.
Overall, I liked the book. I enjoyed getting a glimpse into their daily lives and their family dynamic. I also enjoy the fact that I can read this book with my 7 year old and we both get something out of it. Like the idea to make homemade butter.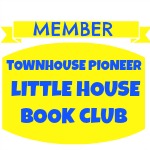 Did you read the book? If you did an you posted about it, share your post below (and make sure to grab your official Little House Book Club Member badge from the sidebar):
Loading InLinkz ...