Last month, I decided I would publicly announce some of my monthly goals as a way to hold myself accountable and increase my productivity (as long as it doesn't interfere with my obsessive RubbiKub playing, of course). It worked too, because I actually finished 4 of the 5 goals I set. We'll discuss the shame of the 5th as well.
As stating my goals wound up being a good thing for me, I'm trying it again for May. You'll be able to find those underneath the April recap.
Let's get to it:
April goal #1: Wallet Watch challenge with Life According to Steph and Luck Fupus. Done! I did well with that, and I'll share all the hairy details tomorrow in its own post. Let's just say for now that it felt good to be mindful of my money again and it's something I really, really needed.
April goal #2: Crochet a potholder. I can't even begin to describe the nightmare that crocheting is becoming. I have spent hours–literally–watching YouTube videos and practicing rows and stitches and each time, it just gets worse. I thought it was because I had the wrong size crochet hook so I went and bought the size recommended for when you're beginning and it didn't help. At all. Because apparently there comes a point when you have to turn the project and I don't understand that concept. So I get lost after that. I'm beginning to think this is a hopeless endeavor. But I'm not quitting just yet. I'm seeing my mom this weekend and I'm forcing her to help me. If that in person tutorial doesn't work, we might have to call it on me learning to crochet. For those who are curious, this is what I was able to do: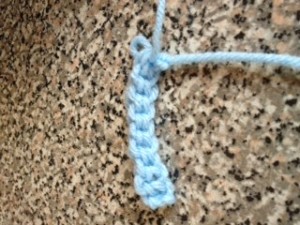 April goal #3: Make homemade butter. Done! I even wrote a post about it which you should check out in case you missed it. We've been using that butter and my daughter even said that she likes it better than the store bought stuff. Have I mentioned how much I love her?
April goal #4: Work on my business. I'm getting there. I spoke extensively with my mastermind group about some strategies for reorganizing some of the aspects of it, including offering more free stuff. I've been hard at work putting that together and can't wait to make the announcement about it. I also realized at what point I'm okay with walking away from the business. That was a huge revelation and I feel much better.
April goal #5: Garden. Also done! I wrote about this one, too, and I've even taken a more active role in tending to it. And when I say active, I really mean "pointing out to my husband and daughter what needs to be done and also thankfully there's been a lot of rain so I didn't have to water any plants when my husband was away last week and also laughing when the cat thinks the garden is a litter box".
I'm pleased with how I did on my goals in April. In fact, I felt like this on the last day of the month: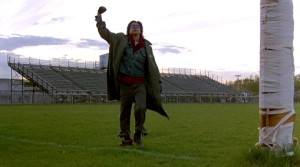 I'm pretty sure I can keep that momentum going for my May goals:
Mentoring stuff. Continue to work on my business, including launching the free content and tweaking the site.
Actually crochet a damn potholder. I don't care if it's for an EZ Bake Oven, I'm finishing one. Yarn will not defeat me.
Start brewing beer. In my pioneer project bible, The Modern-Day Pioneer, the author gives a recipe for making your own beer. If the pioneers can do it, I can at least attempt. Hopefully the beer will taste good and not like crap. If not, I'll just drink my new love, Tweasonale, instead.
Finish a writing project. I have something planned for Townhouse Pioneer readers and it's been sitting in draft form for about a month. I want to get it written and available for you to read, too. It'll change your life. Or at least give you something good to read in the bathroom.
Sew a pillowcase. I came across a tutorial for sewing pillowcases and I can totally do this. I also found the 1 Million Pillowcase Challenge and want to participate (inspired in part by Kerry's Be The Change Challenge) and want to donate a few towards this so I definitely need to get practicing.
Bonus goal: Keep working on my 5K training. I loathe running. I really do. But I loathe wasting time and money even more, which is why I put my gym membership on hold for a few months (my gym is 30 minutes from my house without traffic. It's exhausting). I decided that running is free (mostly) and I would give it a try because exercising keeps my issues at bay. My husband and I want to run the Run or Dye 5K in July at the Dover Speedway so my fat ass needs to be in some sort of training for that. I downloaded an app to help so I don't even need to figure out how to train.
Do you set monthly goals? What are some of yours?