On September 29, I lost my sidekick/shadow/favorite dog ever, Dobie. If I'm being honest, I'm still not over it and I have yet to go more than 2 days without crying. But I haven't been the only one suffering. For weeks, Barkley has been doing this with a stuffed dog we put on the couch to make it feel like a second dog was there: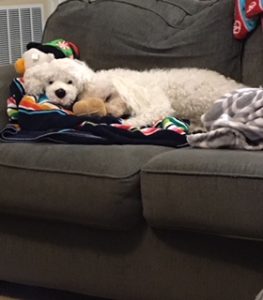 And my daughter's been struggling as well. Watching her hurt hurts me.
So we had a discussion about getting another dog and while I certainly was in no rush, I agreed to entertain the idea. We talked about it and came up with these criteria: the dog had to come from a local rescue,  couldn't look anything like Dobie, and had to be free from a heart condition. I agreed to look online (I would not go to a shelter) and if a dog seemed to speak to me, I'd reach out to the rescue and learn what we needed to do.
And one did. And I did.
I put in the adoption application, traumatized my cat with an in-home mobile vet visit (which was a fucking nightmare that ending in my cat running away but at least she's vaccinated now), and 3 weeks later, Elizabeth Warren came home with us.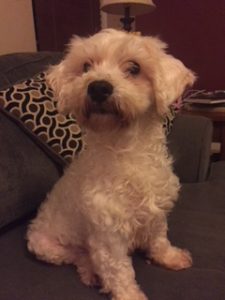 Yes, her formal name is Elizabeth Warren. After THAT Elizabeth Warren. Because she's smart, capable, determined, strong, admirable, and despite her circumstances, she persisted. We call her Lizzy, though.
The facts: She's 5, a puppy mill survivor, and while we're not 100% sure of her breed, we think she's some sort of Maltese mix. She's tiny, quiet, trusting, loving, and absolutely the cuddliest little thing. Barkley is happy to have her around (even if he refuses to show it) and the cat has moved from hatred to indifference so we're making huge progress.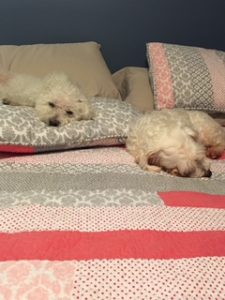 Having her is like having a 5 year old puppy because, with her being used exclusively for breeding, she never learned how to be a dog. So we're working on housetraining and walking on a leash and getting on a schedule and navigating stairs and socializing and playing with toys and everything you expect a 5 year old dog to know but she doesn't because life in a breeding box doesn't allow for that. It's weird, getting used to teaching the basics again. It's starting over but thus far, it's absolutely worth it.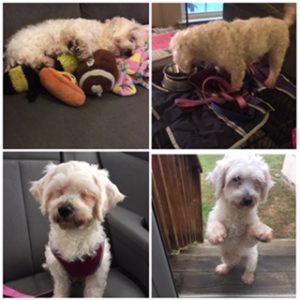 And she's doing great! Housetraining has been easier than expected and she doesn't even need to sleep in her crate at night. She has an affinity for blankets (which is great because I have them all over the house), will walk on a leash as long as Barkley is with her, walks up and down stairs when she thinks no one is looking, kind of likes riding in the car, is a little daredevil (she'll eat from her food dish when it's ON TOP OF her crate), super curious (she loves her reflection in the fireplace) and will play with anything that's not actually a dog toy (ex., my apron strings, my phone, a rug, and stuffed matzoh from a toy Seder plate). She's finally able to get a bath (yay!) and has her very first grooming appointment next month. She'll also be attending doggie school early next year. And, fun fact, I've shown her videos of her namesake and she watches them VERY intently.
I know it seems fast (it was only 6 weeks from Dobie's passing until Lizzy came home) but I know that no amount of time would be enough. I could wait 6 weeks or 6 months or 2 years, and it still wouldn't seem right. But she's fit right in and I see so much of Dobie in her and that's comforting. I'm trying hard not to make her another rendition of him and letting her be her own quirky self but it's hard sometimes. I know it'll get easier, though, and I'm looking forward to that.
Also, if anyone knows of an online store or Etsy shop that sells custom dog clothes, please let me know or send me a link. I want to buy her a shirt.