If you're not reading Ali's blog, you need to get on that. Pronto. She's hysterical, her observations are dead on balls accurate, and she's from Long Island so that means she has a special place in my heart (although I live in Delaware, I was born and raised on Long Island). Also, for some reason, she likes this little blog here. In fact, she likes it so much she nominated me for one of those fun blogging awards that go around.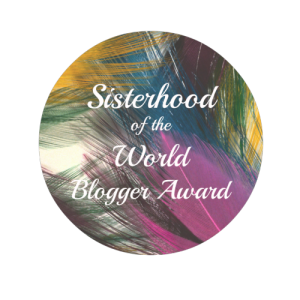 As part of it, she asked me (and other bloggers) 10 questions. I'm going to answer them because why not. I'm also going to post my 10 questions at the end and nominate everyone who has a blog and wants to to answer.
What inspired you to start blogging? Believe it or not, this blog started out as a personal finance blog. I wanted to document our journey out of debt and how we were learning to manage our money and also, I love to write and needed an outlet for it. I eventually tired of writing about money all the time (and admittedly, I wasn't very good at most of the time) and converted the blog to what you see now. Sorry.

What song do you ABSOLUTELY hate? "Losing My Religion" by R.E.M. That song makes me want to stick sharp objects in my ears.
Have you ever written a blog post that you regret posting? Absolutely, and I've since deleted them. There are a few more that need to go because they're basically shit and not at all reflective of what I want here. But I haven't done it yet because #lazyblogger
Has your blog ever faced any negativity & if so how did you handle it? If my blog has faced negativity, it's been behind my back. I've been fortunate so far that no one has been openly hostile to my face or in the comments or via hate mail, but I've also never had a post go viral so maybe my experience is skewed. I did have a couple of posts featured on The Consumerist which received a few not so nice comments but I just chalked that up to their readers not having a sense of humor.
Who inspires you? This is probably the most difficult question for me to answer. If I'm going the celebrity route, it's Mindy Kaling, Melissa McCarthy, Amy Poehler…all the ladies you'd expect to see on a list. If I'm going the people I know in real life, I'm going to say I'm inspired by anyone I know–specifically blogger friends–who manage to enjoy life and be all around awesome. Mostly, I'm inspired by people who live their lives for themselves and not for the purpose of impressing anyone else.
What's in your purse right now? My wallet, phone, crayons and paper, pens, a nail file, few lip balms, hand lotion, my all purpose bag featuring band aids, ibuprofen, tweezers, gauze, etc., antibacterial hand soap, tissues, baby wipes, and my keys. I have a typical mom purse.
What website are you DYING to get featured on or write for, if any? Book Riot, HuffPo, Hello Giggles, and Buzzfeed. Blogger standards, I suppose.
What's your favorite room in your house/apartment? I'd have to say my living room. It's good for reading, Netflix binging, napping, and it's next to the kitchen for convenient snacking.
If there was a movie about your life, who would play you? I can't think of any short, fat brown haired, brown eyed actresses except for fellow Long Islander Nikki Blonksy but I'm not sure she's acting any more so maybe Ellen Page even though she's not fat. I can lose weight. Or she can wear a fat suit. Definitely one of those.
What's your most embarrassing moment? I don't know that I have one that's so mortifying it sticks out in any way. I did have an encounter once with the then-dean of my entire university and after he told me he worked for the school, I asked him what he did. Like I'm supposed to know what he looks like. The husband never lets me forget it and says I should be embarrassed by it. I'm really not but we'll roll with that one.
Now it's your turn. Feel free to answer all or some or none of the questions below.
What websites or blog do you read every single day?
If you could attend one awards show, which one would it be?
What is one thing you are deathly afraid of?
What book do you always recommend to people?
Open a playlist on any device you have. Hit shuffle. What are the first 5 songs that come up?
When and where do you blog (as in, at what time of day and in what location)?
What song is your personal anthem?
If you were selected to give a TED Talk, what would be your topic?
What's your favorite quote or saying?
What is a song, movie, book, or TV show that always makes you cry?
Bonus question: Do you think Mighty Mouse could beat up Superman?
Save