How to Fold the Perfect Fitted Sheet
How to Make the Perfect Cookie
How to Scramble Eggs Perfectly
How to Host the Perfect Party
How to Write the Perfect Blog Post
How to Craft the Perfect Blog Title
These are examples of actual pins that have come across my Pinterest feed. Often. As in every day. And quite frankly, I can't handle the word "perfect" any more.
I'm not sure when the pressure to be perfect set in. I'm even less sure as to when everyone started thinking that they had the solution on how to be perfect. Because I don't even know what perfect means. It's such a subjective word. What's perfect for you isn't perfect for me and vice versa. So how are so many people all of a sudden authorities on being perfect? How can they tell me what to do?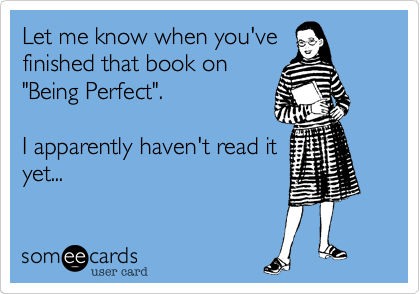 And why is it so important to be perfect? Why can't it be good enough just to be good enough? Just to try your best?
I don't know about you, but when I see that word, perfect, I don't see something to strive for. I don't see success and hard work and a beautiful, awe inspiring end result.
I see pressure.
I see a standard I can't achieve.
I see never having self-acceptance, never being satisfied, and never being happy.
I don't like living like that. It's too hard. It's too emotionally draining.
So I'm done with perfect. And you should be, too.
Because perfection isn't that important.
No, what's important is trying your hardest to get through. To do what you can within your limits and your standards.
The standards you set for yourself. No matter how high or low they might be to someone else.
Because when you strive for perfection as set by societal normal or blogger edicts or Buzzfeed decrees, it begets depression, intimidation, sadness, and frustration.
But when you strive to do your best according to your morals, values, and goals, even if it results in imperfection according to everyone else, you get satisfaction, happiness, productivity, and gratitude.
I'm aiming for those. Because I'd rather be happy with burned cookies than be sad with perfect ones.
Life is what happens inside the imperfections.
And I'm completely fine with that.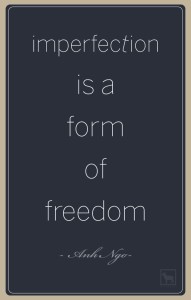 Save