I don't know if the confessions linkup is still a thing and I don't generally participate because I am terrible remembering to do it and also I don't usually post on Wednesdays but I haven't done any sort of confession lately (unless you count me listing all the jobs I'd suck at) and I saw Stephanie write this post (thanks for the idea) and thought hey! I should do that.
So I did.
I cannot whistle or snap my fingers…but I can tie a knot in a cherry stem with my tongue
I cannot name all the US presidents in order…but I can name all 7 dwarfs and all the Fraggles
I cannot remember what I need to buy in a store…but I can remember song lyrics from 1987
I cannot do a smoky eye…but I can rock red lip gloss
I cannot navigate anywhere without a map…but I can find my way back when I inevitably do get lost
I cannot do math in my head…but I can correct your grammar
I cannot run a marathon…but I can read a 500 page book in a day
I cannot travel everywhere I want to go…but I can prioritize and visit those places
I cannot make small talk one on one…but I can speak in front of a room full of people
I cannot remember where I put my phone…but I can remember details of people's lives
I cannot easily ask for help…but I can figure it out on my own
I cannot erase my depression…but I can fight like hell to keep it in check
I cannot make images…but I can find hilarious shit like this: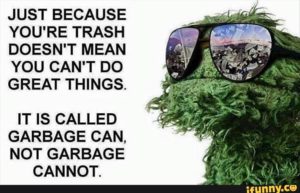 What can or can't you guys do?