It's been many, many months since we've had an edition of Judging Covers but a few weeks ago the child mentioned it and I needed a post idea so here we go.
For those who are new, this is a series I do where I ask my husband and daughter to deduce the plots of books I'm reading simply by looking at the covers. This month's edition features a few of the books on my nightstand and none of the books on my Kindle and I figured it was a nice compliment to SUYB. Like a Preview My Books.
Book #1: In the Shadow of Alabama by Judy Renee Singer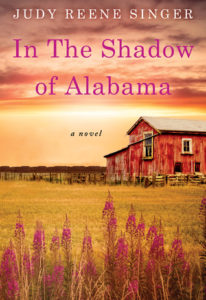 The Child says: I think this is about a family that lives on a farm in Alabama and everyone knows them as a sweet caring family but they aren't fully who they seem to be.
The Husband says: I think some people came to Alabama not from Alabama OR some people who don't fit in Alabama are having to live in Alabama (me: STOP STAYING ALABAMA) and they can't be who they are because they're in Alabama.
Goodreads says: Rachel Fleischer has good reasons not to be at her father s deathbed. Foaling season is at hand and her horses are becoming restless and difficult. Her critical mother and grasping sister could certainly handle Marty Fleisher s resistance better without her. But Malachi, her eighty-something horse manager more father to her than Marty has ever been convinces Rachel she will regret it if she doesn t go.
When a stranger at her father's funeral delivers an odd gift and an apology, Rachel finds herself drawn into the epic story of her father s World War II experience, and the friendships, trauma, scandal, and betrayals that would scar the rest of his life and cast a shadow across the entire family. As she struggles to make sense of his time as a Jewish sergeant in charge of a platoon of black soldiers in 1940s Alabama, she learns more than just his history. She begins to see how his hopes and disappointments mirror her own and might finally give her the means to free herself of the past and choose a life waiting in the wings.
Book #2: A Brief History of Seven Killing by Marlon James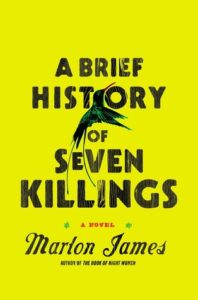 The Child says: It looks like a mad person kills themself and the book explains why.
The Husband says: I think the title is pretty self explanatory but the bird adds nothing. It's useless. I want to give the bird the bird because it gives me nothing.
Goodreads says: On December 3, 1976, just before the Jamaican general election and two days before Bob Marley was to play the Smile Jamaica Concert, gunmen stormed his house, machine guns blazing. The attack nearly killed the Reggae superstar, his wife, and his manager, and injured several others. Marley would go on to perform at the free concert on December 5, but he left the country the next day, not to return for two years.
Book #3: Since We Fell by Dennis Lehane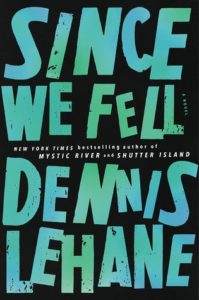 The Child says: I think this is about two people who have a secret in murdering and it about what caused it. (Child: Am I close? Me: No. Child: It sounds like that's what it should be about)
The Husband says: I think it's about since we've both left our former lives we're now in some kind of shitty situation and we're trying to figure it out together.
Goodreads says: Since We Fell follows Rachel Childs, a former journalist who, after an on-air mental breakdown, now lives as a virtual shut-in. In all other respects, however, she enjoys an ideal life with an ideal husband. Until a chance encounter on a rainy afternoon causes that ideal life to fray. As does Rachel's marriage. As does Rachel herself.
Book #4: The You I've Never Known by Ellen Hopkins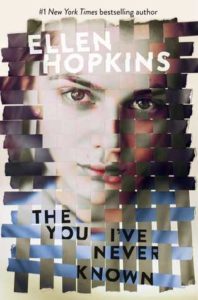 The Child says: I feel like it's something related to 13 Reasons Why but instead of the girl having tapes for her classmates it explains all of what happened and how it affected the people who cared about her after what happened happened.
The Husband says: This one is about woman who has never let you see all the parts of her but if you think about it, over time, you can build a full picture of who she really is.
Goodreads says: For as long as she can remember, it's been just Ariel and Dad. Ariel's mom disappeared when she was a baby. Dad says home is wherever the two of them are, but Ariel is now seventeen and after years of new apartments, new schools, and new faces, all she wants is to put down some roots. Complicating things are Monica and Gabe, both of whom have stirred a different kind of desire.
Maya's a teenager who's run from an abusive mother right into the arms of an older man she thinks she can trust. But now she's isolated with a baby on the way, and life's getting more complicated than Maya ever could have imagined.
Ariel and Maya's lives collide unexpectedly when Ariel's mother shows up out of the blue with wild accusations: Ariel wasn't abandoned. Her father kidnapped her fourteen years ago.
Not discussed: Bastard Out of Carolina, Better Than Before, The Long Haul: A Trucker's Tale of Life on the Road
This was an off month for them, especially the child. She usually does a pretty good job of deciphering plots simply based on covers. Or she goes WAY off the deep end and isn't even close. Like when she asked when I was going to read To Kill a Mockingjay.
I cannot.