How the hell is it August? Wasn't it just June like yesterday? No? Well, that's okay because August means school starts soon and while I love my daughter, if she doesn't get out of my house, I'm going to lose my mind. And is it wrong that I'm already planning what I'm going to do the first day she's back at school? (Pedicure and nap, if you were wondering.)
That said, it's time for another round of Friday favorites except I don't know exactly what edition this is because I have become an blogging slacker as of late (and I apologize to my blogger friends for the lack of commenting I've been doing. I can't get my shit together long enough to write a comment). So I'm picking edition 15 because it seems like a good choice and maybe an approximate value. Math has never been my strength.
Favorite song
Rise Against, Audience of One. There are not enough words for how much I love this song. I feel music the way some people feel paintings or poetry and this song brings out all the emotions for me. It's not a life changing song but it definitely changes my mood each time I listen (also, I love that it's one of those songs that about one thing but it can be interpreted to mean so much more)
Favorite frugal find
I am in the midst of a makeup bag overhaul and when I was cleaning out old lipgloss, eye shadow, and the like, I realized I had 6 MAC items that desperately needed to go. Enter MAC's Back To MAC recycling program where if you return 6 (or more) eligible items, you get to pick out a free item (lipstick/gloss, eye shadow, or something else I'm not remembering). I purchased new lipgloss recently but I definitely needed an eye shadow refresher. And I got one. For free.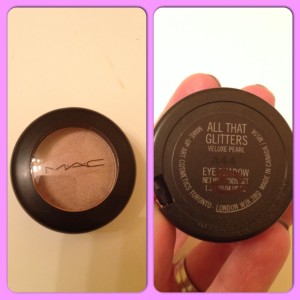 Favorite book/TV thing
Rick Springfield, "Jessie's Girl" singer extraordinaire, wrote a memoir. So of course I have to read it. And I picked it up from the library yesterday. Along with some others:
I have no favorite TV thing this week because quite frankly, I'm pissed with TV. More specifically, I'm annoyed with On Demand And Netflix. Because none of them are showing any of the episodes of any show I need to catch up on. Complete first world problem but that's okay because Ebola is no joke and I'll take no new episodes of The Following on On Demand any day.
Favorite internet reads
So many good finds on the internet this week (and weeks past. Big ups to Pocket for being a great place to store these posts so I can use them). Like this post on Mashable about 90s song that are darker than you think. Some I knew, some I didn't. Or this post on how to quickly travel through all 50 states (if I had a bucket list, this would be on it). Or if you need to waste kill some time, take this quiz, Which 80s Cartoon Are You? (I got Muppet Babies, which, given my Muppets obsession, is perfect). You can also check out this post I wrote on Monday detailing promises I made to my friends without kids.
Favorite quote
Favorite funnies
I shed a golden retriever every day
Bryan is genius.
This made me laugh so hard
It's better that we get along
It's all about the tactic
Have a great weekend y'all! If you need me, I'll be on my couch, binge watching the final 6 episodes of The Killing.
Linking up with Amanda