I feel like today's post should be about Halloween even though I can't stand Halloween and, unlike most people, I have zero memories of being a child on Halloween. I have no recollection of my costumes (although I remember the 80s children's plastic costumes vividly), going trick or treating, handing out anything with my parents, or anything even remotely related to Halloween.
Okay. That's a lie. I have one memory, and it's family tradition related. I grew up on Long Island, and not too far from my parents' house was a place called Hicks Nursery. It's a family owned plant nursery/pumpkin patch/Christmas store that each year had a very elaborate walk-though storyboard display, sort of like a living diorama but with placards containing a narrative. I'm doing a terrible job describing this. Here are pictures: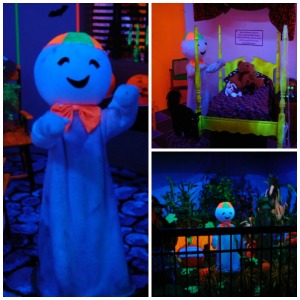 We did this every year up until 2 or 3 years ago but my very limited decorations do include an Otto the Ghost stake (the ghost in the pictures is named Otto) in my front yard so I still try to keep the tradition alive.
But that's basically all I do. Because I don't watch scary movies, I have no interest in dressing up myself, my husband takes the child trick or treating and I'm more than happy to put out a bowl of candy with a sign that says "help yourself" because the doorbell bothers my dogs and I don't enjoy small talk with other people's kids and I'd rather hide in my room with a book. I half-heartedly throw together decorations and at the pumpkin patch, I purposefully pick the small pumpkins because I like them better. Large pumpkins bug me for reasons I cannot explain.
I'm basically the Halloween grinch. I'm fine with it.
For this week's edition, though, I'll put my grinchiness aside and bring you my very limited Halloween favorites (besides Otto and small pumpkins).
Favorite Halloween song
It's not necessarily a Halloween song in the traditional sense but Rob Zombie is basically the year round, living, breathing embodiment of the day so I'm using his song, "Dragula".

Favorite Halloween frugal find
My daughter was supposed to go as Laura Ingalls from Little House on the Prairie but the costume was turning out to be a nightmare so we went on to Amazon and found a Southern Belle costume on sale for less than $20 plus free shipping thanks to Amazon Prime. Less than $20 and no crowded costume store? Score for me! (pics will be on Instagram so if you want to see my daughter in her costume, make sure you're following me)
Favorite Halloween candy
Reese's peanut butter cups. And I really like the mini Snickers. Too bad I'm working the low carb diet right now. I'm pretty sure my child is thrilled by this.
Favorite Halloween movie
The Worst Witch. My middle sister and I would watch it before school every single day in our respective rooms. I still love this movie and found it on YouTube and hopefully I can get my daughter to watch it.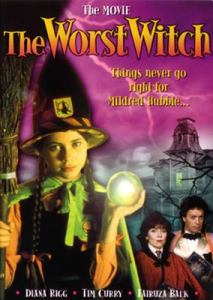 Favorite Halloween Internet reads
I liked this read from PopSugar, 15 Halloween Movies for Wimps. Buzzfeed had a wonderfully helpful post about candy and cocktail pairings. And Book Riot linked to a story on FlavorWire with 10 scary stories you can listen to right now.
Favorite Halloween funnies
I will be drunk in about 15 minutes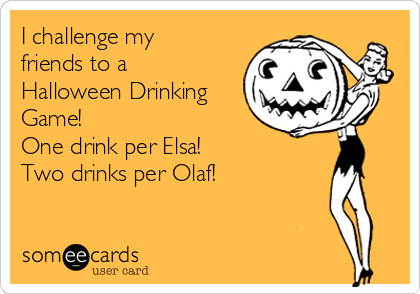 I find this funnier than I should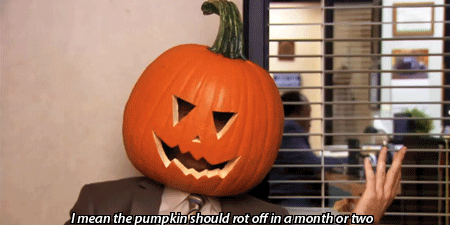 This will be my candy bucket sign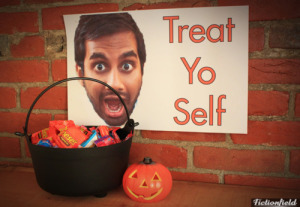 True story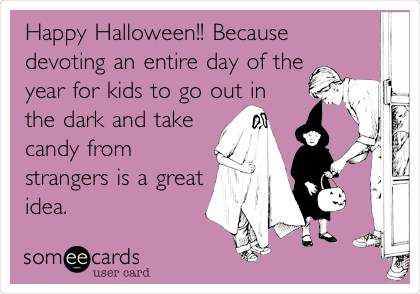 Hope you all have a great Halloween and rest of the weekend!
Coming up on Monday: I'm not quite sure yet. It's either the beginning of my cheer mom series or something else. We'll see what strikes me when I sit down to write.

Linking up with Amanda