The lovely Nadine has tagged me for Love, Hate, Tag, which is a game that's pretty self-explanatory. List 10 things I love, 10 thing I hate, and then tag 10 others to do it. I'm doing the post in reverse and tagging anyone who wants to do it (or needs a post idea) because I hate picking people for stuff. Perhaps this is why I was never a successful team captain in elementary school.
In any event, let's check out some of what I love and hate. If you've been around awhile, some of these should not surprise you at all.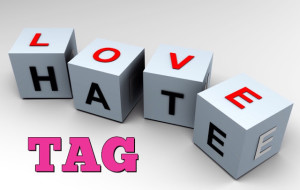 Love
Books–I had to put this first. Books are my favorite. Everything is possible inside a book. And if you read books, you're never at a loss for something to do or something to talk about. I could go on for paragraphs and paragraphs about how much I love books. But I'll spare you. FOR NOW.
Music–one of my favorite quotes is "music is what feelings sound like". It's true. I feel about music the way some people feel about paintings or photography. Music, like books, is there for me when I need it and I can always, always match music to my moods.
Dogs–most dogs, anyway. Some dogs are assholes. But the fluffy, unconditional love, not to mention hours of free entertainment, from dogs is incomparable. Plus, they make great nap buddies.
The beach–the smells, the sounds, the sand, the relaxation…everything about the beach improves my mood (except at peak time in the summer when it's filled with tourists) and my ideal day is a day at the beach with a good book and a great playlist.
Gritty and dark TV shows–I don't know why. I'm drawn to them. That doesn't mean I don't enjoy a good comedy but given the choice, I'm picking one with blood and violence and dark humor and suspense and a bounty of the word "fuck".
Nail polish–the colors, the variety, the way it makes me feel better about my appearance even on a day I feel or look like crap.
To-do lists–I have a messy mind and the messier it gets, the more my depression and anxiety kick in which makes my mind messier and the depression worse and it's a vicious cycle. To-do lists help calm me down, help me focus, and keep my life in order. They're my favorite tool next to my planner.
Iced tea–it's my favorite drink of all time. Unsweetened, please.
Naps–I don't understand people who don't take naps. How can you not enjoy sleeping in the middle of the day with a comfy blanket wrapped around you? A midday nap is perfect for a rainy Sunday, a too-hot Saturday or a random Wednesday. As a perk, it's free. I like free.
Travelling–experiencing new places and food and sight seeing and relaxing are all some of my favorite ways to use my time and money, and if I had more money, I'd spend it on travel.
Honorable mention–my crockpot, pickles, polka dots, and baseball
Hate
Mistreatment of animals–no reason to explain why. It's essentially the most despicable behavior possible.
The Westboro Baptist Church–fuck them. Seriously. Fuck. Them.
Bad drivers–I have zero patience for inconsiderate drivers, road bullies, people who don't understand traffic rules and signs, and exercise zero consideration for other drivers. 
Toasted marshmallow jelly beans–Disgusting. An abomination to the jelly bean world. See also: buttered popcorn jelly beans.
Anything orange flavored–I'll spare you the details but let's just say that a childhood incident means I am forever scarred from being able to consume anything orange flavored. No juice, candy, the fruit and its cousins…all of it.
Humblebragging–please, just brag. I'd rather deal with your conceit than deal with you pretending you're not full of yourself. Or you fishing for compliments. 
Bugs–they bite, they crawl, they fly at you, and they're just awful. I'm sure somewhere, they serve a purpose but really, they're awful and can go away.
The people who play their car music so loud it shakes your car and deafens your ears–there's a special place in hell for them. Probably next to the Westboro Baptist Church.
Ignorance–specifically, using that ignorance and then spouting off opinions and misinformation as if they're actually grounded in fact and using them to further a hateful agenda. With the vast amount of information available, there's no excuse for ignorance and not taking the time to learn or gather information is inexcusable. See also: hypocrisy 
When people say my name wrong, I correct them, and then they keep saying it wrong–thanks for listening, jackass. Much appreciated. Also, it's not a hard name. And it's spelled J-A-N-A. It's pronounced with a short "a". Does not rhyme with Dana. So why would you call me Jenna? Is there an "e" in there? No? Maybe you need to relearn your phonetics. A revisiting of the alphabet would help, too.
Honorable mention: rap music, hangers facing different directions, finding that one spot on your leg you thought you shaved but didn't
Save