A few weeks ago, I sent a tweet to Domenick Lombardozzi (who was on The Wire and Breakout Kings, both of which I recommend, and Boardwalk Empire, which I have not watched yet but plan to) where I mentioned that I'd like to sit down and have a beer with him. He just seems like the kind of celebrity you can do that with and I'd definitely like to do that.
But that tweet got me thinking that maybe I'd also like to have beer with a few more celebrities. In fact, I'd like to have a whole dinner party filled with celebrities. I think it would be a) a fun experience; b) a reason to get all fancy dressed because I'd totally make it that kind of party; and c) it'd give me a quiet, brief moment of fame even though I have absolutely no desire to be famous. 
While I have no idea what the menu would look like for my extravagant dinner party (and by extravagant, I mean in my backyard and with my husband barbecuing because that's probably all we can afford and a black tie barbecue just smacks of class even though in reality, I'd not have it black tie and just make it backyard casual since I barely like putting on pants, let alone a fancy dress), I think I know who would be on the guest list.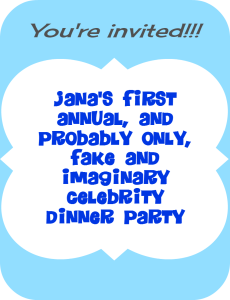 Let me pause here and say I struggled with this list so, so much. I had about 6 iterations before I narrowed it down to this one and when I went back over it, I realized that there are a number of celebrities I want to meet because not only are they smart and entertaining, but they write. Apparently I'd like to surround myself with successful writers. Which makes total sense since, you know, that's my dream and all. In fact, I thought about separating this list into two groups but the thought of even fictionally throwing two celebrity dinner parties makes me anxious so we're just going to stick with one.
One notable absence–Matt Damon. I have had a thing for Matt Damon since I saw School Ties in the movie theater when I was in 10th grade and I have no desire to meet him because I'm 99% certain I'd act like an absolute asshole and be all self-conscious and ruin the whole party. So he has to stay away.
Okay, so now that we know Matt Damon won't be there, let's go through the rest of the guest list (for this party, I had one caveat: all the guests had to be alive. I could play the "if you could pick any celebrity, living or dead, to have at a party" game and I'd have people like Buddy Holly and Janis Joplin on the guest list)
Judd Apatow
Jason Segel
Wentworth Miller
John Krasinski
Chris Pratt
John Green
Jimmy Fallon
Kyle Chandler
James Spader
Jack Nicholson
Kurt Sutter
Aubrey Plaza
Kat Dennings
Amy Poehler
Mindy Kaling
Gillian Flynn
Dolly Parton
Queen Latifah
Rainbow Rowell
Anna Gunn
Drew Barrymore
The first thing I noticed, besides the whole writer thing, is that I have a good portion of the cast of Parks and Rec on my list so maybe I should just say I won't invite any of them and just pretend I have talent or a desire to be on TV and be an extra on the show instead. That would free up 3 spaces on the list. If I did that, I'd fill in Tina Fey, Bradley Cooper, and Jennifer Garner (who I didn't really like until I saw Juno and then I found out how hard she campaigned to protect her kids from the paparazzi and now I have major respect for her).
The second thing I noticed is that everyone on the list has, in one way or another, made me laugh. Or cry. Or been in, or has written something, or done something off camera, that has made me feel all the feels. They're people I want to sit down and talk to also, have you ever observed really smart and talented people talking to each other? I have and it is amazing. I feel like I could become so much better just from being at the party and watching what goes on.
And I'd have a really amazing photo wall when it's over.
Would you guys host a celebrity dinner party? Who would you invite?
P.S. For the record, I'd totally take tons of pictures and Instagram the shit out of this kind of party which means that my face might be in a lot of places but I'd be okay with that since I'd be covered by lots of people better looking than me and probably just blend into the background.
I have no problem with that.
P.P.S. I'm totally starting a Pinterest board for this. I saw someone else do it and I think it's a great idea. And you know I'm not above stealing copying a good idea.
Save