Hey, Thursday! How you doin'?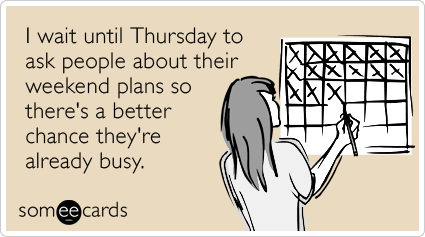 Thursday has long been my favorite day of the week. I think this started in college thanks to Mug Night at The Stone Balloon (RIP) and I know I've mentioned that before but I'm old and I tend to repeat myself.
You know what else is fun about being old? Having no train of thought and saying what's on my mind in no particular order and the fact that nothing relates to the thought before it. Like this stuff:
One of my daughter's favorite shows is this new Nickelodeon one, Nicky, Ricky, Dicky, and Dawn. It's about quadruplets. Ordinarily, Nickelodeon shows make me cringe (save for iCarly) but this one is freaking hilarious. Did you guys watch That 70s Show? Do you remember Fez's crazy girlfriend Caroline? She's the mom. Also, they had a whole episode about poop that had me hysterically laughing the whole time. #noshame
Speaking of #noshame, you know who needs to be really ashamed? Dogfish Head beer. Because they're making a scrapple infused beer. This is essentially the worst idea in history and if you don't believe me, here's the definition for scrapple and after you read it, you'll understand why it doesn't belong in beer or anything ever (including your fridge or your mouth).
For the longest time, I prided myself on the fact that, after having my iPhone for more than 3 years, I hadn't cracked the screen. Bragged in my head. Felt superior. Didn't care that I still had an old model because it was in tact, dammit, despite my chronic dropping of the phone. Then, on Saturday, my ego got body slammed when I not only dropped my phone but the screen shattered. A lot. Then my cheap, overconfident ass needed to buy a new phone. As I write this, I am anxiously awaiting the delivery of my iPhone6.
You know what else I'm waiting to be delivered? An American Girl doll. My daughter wanted that, and only that, for her birthday next month so we, along with our parents, pooled our money to buy her a $115 doll. Yep. You read that right. $115. For a fucking doll. INSANITY. But I did find a $10 off coupon and, instead of buying the clothes from the AG store, the doll will be getting Target clothes. Hey, if Target clothes are good enough for me, they're good enough for a doll.
I've worked my way through all the Serial episodes. I'm going to listen to them again because there's just so much information to retain. As a former criminal justice person, my investigator senses are tingling all over this and I'm not 100% convinced the kid who's in prison is guilty (he's definitely not not guilty but I don't think he's a murderer). Anyone else listen? What do you guys think?
I'm trying hard not to complain about the cold weather because it's not like if I complain, it'll do any good and the weather will magically change back to something more manageable and appropriate for November. But seriously–what the hell is going on? Why does it feel like the middle of January? I'm genuinely terrified of what's going to happen this winter if this is what it's like now. But it does justify my blanket hoarding so there's that.
While we're on the subject of hoarding, if you remember, one of my organizing goals for the month addressed my Pinterest boards. I'm trying to thin the herd over there and, in doing so, I realized I had a whole bunch of home decorating and home idea pins I'd completely forgotten about! Thanks to Amazon, Etsy, craft stores, the dollar store, and a little bit of Pinterest, my home will look more inviting and less plain over the next few months. I'm quite excited about this.
Reader poll. As we approach the end of the year, I'm thinking about my goals and the direction for the blog. I'd love to hear from you what topics you'd like me to write about. So if you could take a minute or two to fill out this little poll, I'd appreciate it. I'll let you guys know the results in two weeks (next Thursday is Thanksgiving and I have one of those "things I'm grateful for" posts planned). You can select up to 3 topics and I'll chose from the top 5 as to what I'll be mainly writing about next year.
Coming up tomorrow: Friday Favorites. See you then!
Linking up for Stuff and Things
Save