Once upon a time, a woman and a man got married. They bought a house and quickly decided that house needed a dog. So they got a dog and named him Barkley (after the dog from Sesame Street and at the woman's insistence). After a year or so, the woman and the man realized Barkley needed a brother. And they began the process of finding the perfect companion for Barkley.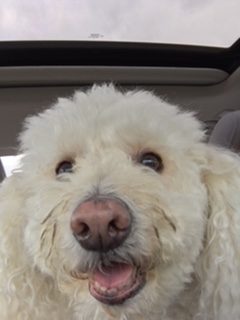 It wasn't easy. Barkley, like his mom, is very particular about who he likes and doesn't take to everyone quickly and approaches all new people with caution and nerves. But there was one puppy, a small, underweight, runny nosed, wheezing puppy, who stole his heart. They took to each other instantly and the woman and the man knew that was the one. And they took him home and named him Dobie.
Throughout his first year, Dobie grew and grew. His runny nose and ear infections cleared up. He gained weight. He learned to walk on a leash, he learned not to pee in the house, and he graduated from school. He took his rightful place in the woman and man's bed and when they brought home a human baby, he slept in front of her crib, too.
It was the beginning of an amazing 11 1/2 years. Because during that time, Dobie gave more love than he ever asked for in return. When the woman had bouts of depression, he still made her smile every day. When the man was stressed from work, he knew how to calm him down. When the girl needed someone to play with or dress up, Dobie obliged. When Barkley needed a headrest or someone to snuggle with, he provided it. Dobie did it all with patience and enthusiasm and smiles.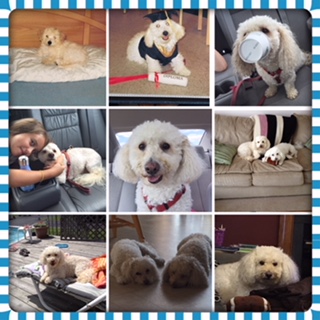 Loving his people, making them happy, tolerating their idiosyncrasies and endless nicknames for him, didn't mean he didn't have his own preferences. He loved food, especially hamburgers and peanut butter and carrots and ice cubes, but he enjoyed every morsel he consumed from kibble to a Starbucks pup cup and everything in between. If it was something he wasn't supposed to have, all the better! The woman never cooked a meal without him right at her feet, waiting for something to drop, and he really loved licking the dishes in the dishwasher. Nothing made him happier than playing in the snow or a car ride with the wind blowing right on his face or quick swim in his grandparents' pool. A rousing game of fetch with his stuffed potato was a favorite nighttime activity and dammit if he didn't let you know when he was ready to start and was done. And no day started without a good scratch behind his ears.
But what made him special was all the weird things about him. His foot fetish, his need to eat garbage and the girl's toys, his choice to nap on the floor in corners or against the front door instead of the couch, his utter hatred of the squeakers inside stuffed toys and the precision he used to extract them, his reprimanding of Barkley when Barkley got a little out of control, the way he slept at the woman's feet, the way he ran in crazy circles around the house, and the way he shook the bed when he snored.
And what's impressed most upon the woman and the man and the girl is the way Dobie loved, unconditionally and unfailingly. The feel of his kisses on their face, the heat of his body on their cold feet, the softness of his fur under their hands, the willingness to do what was asked of him, his persistence, his intelligence, and his ability to make everyone he ever met love him instantly.
Dobie's life will be remembered for all the things he gave and the love he had. And love and give he did, even at the end. No words can ever accurately and completely describe what an amazing dog he was and how my life is better and blessed because he was in it. I am infinitely changed and irreparably damaged now that he's gone. All that's left to do now is live my life in a way that honors him because God knows that's what he deserves.
Barkley made me a dog person.
Dobie made me a dog mom.
And holy shit, did I love being his mom.
Rest in peace, my sweet boy. I hope you're running around in the wind and the sun and eating all the things you want and your heart never bothers you again. We miss you here but we know you're needed there. Say hello to our baby and give him all the kisses he needs.
Until we meet again.