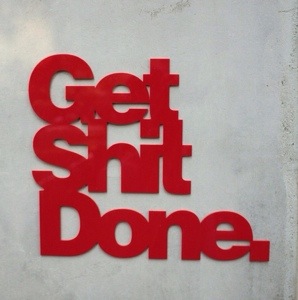 I'm starting something new. I've seen it on other blogs and even tried it once before on a previous site. For some reason, it's never stuck, but you know what? It's worth a shot again.
What the heck am I talking about? I'm talking about sharing my monthly goals.
While I'm usually not one to put that kind of information out there, I think that it's a good way to keep myself and my project on track. I have a tendency to self-sabotage when things are going well and I want to break that cycle. I'm hoping that by sharing my goals with you guys, it'll keep me focused and also, because I did share my goals, I don't want to seem like a huge slacker and I'll actually be productive.
So here we go. For the month of April, I plan to:
Make homemade butter. This was the first pin I put in my pioneer project Pinterest board. I don't know that it's necessarily cheaper than buying store made butter but it's one of the hallmarks of pioneer living. It's time.
Crochet one dish cloth. After trying and practicing on a crochet hook and the knitting loom, I think crocheting is the way to go right now. It'll be nice to put something homemade in my kitchen, too (you know, that's not edible). I also have a goal to make it look nice, not like something my dog made.
Work on my business. Many pioneers were entrepreneurial, and that's actually something I had going for me before I started this project. I own and operate a blogger mentoring program and this month, I need to finish the site redesign and update the menu of services.
Start our garden. This is more of my husband's project than mine because he loves gardening. I do not. However, I need to be more involved and this means actually having an opinion on what we grow, how big the garden should be, and assisting in planting. It's unpleasant but I'll do it. Pioneers had to do shit they didn't like all the time.
Participate in the Watch Your Wallet Challenge. I adore the concept of this challenge, hosted by Steph at Life According to Steph and Marla at Luck Fupus, particularly as you get to make your own rules. My rules for the challenge are: no stupid tax (late fees, library fines, etc), only make frivolous purchases using gift cards, stick to my grocery budget, use coupons more often, refrain from buying more craft supplies, and keep up with our 52 week savings challenge.
There are a few more goals on my list but there's no need to share them. But what I can share is this nifty button I made for anyone who's joining the Little House bookclub (it starts tomorrow!) and, below the button, is a giveaway for a complete set of the Little House books! That's right, one lucky reader will get a chance to win all 9 books! Thanks to Steph, Jenniemarie, and Athena for assisting with the giveaway. Good luck!
P.S. Please excuse the horrible formatting of what you're about to see. WP is being an asshole or I'm doing something wrong and can't get it to do what I want. But I think you get the point.