Happy Hanukkah! Welcome to the (first) December edition of Show Us Your Books with me and Steph. I say first because we have second one planned for December 29 and for that one, we're asking you to link up with your favorite reads of the year. That's right! A BONUS Show Us Your Books! I hope you'll join us! And make sure you stick around to the end of this post as there's a giveaway for you to enter.
This past month I read 14 books. Five for work, 9 for fun. I'll only be reviewing the 9 I read for fun but if anyone is interested in the books I read for work (4 business type books, 1 criminal justice/cold case book), let me know. I'll put them in a separate post or we can talk about them over email.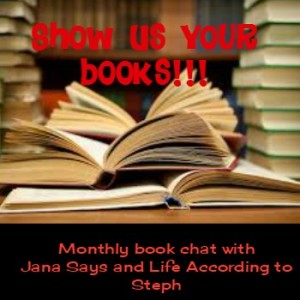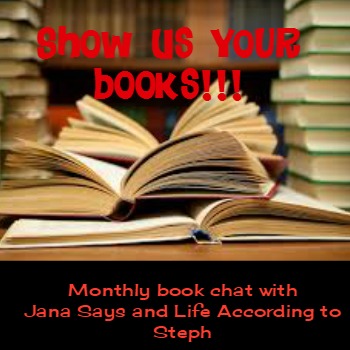 Let's do it. But buckle up because this is one long ass post (you can skip to the bottom of the reviews for my must reads, the linkup and the giveaway):
Ready Player One by Ernest Cline. I first learned about this book through Lisa's book club and I waited quite awhile for it to come in at the library. Worth. The. Wait. Which is weird for me to say about a science fiction book (and one of two I read this month) but guys, this books is so good! Like The Martian, it helps if you skim through the really technical boring video game stuff but once you do, what a great adventure/mystery/love story behind it! So creative, a little WALL-E-esque, and also, a possible scary glimpse into our future. Not to mention all the 80s pop culture references. If you were a kid/teenager in the 80s, you will explode from excitement with all the references. And for me, an extra bonus, Rush (one of my all-time favorite bands) played a crucial part to the story.
Welcome to Night Vale by Joseph Fink and Jeffrey Cranor. The second science fiction book I read this month. It's based on the podcast of the same name and I think it's crazy awesome that a podcast was turned into a book. I don't really know how to describe this book to you except to tell you that it's weird, sarcastic, unlike anything I've ever read before, and it will hook you. That said, because it's so damn weird, it gets hard to read sometimes. Also, it's written with the exact same cadence and manner as the podcast so if you want to read the book, listen to the podcast first. You don't have to but it'll help it make more sense.
Stoner by John Williams. I decided to read this after I heard both the hosts of All the Books (another podcast I listen to) rave about it. Unfortunately, I did not feel the same way about this book as they did. I mean, it was very well written and I felt many emotions, but it was just…meh. It's a story about a college professor named William Stoner set in the 1930s-40s (mostly) at the University of Missouri, so the historical stuff was pretty cool, and the progression of his average, and at times failed, life made for a decent enough read but it didn't floor me. I wanted it to. But it didn't.
Gangerland by Tod Goldberg. Nope nope nope nope nope. Don't read this book. Boring, annoying, the good parts of the story were shortened and disrupted by the tedious ones, he killed the best character, and I only finished it because of the few pages of goodness peppered throughout. I wanted to read about the FBI agent and his pursuit of the mob hitman-turned rabbi (right?) not the other way around. I totally expected more from the guy who co-hosts a podcast with Shawn from Boy Meets World.
Maybe in Another Life by Taylor Jenkins Reid. Let me say upfront that she's definitely on the list of authors I won't quit. She reminds me of Jennifer Weiner in that she writes chick lit but does it in a way that makes you want to keep reading her books. The characters are not too over the top, they're relatable, and the situations/scenarios they're in feel real and not contrived for the sake of entertainment. You feel like you might know them or be one of them. She writes the kind of books I'd like to write. And this one falls in the same vein. It was like Sliding Doors/The Butterfly Effect (but less awful) and I loved the message that you can be happy with your life no matter what choices you make or what circumstances happen to you. It also made me really want to eat cinnamon rolls.
The Financial Lives of the Poets by Jess Walter. I enjoyed the premise of this book way more than the execution. It told the story of Matt, a failed blogger and former newspaper reporter on the verge of losing his house and his family (due to a debt that's not entirely his fault and it angered me how much of a pass the wife got on her responsibility in the whole situation, not to mention her cheating on him) and his failed attempt at dealing weed and the ramifications of his choices. Honestly, the parts of the book I found the most compelling were his financial and home life. I could not have cared less about the drug dealing. Or the terrible poetry that was weaved in. I did like the author's writing style so I'm not giving up on him yet.
God Shaped Hole by Tiffanie DeBartolo. This was a reread for me. I read it years ago and had forgotten about it until Julie Murphy (author of Dumplin'), who I follow on Instagram, posted a picture of it. I couldn't remember exactly what the book was about so I figured I'd give it a shot again. Much more memorable this time around and I'm glad I reread it. The book is heartbreaking and sad and touches on the intensity of romantic love and feeling stuck and fractured parental relationships and, without actually mentioning it specifically, mental illness. Trixie and Jacob remind me of an older Violet and Finch (from All the Bright Places), if that helps give a picture of their relationship and the direction of the book. The author wrote another book, How To Kill A Rock Star, which you should also put on your radar.
I Am the Messenger by Markus Zusak. I'd had this book on my TBR for awhile but when one of your closest blogging friends can't stop raving about it, you bump it up to the top of the list. You guys. So glad I did. What a phenomenal book. Not five stars because some of the plot felt choppy and unfinished, and the end was a little too rushed, but wow. Using playing cards to send cryptic messages to a directionless, kind of pathetic, underage cab driver who lives alone with an overly smelly dog to go out and do good in the world without him realizing exactly what he's doing and the impact he's having, but also making him suffer, made for a wonderfully different read. I love Zusak's writing. He reminds me of an Australian John Green except not every book is about the longing of a teenage boy.
Beneath the Bonfire by Nickolas Butler. OMG, I love this man's writing. It's just beautiful. I don't even know what else to say about it. This book, unlike Shotgun Lovesongs, was a collection of short stories and yes, there were themes tying each one together, and yes, each one dealt with different moral issues, but each one of them could have been their own book. I'm glad, though, that he left them the way he did as it gives you more room to think about the characters and the endings and I feel that the impact was greater as a result of the brevity of the stories.
Definitely add: Beneath the Bonfire (even if you don't like short stories. Trust me), God Shaped Hole, I Am the Messenger
Alrighty. Now that we made it through all of that, it's your turn. Show us what you've got!

Loading InLinkz ...
And now the giveaway! With the holidays upon us, Steph and I decided we wanted to give you a present and also, donate to a charity on your behalf. Because giving and receiving are not mutually exclusive. So one lucky winner will receive a $25 gift card to Amazon so they can buy books. And we'll give $25 on your behalf to Project Night Night, which is a charity that provides free Night Night Packages to homeless children. Night Night packages contain a new security blanket, a children's book, and a stuffed animal.
Save