I cannot believe it's been a year since Steph and I started this little linkup! It's giving me all the feels how supportive you all have been and how many of you have been involved and stay involved and it really is a testament to the power of books. And as a thank you, Steph and I have a little giveaway of bookish presents so after you read through my reviews, make sure you enter (or, skip to the end, enter the giveaway and then go back and read my reviews. Either way works for me).
I have many mushy things to say but Thursday's post is an emotional gut punch so I'll refrain from most of my comments and simply say I appreciate everyone who joins us, regularly or irregularly, and thank you for your books and your comments and your love of reading.
On to what I read last month.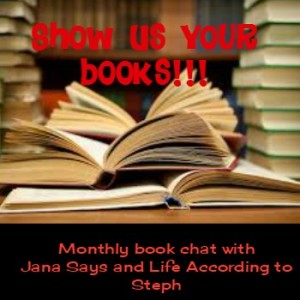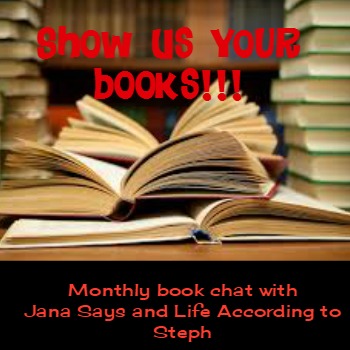 Dietland by Sarai Walker. A story about an obese woman whose sole purpose in life was to stay hidden and lose weight until she starts being stalked by a stranger who gets her involved in an underground group trying to change beauty standards in strange, often bizarre, quasi-militant ways (which, truth be told, got annoying after awhile). The point the author was trying to make–that we can love ourselves regardless of size–is a good one but the story was kind of all over the place, I hated the main character's name, and it left little room for the mindset that if you want to change how you look that's okay, too, as long as it's on your own terms. Body positive books are important but this one, for me, was not the one to lead the charge.
Ally Hughes Has Sex Sometimes by Jules Moulon. This was a fun little book. I read it in a couple of hours, on my flight from Philly to Charlotte. Ally Hughes is a college professor, has a short fling with one of her students that maybe was more than a fling, they don't speak for 10 years until he shows up at her house with her daughter and throws her already messy life into even more disarray. It has the makings of a Lifetime movie, and it'd probably be a great one, and there's a little mystery plot thrown in and you really want Ally to get over herself and be with this guy who clearly never got over her. This book will not rock your world or change your life but I do recommend it because it's pure entertainment.
$2 a Day: Living on Almost Nothing in America by Katherine Edin and H. Luke Shaefer. So, this was an interesting follow up to Ally Hughes. A study of families living at the lowest income you can imagine, with no cash flow at all, and how they survive. And what they do is survival in its basic form. From selling plasma to selling their food stamps to using whatever free services (think library, parks) they can find to doubling and tripling up in homes that should essentially be condemned, the families highlighted in the book show just how dire the poverty in our own country can be. They use the Welfare Reform Act of 1996 as the foundation of their thesis, and the solutions that they propose are practical yet most likely not going to happen in the near future. Which is pretty freaking sad.
Radiant Angel by Nelson DeMille. I did not finish this one. Not even linking to it because it doesn't deserve the link. This book was absolutely terrible and the only reason I even made it 100 pages in is because I like John Corey as a character. The plot was ridiculous, the writing was lazy, the characters were horrible, and everything else was atrocious. I recommend the John Corey series but do yourself a favor and avoid this one. Negative 400 stars.
Modern Romance by Aziz Ansari with Eric Klinenberg. My sociology nerd heart skipped many beats reading this book. It was equal parts hilarious and smart and well researched and also, it made me so, so happy I don't have to date. I'm grateful I met my husband in the dark ages. I cannot even begin to imagine what dating is like in the texting and Tinder age (you can visit my friend Ali for lots of insight about that) and this book was very eye opening to me. Aziz is hysterical, the book was definitely written in his voice, and whether you're in the midst of dating or are on old married hag like me, I definitely recommend picking this one up.
Undermajordomo Minor by Patrick deWitt. I had been looking forward to this book since I learned that Patrick deWitt wrote another book because The Sisters Brothers is one of my all-time favorites and I did a little happy dance when I got the notification from the library that it was ready for pick-up. And maybe I built the book up in my head too much but I was disappointed. It did not blow me away like I'd hoped it would. He's a phenomenal writer but this story, for me, was too bizarre. Not only that, it felt like there were gaping holes in some of the plot. Like, it was half-plots or half told stories for some of the characters. And there was a disturbing, pretty fucking gross sex scene that had the husband say to me "you look horrified by what you're reading". I definitely was. And I made it through the whole 50 Shades trilogy. So that says a lot.
Dumplin' by Julie Murphy. Far and away my favorite book of the month. Probably in my top 10 of the year. THIS is the body positive book people should be reading and talking about. And one of my favorite part of the book was Willowdean herself. Sure, she's kind of bitchy and judgmental and confident and insecure and moody but she's a 16 year old girl. Those are the characteristics that made her feel real and relatable (honestly, I'm 38 and I'm still bitchy and judgmental and insecure and occasionally confident). She is exactly what you'd expect a teenage girl to be, especially one who's overweight with a very unexpected admirer (two, actually) and a former pageant queen mother and who's still mourning the sudden (but not unsurprising) loss of her aunt and role model. She makes some questionable choices that both help and backfire on her but in the end, you realize what a badass this teenage girl really is. I wish she existed when I was in high school. I would have maybe felt a little less lonely. Oh, and I feel obliged to add that Dolly Parton plays a big role in the story so that was like the sequins on the cherry lollipop (once you read the book, you'll get that reference).
Definitely add: Dumplin', Modern Romance, Ally Hughes Has Sex Sometimes 
Now let us know what you read! Then keep scrolling for the giveaway entry form.
Loading InLinkz ...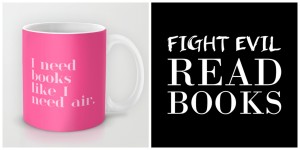 Congratulations! You've made it to the end of the post which means it's giveaway time! To say thank you for a year of bookish awesomeness, Steph and I are giving away a $50 gift card to Amazon and some swag from Bookworm Boutique (see above). Complete the entries below for your chance to win one of those prizes (how commercially did that sound?). Winners will be pulled on October 19:
Save