I finished 81 books this year, not including the ones I read for work purposes. Some I started and didn't finish. Some I meant to read and didn't get around to. Some I finished and hated. Some I finished and months later, can't stop thinking about.
The latter ones I've designated as my favorites of the year. Not because of an arbitrary Goodreads rating or anything else. I picked what I did because of their lasting impact and my likelihood of recommending them to others. And since they've already been reviewed and I hate repeating myself, I figured I'd just do a quick picture with the list of titles and authors underneath (I apologize for the lack of links but this post is coming to you live from my phone). There's a combination of fiction and nonfiction so there's something for everyone!
Notably absent: Sue Klebold's book and The Underground Railroad. The latter for no reason other than it's on all the lists and the former because while I can't stop thinking about it, I don't know that I can honestly recommend it.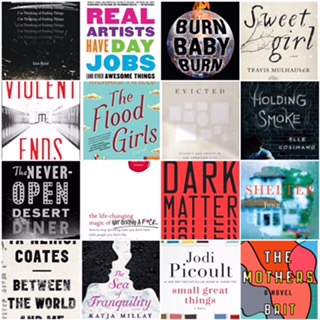 The books:
I'm Thinking of Ending Things by Iain Reid
Real Artists Have a Day Jobs by Sara Benincasa
Burn Baby Burn by Meg Medina
Sweetgirl by Travis Mulhauser
Violent Ends edited by Shaun David Hutchinson
The Flood Girls by Richard Fifield
Evicted by Matthew Desmond
Holding Smoke by Elle Cosimano
The Never-Open Desert Diner by James Anderson
The Life Changing Magic of Not Giving a Fuck by Sarah Knight
Dark Matter by Blake Crouch
Shelter by Jung Yun
Between the World and Me by Ta-Nehisi Coates
The Sea of Tranquility by Katja Millay
Small Great Things by Jodi Picoult
The Mothers by Brit Bennett
Now it's your turn! Let us know about your 2016 favorites! And don't forget to visit Steph and some other participants to start making your 2017 TBR even bigger!
Loading InLinkz ...