YOU GUYS. This month marks two years–TWO YEARS–of Show Us Your Books. I cannot even express in words how amazing that is and how honored I am that every month for the last two years, you have linked up and talked books with me and Steph. It is amazing to connect with other readers from all over the world and there are dozens of books I've read that maybe I wouldn't have if it weren't for your participation. So, as a thank you, we have a little giveaway. Make sure you read through the whole post to see what prizes we have for you guys and enter to win.
As far as my reads this past month, it was quite a mixed bag both in terms of my reaction to the books and in terms of topic. I don't want to say it was my most eclectic month on record but it's definitely a contender. And, as always, these are either direct copies or derivatives of my Litsy reviews (follow me there if you'd like. Just search for my username, Jana).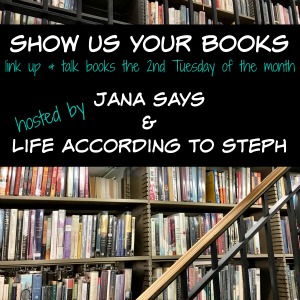 In a Dark, Dark Wood by Ruth Ware. You'll get more of my feedback on this book when Steph and I discuss it on The Armchair Librarians but for now, let's say that it's exponentially better than her other book but it's still an average, standard, passes the time just fine thriller. It's a perfect plane or vacation book, one that keeps you reading but doesn't hurt your brain and isn't 100% unputdownable. She weaves an intriguing story, even if you solve the mystery pretty early on, but the storytelling is kind of lazy and boring at times. That said, I read the book in a day so it didn't totally suck.
Heartbreaker: Stories by Maryse Meijer. I have mixed feelings about this collection of short stories. On the one hand, it's a beautiful collection of gorgeously written, sad, and fucked up stories about love and sex and relationships and the really dark parts of all of those. On the other hand, they were so damn weird that I struggled through it at times. But I guess that's what made it so compelling. I can't say that I recommend it to everyone, because some might find some of the stories  offensive or way too out there, but it was good. Very good.
Small Great Things by Jodi Picoult. While written in typical Picoult formula, it's probably the most relevant and intense book of hers I've read (save for Nineteen Minutes. Probably on par with that). It addresses all the things regarding racism we're afraid to confront and you can tell the care she took in researching and writing. This book will give you all the emotions and, in the end, gives you pause to truly think. This is not an easy book, and might upset people, but I'm glad it's out there (and I can't wait until Steph and I get to see her talk about it). *received as an ARC from NetGalley
The Woman in Cabin 10 by Ruth Ware. NOPE NOPE NOPE. There was nothing about this book I liked except maybe the news reports and emails. Had I not had to finish it for The Armchair Librarians, I would have bailed. It was boring and sloppy and tedious and tried so hard to be The Girl on the Train but failed so hard. The main character was wholly unlikable and I gave zero fucks about what happened to her and I gave less fucks about the plot. And the ending sucked balls.
Lady Cop Makes Trouble by Amy Stewart. The Kopp sisters series is easily my favorite series of the last 5 years and I don't generally like historical fiction. That's how good this shit is. I love, love Constance's tenacity and badassery and take no shit and get shit done and shut your face, I can take care of myself and don't you tell me I can't because I'm a woman attitude. We need more books about women like this, historical or fiction, and all the kudos to Amy Stewart for writing these. I swallowed this book whole in about 3 hours, I loved it so. It maybe wasn't as good as Girl Waits with Gun but definitely close.
Monster by Walter Dean Myers. I got this from last month's SUYB but cannot remember who reviewed it but thank you to whomever that was. As a former juvenile probation officer, the subject of this book hurt me in places. It was such a creative way to tell Steve's story, and the diary entries were particularly poignant but the end felt rushed. It tapered off when it shouldn't have. For all the in-depth, thoughtful moments throughout the rest, it was disappointing. The author did a great job writing from Steve's perspective and it really makes you think about some moral issues in our justice system.
The Life Changing Magic of Not Giving a Fuck by Sarah Knight. ALL THE YESSES TO THIS BOOK!!! I loved it so, so, so much. Hilarious and practical and perfect for anyone no matter your level of fuck-giving. You will learn, you will laugh, you will have revelations. This is book #1 in my adulting starter kit. However, if heavy swearing is not something you enjoy or if you are offended by that kind of language, then maybe pass. And she has a second book coming out in December. I CANNOT WAIT.
TL; DR: Add The Life Changing Magic of Not Giving a Fuck, Lady Cop Makes Trouble, and Small Great Things. Run away from Ruth Ware.
Now it's your turn! Link up and show us what you've read! Make sure you visit some other bloggers, too. And below the linkup is the giveaway so definitely check that out.

Loading InLinkz ...
Giveaway time!!!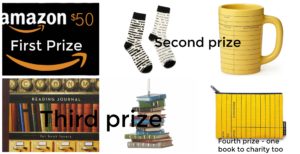 Here's the prize breakdown (and of course they're all book related):
First prize = $50 Amazon gift card;
Second prize = banned books socks and a library card catalog coffee mug;
Third prize = reading journal and book ornament;
Fourth prize = card catalog pouch (when we bought it, Out of Print sent a book to a community in need, so it's a feel good prize too).
Good luck and thanks again for 2 amazing bookish years!!
Save