You voted, right? If not, stop reading this, go vote, and then come back. Unless you live outside of the US in which case, keep on reading. 
I don't know what happened this month. It's like the gods and stars of book goodness aligned and sent me a whole bunch of great books all at once. Even the one I didn't finish was great (you'll understand when you see my explanation as to why it was a DNF). There's a TL;DR at the end since I believe there's 9 or 10 books this month and, as always, the reviews are similar to what you see on Litsy if you follow me there. And, also as always, make sure to visit my co-host, Steph, as well as some of the other bloggers who join us.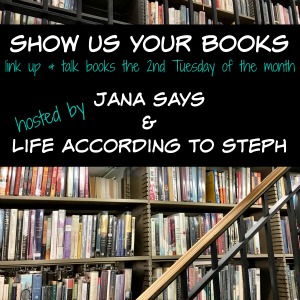 Alright, friends. Prepare your Goodreads.
The Couple Next Door by Shari Lapena. I waffle back and forth between this being awesome or just okay. Because it's both. At times, it's a gripping, intense, fast paced thriller and at others it's a sloppy let's throw stuff at the wall to see what sticks mess. It became quite predictable so the twist wasn't really a twist at all and that was disappointing, and the missing baby seemed more like a plot object than point and that got under my skin. But the writing was fine and it's a wonderful plane/vacation read. It also kept reminding me of the Madeline McCann case, like the author fictionalized or speculated on those events.
Eileen by Ottessa Moshfegh. The writing in this book is simply astounding. Probably some of the best writing I've read in awhile. However, the story was mediocre and Eileen, the main character, was horrible. I know she's supposed to be, and the the narrator, Eileen's elderly self, tells you that up front but she was so insufferable and pathetic it made the book hard to get through at times. The end pay off was decent and if you like character studies, this would be a good choice for you.
Burn Baby Burn by Meg Medina. SO. GOOD. It's a contemporary historical fiction story set in 1977 New York. Queens, to be precise which, incidentally is where I live following my birth so I was ACTUALLY ALIVE when this story takes place. My parents never talk about the events the story is set against and so it made that part even more interesting to read. Then there's the compelling, wonderfully written family drama, coming of age, fiction story wrapped in a YA novel you forget is YA. And the pieces of feminism thrown give it that extra kick of awesome.
Adulting: How to Become a Grown-Up in 468 Easy(ish) Steps by Kelly Brown Williams. As a 39 year old self-described mostly competent adult, I can safely say that had this book existed when I was in my early 20s, it would not have taken me 39 years to become a competent adult. This books is smart, funny, comprehensive, and practical. There isn't a topic that goes untouched. If there's a person in your life who's struggling, at any age, with adulting, give them this book. And then make them read it.
The Sea of Tranquility by Katja Millay. I know I'm late boarding the bus on this book. I know everyone read it last year. But. OMG. This book ripped my heart apart. I don't even know how to discuss what a painfully beautiful and heart wrenching story this is. Phenomenally written, too. A lesser writer would have made this a trite, stereotypical YA romance with tortured souls and all that shit. Nope. This was way beyond that. This was intense in the way of All the Bright Places and it will haunt me like that one still does, too.
Holding Up the Universe. Speaking of Jennifer Niven, this is the book that follows All the Bright Places (it's not a sequel. Just her next book). It was not a bad book. The characters were interesting and I love her writing but the story wasn't as strong as I'd hoped. And I would have loved to see less talk of Libby's weight. It was basically it's own character and it got annoying. Like she was trying REALLY HARD to prove that fat people are beautiful, too. STOP. We get it. I can't help but compare this book to Dumplin', which is similar but executed much better.
Behind Closed Doors by B.A. Paris. FUCKED UP. That's what this book is. FUCKED. UP. It got predictable at times but then it turned on its head and wasn't necessarily what you thought would happen. It should come with 8 million trigger warnings because it's disturbing and depicts emotional, physical, and psychological abuse in an unfortunately realistic manner. But when you think twisted thriller, think of this book. It's hard to read at times but definitely worth it. Oh, and if you've read it and figured out what the fuck he does in Thailand, can you let me know?
Between the World and Me by Ta-Nehisi Coates. I don't have words to do this book justice. And it's not really my place to do it justice because it's not about me. This book wasn't written for people who look like me, although all people need to read it. It's painful and magnificent and make you think on every page about systemic racism and how it influences and seeps into everything. His writing is superb and framing it as a letter to his son makes it that much more impactful. Read it, read it, READ IT.
Adnan's Story: The Search for Truth and Justice After Serial by Rabia Chaudry. This was my DNF. I know! It surprised me, too. And please don't let the fact that it was a DNF for me make you think it's reflective of the quality of the book. It's not. If you've followed Adnan's case, you know that Rabia is a passionate advocate for him and the book makes a compelling case against his unjust conviction (and the courts agree, too, so there's that). But since I was obsessed with Serial and continue to follow what's happening, the book didn't really present anything new and it became boring and I had to let it go.
Bonus book: The Recovering Spender by Lauren Greutman. Ordinarily I don't review books I read for work purposes for SUYB but this one was worth a mention. If you have a problem with debt or overspending, I highly recommend this one. She talks, very candidly, about her problem and how she and her husband worked their way to a debt free life and her 12 step plan (which is based on the AA plan), is freaking brilliant. She does get a little pushy at times with her website and courses but you can skip those parts without losing context. P.S. She sent me a copy of the book.
TL;DR: You'll be fine adding any or all of these to your TBR. Not a single one I don't recommend. But if you limit yourself, definitely add The Sea of Tranquility, Burn Baby Burn and Between the World and Me.
Okay. Now it's your turn! Show us what you've got! Bloggers, link up; nonbloggers, leave a comment with what you've been reading. And for those of you who like to plan, next month's is on December 13 (my daughter's birthday, incidentally) and there will be a bonus best of linkup later in the month. We're working out the details.
Loading InLinkz ...
Save