So, it's been like 27 weeks since the last SUYB. Well, maybe only 5 but it feels way longer. I'm pretty sure we all know why. WINTER. Winter slows down time. It's also slowed down my reading mojo to an almost stopped pace. I normally read around 9 books when we go this long but this time, it's only 7. Six that I finished and 1 was a DNF.  We'll get that one out of the way first (Hint: most of you aren't going to be happy with me).
And remember, as always, visit Steph and some of the other bloggers joining us. Nonbloggers, let me know in the comments what you're reading.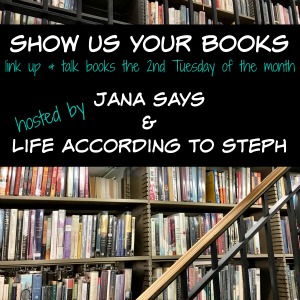 Lilac Girls by Martha Hall Kelly. If you've been around here for awhile, you know I generally don't like historical fiction. However, when it's a book that everyone raves about, I'll break tradition and read it. Sometimes it pays off (see: The Book Thief, The Storyteller). Other times it does not. This is one of those latter times. Now. This is not a bad book in and of itself. The writing is strong and it's an engaging plot. However, for me, it hurt too much to read. For as much as I can handle violence and murder, Holocaust fiction, particularly when it graphically describes what happens inside concentration camps, is something I cannot do. It's too personal, it goes above and beyond thriller-type murder and violence, and I could not push through it. Because it's not fiction. Those atrocities actually happened and I could not, for one second longer, read it for the sake of entertainment. I have a feeling it'll be a long time, if ever, I pick up another book like this. I know myself well enough to know I can't do it and that I shouldn't even try.
Moving onto the books I did finish. Reviews, as always, are copied directly from my Litsy reviews.
Kissing in America by Margo Robb. This was a surprisingly touching story about family and grief and love and friendship and finding yourself. Eva didn't feel like a teenage caricature; she was given real thoughts and feelings and written with respect. It's a fairly strong story but had Eva not been as likable and relatable, the plot would have felt weaker. She made the book what it was. And the poetry woven in was relevant and meaningful without feeling forced or gimmicky.
Shrill: Notes from a Loud Woman by Lindy West. I read this book immediately following the weekend of the Women's March and it was exactly what I needed at the time. Her unapologetic feminism, intelligence, confidence, humor, courage, honesty…all of it. I'm grateful for her opinions and her willingness to speak them on behalf of herself and all women. I didn't even mind all the stuff about her personal life. I liked getting to know her along with her opinions.
Idaho by Emily Ruskovich. SLOW. This book is SLOW. It's also a beautifully written, poetic, sad piece of art that, at times, bored me to tears. It was almost too artsy and I wanted a concrete story for the whole book. She did weave an intricate, well developed plot filled with sometimes interesting (and often unnecessary) characters but it occasionally droned on (and on and on) for what seemed like beauty rather than story. Which is fine if you're into that. I am not. And the time jumping made me insane. It was all over the place. ALL OVER.
The Quickening by Michelle Hoover. Meh. Didn't love or hate this book. It just was. It started off strong, almost reminding me of Little House fanfic if Laura and Nellie wound up as adult neighbors but then it tapered off into boring and overdramatic. Also really sad. Too sad. Had the book been any longer I  might have quit but the brevity kept me going. It also helped that it really picked up again in the last 30 pages. A well written, mediocre read.
Blood Men by Paul Cleave. Ah, a refreshing return to my comfort zone. A graphic, fucked up little thriller set in New Zealand. Definitely kept me guessing up until the end, which was nice (usually I figure stuff out. I'm superfun to play Clue with). I love his writing so I figured I'd like this one and it's nice to be right. If you like thrillers and have a strong stomach for violence, I recommend reading this book.. Oh! And it'll piss you off, too.
Get Your Shit Together by Sarah Knight. I loved her first book, The Life Changing Magic of Not Giving a Fuck, so I clearly had to read this one, too. As someone who struggles more with getting her shit together than not giving a fuck, I quite enjoyed this practical little handbook. I won't take everything in it as gospel but she has some good insight about goal setting and the keys to getting and keeping your shit together. Plus she's funny and smart and self-deprecating and doesn't come across as a know-it-all. This is basically a perfect adulting primer or a book filled with reminders in case you forgot how to adult. Do not read this book if you do not like profanity.
TL;DR: Read Blood Men and Shrill. I'll leave the rest to your discretion. 
Also, today is Valentine's Day. A day I do not celebrate (you can ask me why if you're curious but it's not really worth discussing) but because I love books more than most things, I will say that I don't think SUYB could have fallen on a more perfect day. I love how many of you guys I've gotten to know because of our mutual love of books and if that's not a testament to the power of them, I don't know what is. Thank you so much for joining me and Steph every month and for always sharing your books and love of reading with us.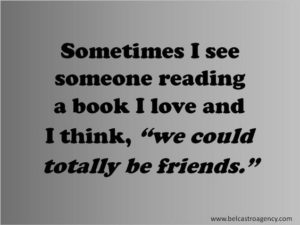 Okay. Now it's your turn! Link up and show us your books!
Loading InLinkz ...
Save