So, this used to be just a feature with me and the husband. Then the child wanted felt left out and wanted to be part of it and now it's a whole family affair. In fact, the child is the one who reminded me that a new one of these was due so it seemed unfair to leave her out.
Because the family that judges together, stays together.
Book #1: Beasts and Children by Amy Parker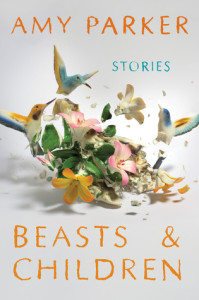 The Husband says: It's about a magical wrist corsage that when thrown to the ground, turns into hummingbirds. Jana says: What is this, The Sisterhood of the Travelling Pants and everyone gets a turn at the same thing? The Husband says: Screw this book.
The Child says: It's definitely short stories and most of them will involve beasts andn children and flowers and hummingbirds and takes place in Texas.
Goodreads says: From the tense territory of a sagging, grand porch in Texas to a gated community in steamy Thailand to a lonely apartment in nondescript suburbia, these linked stories unwind the lives of three families as they navigate ever-shifting landscapes. Wry and sharp, dark and subversive, they keep watch as these characters make the choices that will change the course of their lives and run into each other in surprising, unforgettable ways.  The Bowmans are declining Texas gentry, heirs to an airline fortune, surrounded by a patriarch's stuffed trophies and lost dreams. They will each be haunted by the past as they strive to escape its force. The Fosters are diplomats' kids who might as well be orphans. Jill and Maizie grow up privileged amid poverty, powerless to change the lives of those around them and uncertain whether they have the power to change their own. The Guzmans have moved between Colombia and the United States for two generations, each seeking opportunity for the next, only to find that the American dream can be as crushing as it is elusive.
Book #2: The Flood Girls by Richard Fifield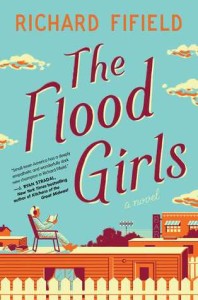 The Husband says: By the cover, it would seem to be about life in a trailer park in a small Midwest town that is prone to flooding and there's a whole bunch of girls who are friends in that trailer park and they call themselves The Flood Girls and they're all over at this one girl's house and it drives the father nuts so he sits on the roof of the trailer.
The Child says: Somebody who lives in a neighborhood and is a girl and it starts to flood next to a bar.
Goodreads says: Welcome to Quinn, Montana, population: 956. A town where nearly all of the volunteer firemen are named Jim, where The Dirty Shame—the only bar in town—refuses to serve mixed drinks (too much work), where the locals hate the newcomers (then again, they hate the locals, too), and where the town softball team has never even come close to having a winning season. Until now.
Rachel Flood has snuck back into town after leaving behind a trail of chaos nine years prior. She's here to make amends, but nobody wants to hear it, especially her mother, Laverna. But with the help of a local boy named Jake and a little soul-searching, she just might make things right.
Book #3: Sweetgirl by Travis Mulhauser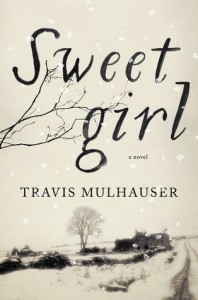 The Husband says: I think it's about a history or story about a girl who lived on this family farm and she was such a sweet girl but she leaves and she does some bad things and she comes back to the family farm that she inherits that has fell into disarray and her getting a fresh start as that "sweet girl" again.
The Child says: I agree about the family farm. I think it's about a girl who lives on a farm and one day she goes away without anyone knowing and it's about how and why she went away and people trying to find her.
Goodreads says: As a blizzard bears down, Percy James sets off to find her troubled mother, Carletta. For years, Percy has had to take care of herself and Mama—a woman who's been unraveling for as long as her daughter can remember. Fearing Carletta is strung out on meth and won't survive the storm, Percy heads for Shelton Potter's cabin, deep in the woods of northern Michigan.
But when Percy arrives, there is no sign of Carletta. Searching the house, she finds Shelton and his girlfriend drugged into oblivion—and a crying baby girl left alone in a freezing room upstairs. From the moment the baby wraps a tiny hand around her finger, Percy knows she must save her—a split-second decision that commences a dangerous odyssey in which she must battle the elements and evade Shelton and a small band of desperate criminals hell-bent on getting that baby back.
As the storm breaks and violence erupts, Percy will be forced to confront the haunting nature of her mother's affliction, and come to find her own fate tied more and more inextricably to that of the baby she is determined to save.
Book #4: Glass by Ellen Hopkins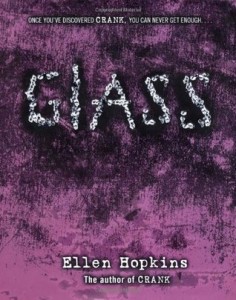 The Husband says: It's obviously a play on glass with the first question being about how completely will you shatter, I think it's poems and stories about tragedy and heartbreak and how strong are you to deal with them and do you just have a little splinter in yourself or do you completely fall apart into a million little pieces (Jana says: I'm so grateful for no terrible Unbreakable jokes).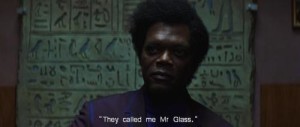 The Child says: I think it's about  this woman's daughter's addiction to that drug and different poems on how she survives and how her mother and father are taking it.
Goodreads says: Kristina thinks she can control it. Now with a baby to care for, she's determined to be the one deciding when and how much, the one calling the shots. But the monster is too strong, and before she knows it, Kristina is back in its grips. She needs the monster to keep going, to face the pressures of day-to-day life. She needs it to feel alive.
Once again the monster takes over Kristina's life and she will do anything for it, including giving up the one person who gives her the unconditional love she craves — her baby.
Book #5: Fallout by Ellen Hopkins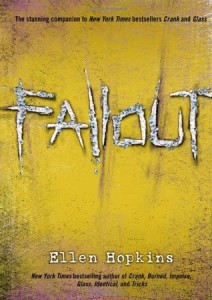 The Husband says: I think her life is burning down around her. Because the match is a symbol.
The Child says: I think now it's about how she still wanting to care for the baby but isn't but she finds herself devastated (Jana asked: Did you just read that from the cover? The Child: No) that she had to give up her baby because she cared more about meth than taking care of her child.
Goodreads says: Hunter, Autumn, and Summer–three of Kristina Snow's five children–live in different homes, with different guardians and different last names. They share only a predisposition for addiction and a host of troubled feelings toward the mother who barely knows them, a mother who has been riding with the monster, crank, for twenty years.
As each teen searches for real love and true family, they find themselves pulled toward the one person who links them together–Kristina, Bree, mother, addict. But it is in each other, and in themselves, that they find the trust, the courage, the hope to break the cycle.
Bonus Husband quote: I think that if a cactus could talk, it would sound like Rick James. I'M A CACTUS, BITCH!
Save