You might have seen or heard about a site, Judgey, that lets you judge a book by its cover. I did it an I got pretty damn judgy which is pretty damn accurate. It's a fun little time waster and I highly encourage you to take a few minutes and play it.
This post is not about that.
This post is about what happens when I show my husband a book cover and he decides the content. Not if the book is good or bad. Just the plot. It all started a few years ago when I read Wally Lamb's The Hour I First Believed which he calls "the flying kid book". It's sort of become a thing between us and now, we're sharing it with you.
This is how it works. I show him a book. He tells me what he thinks it's about. I'll add the Goodreads summary for you guys.
Hope you enjoy it.
Note: All of these books are currently on my nightstand and I'll be reviewing them in October for Show Us Your Books. 
Book #1: Dietland by Sarai Walker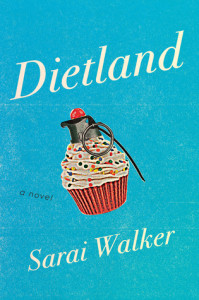 The husband says: Sweets will kill you.
Goodreads says: Plum Kettle does her best not to be noticed, because when you're fat, to be noticed is to be judged. Or mocked. Or worse. With her job answering fan mail for a popular teen girls' magazine, she is biding her time until her weight-loss surgery. Only then can her true life as a thin person finally begin.
Then, when a mysterious woman starts following her, Plum finds herself falling down a rabbit hole and into an underground community of women who live life on their own terms. There Plum agrees to a series of challenges that force her to deal with her past, her doubts, and the real costs of becoming "beautiful." At the same time, a dangerous guerrilla group called "Jennifer" begins to terrorize a world that mistreats women, and as Plum grapples with her personal struggles, she becomes entangled in a sinister plot. The consequences are explosive.
Book #2: Ally Hughes Has Sex Sometimes by Jules Moulin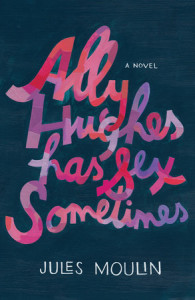 The husband says: She wrote the title in lipstick on a mirror. The book is exactly what the title is. It gives me nothing. You told me the plot.
Goodreads says: Life isn't easy for single mother Ally Hughes. Teaching at Brown, her class load is huge and her boss is a menace. At home, she contends with a critical mother, a falling-down house, and a daughter who never misses a beat. Between taking care of the people she loves, teaching full time, and making ends meet, Ally doesn't have time for a man. She doesn't date. She's not into flings. But then she meets Jake, an eager student, young in years but old in soul, who challenges his favorite professor to open up her life, and her heart, to love. It doesn't work. In fact, his urging backfires.
Ten years later, Ally's still single. Jake reappears and surprises her in a brand-new role: He's dating Ally's now-grown daughter. In this hilarious, heartrending tale, Ally is finally forced to concede (not only to herself) that an independent, "liberated" woman can still make room in her life for love.
Book #3: Modern Romance by Aziz Ansari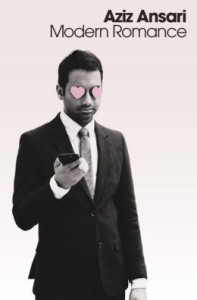 The husband says: People have romance on phones. Without electronics you can't find love.
Goodreads says (well, partly because the Goodreads summary is loooong): At some point, every one of us embarks on a journey to find love. We meet people, date, get into and out of relationships, all with the hope of finding someone with whom we share a deep connection. This seems standard now, but it's wildly different from what people did even just decades ago. Single people today have more romantic options than at any point in human history. With technology, our abilities to connect with and sort through these options are staggering. So why are so many people frustrated?…
But the transformation of our romantic lives can't be explained by technology alone. In a short period of time, the whole culture of finding love has changed dramatically. A few decades ago, people would find a decent person who lived in their neighborhood. Their families would meet and, after deciding neither party seemed like a murderer, they would get married and soon have a kid, all by the time they were twenty-four. Today, people marry later than ever and spend years of their lives on a quest to find the perfect person, a soul mate.
Book #4: You Too Can Have a Body Like Mine by Alexandra Kleeman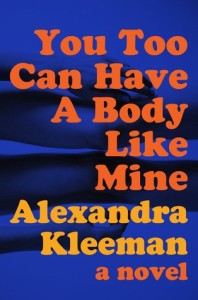 The husband says: It's about a 3AM infomercial about losing weight. Or it's about a mortuary. That'd be a lot funnier.
Goodreads says: A woman known only as A lives in an unnamed American city with her roommate, B, and boyfriend, C, who wants her to join him on a reality dating show called That's My Partner! A eats mostly popsicles and oranges, watches endless amounts of television, often just for the commercials— particularly the recurring cartoon escapades of Kandy Kat, the mascot for an entirely chemical dessert—and models herself on a standard of beauty that exists only in such advertising. She fixates on the fifteen minutes of fame a local celebrity named Michael has earned after buying up a Wally's Supermarket's entire, and increasingly ample, supply of veal.
Meanwhile, B is attempting to make herself a twin of A, who in turn hungers for something to give meaning to her life, something aside from C's pornography addiction. Maybe something like what's gotten into her neighbors across the street, the family who's begun "ghosting" themselves beneath white sheets and whose garage door features a strange scrawl of graffiti: he who sits next to me, may we eat as one.
Book #5: $2 a Day: Living on Almost Nothing in America by Kathryn Edin and H. Luke Shaefer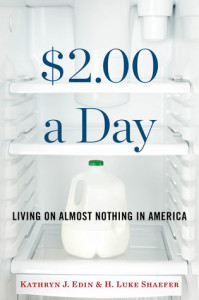 The husband says: Someone trying to eat on $2/day and all they can afford is milk. And they're clean.
Goodreads says (again, abbreviated because long summary): After two decades of brilliant research on American poverty, Kathryn Edin noticed something she hadn't seen since the mid-1990s — households surviving on virtually no income. Edin teamed with Luke Shaefer, an expert on calculating incomes of the poor, to discover that the number of American families living on $2.00 per person, per day, has skyrocketed to 1.5 million American households, including about 3 million children.
Save