Romance novels and movies have perpetuated this stereotype that at night, couple lay awake, talking to each other about their hopes, dreams, likes, and all the other saccharine sweet stuff that makes you feel like you'll never connect with someone on that deep of a level.
Let me clear something up.
It's all bullshit.
And that is why I bring you another installment of Shit My Husband Says: Pillow Talk edition.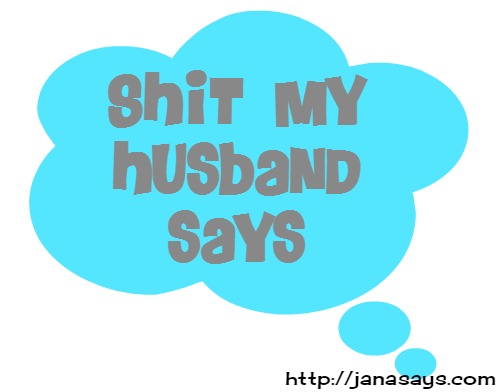 Sure, in the beginning, you might have deep conversations, but after being 18+ years into a relationship, this is what your late night chatter really sounds like:
Husband (sticking out his hand, for me to shake): I have a deal for you.

Me: I'm not shaking your hand. I don't know what you're going to say and I don't trust you.

Husband: I promise, it's nothing bad. I just…have a deal.

Me (with piqued curiosity because this is the man who came home with a truckload of free rocks one time): I'm not shaking your hand. But I do want to know what you're talking about.

Husband: It involves bread products.

Me: What?

Husband: Well, co-worker's husband has some free time on his hands when he's not working. He likes to just stop by places and check out what's happening. He talks to people. He's like me. A man about town.

Me: You're a man about town now? Do you need theme music?

Husband (blatantly ignoring me): Anyway. On one of his stops, he found out that there's a truck that delivers bread products and leaves them out for people to take for free. I can get us some.

Me: You know that's there for people who actually need it, right? And aren't you on a low carb diet? What do you need bread products for?

Husband: It's for you and Erica. So do you want me to procure them or not?

Me: Not. We're not taking food away from people who can really use it. And "procure"? Really?

Husband: But no one really knows about it. So it just sits there. I can get the bread products and then they won't go to waste.

Me: I can post about it. Get the word out.

Husband: Just don't mention where we live. We don't want competition for the bread products.

Me (befuddled that he clearly doesn't understand the concept of "getting the word out"): Stop saying "bread products". It's annoying. And we won't have competition. Because you don't need to ask him to pick some up for us.

Husband (ignoring everything I've said): Okay. But when I come home with bread products, don't think I stole them.
At that point, I said good night and rolled over and went to bed.
Because sometimes, I just can't with him.
Romance isn't dead in my marriage but it's definitely taken a long vacation.
And I'm willing to bet you're feeling a little better about your relationship right about now.
Save