Admittedly, I have a lot of pet peeves. Probably more than the average person. Which is fine because I've decided it doesn't make me high maintenance or bitchy; it makes me quirky.
I'm not ashamed of my pet peeves, either, because people really need to get it together and I'm all for helping them do so because seriously, tell me that none of these bother you:
Receiving an email that's riddled with spelling errors, punctuation abuse, and incorrect forms of words (ex., using "your" instead of "you're"). It's even worse when it's from a professional organization.
Using letters and numbers in place of words anywhere except text messages. And I can't really stand it in texts either (true story: I have a friend who proofreads her texts before she sends them to me).
People who move unnecessarily slowly, especially in the supermarket or when walking on the sidewalk.
People singing incorrect lyrics to songs, especially songs that I like. Misquoting movies and TV show is included in this.
Open shower curtains. When I'm rich, I'm replacing all the curtains with shower doors.
Not texting me back but posting all over social media.
In what probably makes me seem all Sleeping With the Enemy-ish, I can't handle it when the labels on cans in my pantry face different directions.
Wire hangers. No.
The sides of the comforter on my bed being uneven.
Celebrity nicknames, specifically the combining of two names into something ridiculous.
The term "shipping" as it refers to wanting two characters on a TV show to get together. WHY DOES THIS EVEN EXIST?
When people use big words and they clearly don't know what the word means.
When people mispronounce common words (it's "moot", not "mute") or incorrectly use a word (hey, irony, I'm looking at you).
Employees of an establishment smoking directly in front of the entrance so that you have to walk through their cloud of smoke.
Rude smokers in general.
People who are not 80s children claiming they miss the 80s.
Putting a pitcher with 4 drops left back in the fridge.
When drivers have 8786 miles and 128943 signs warning that the lanes will merge but still wait until they have 5 feet left until the lane ends to get over.

I'm going to stop here. The list could be way, way longer but: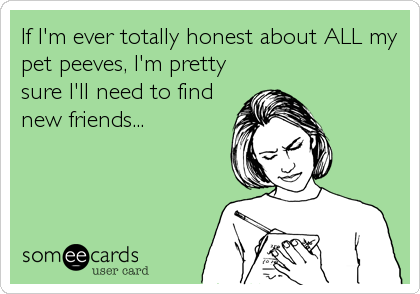 How about you guys? What are some of your pet peeves? And if you're interested, you can read some of my other ones, ones that are a little more substantial, in this post.

Linking up for #Blogtober14