Let's talk regret. I'm not talking the "I should not have watched that 10th consecutive episode of Sons of Anarchy last night" or "potato chips and Diet Coke for lunch was a bad idea" or "I regret wearing this dress on a boat because this shit is inappropriate" types of regret. (For the record, I've done all of these). I'm talking the serious type of regret.
The life altering types of regret.
The not taking the job type of regret.
The staying home rather than go on that once in a lifetime trip type of regret.
The staying in a relationship that doesn't make you happy for longer than you should type of regret.
The not taking a chance on something, anything, because you were scared type of regret.
It also works in reverse. You know those "I can't believe I did that" type stuff.
Regret is a real, powerful emotion. It makes you think and do weird stuff. It can ruin your day, your week, your year.
I gave up on regret at some point in my 20s. I'd love to tell you that there was this big eye opening moment but there wasn't. It was simply some self-reflection that made me realize regret, for me, was a fucking waste of time. I can't change the decision I made, and I made the decision I did because clearly at the time, it was right for me. Would others have done the same? Probably not. But they're not me. They don't have to live with my choices.
I do.
And I think that's the crux of my no regrets philosophy. If I'm comfortable with the choice I made, I'm not bothered or saddened or guilty or shamed by it. I don't feel the need to erase anything or wish I'd done this or that different. I don't regret relationships or jobs or making that purchase or taking that 3 hour nap because every single choice has led me to where I am now. Everything has taught me a lesson. What I like, who I like, what I want. Regretting any of those parts of my life means denying something's impact.
Have I done stupid things that maybe I shouldn't have? Yes. Absolutely, 100% YES. But do I regret them? No. Absolutely not. And believe me, I'm grateful nothing terrible happened as a result of those god-awful choices. Because some of them could have gone incredibly awry.
Also, in dealing with depression and anxiety, having regret is simply stoking the fire. It opens up avenues to dwell and beat myself up and that's a gateway to an episode. I don't need anything else making it worse. Especially not something I can control.
Let's be clear: regret is multifaceted. The regret I'm talking here is based on choices or perceived loss of opportunity, not on time (think time spent with grandparents or kids). And you should never, ever do anything you're not comfortable with because you think you might regret if you don't. That's just ridiculous. And pop psychology will lead you to believe that you should do those things simply because you don't want a lifetime of regrets. That's a steaming pile of shit.
You're an adult. You do what you want.
And live without regret for doing so.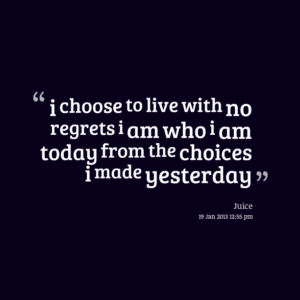 Save