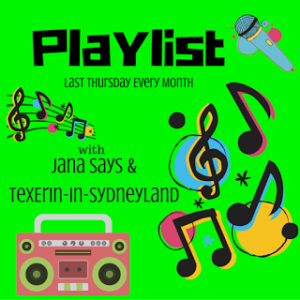 For reasons that are too boring to discuss, we (Jana and Erin) skipped our playlist in December. But we're back now, finishing our trip through decades of our favorite music. We've already covered the 50s, 60s, and 70s and that brings us to…THE 80s!!! Everyone's favorite! And since the 80s is massive, we've decided to split it in three: one for the men, one for the women, one for the groups. There might even be a hairbands one in there but we're not sure yet.
Anyway, like most people, we love the music of the '80s. I (Jana) spent my childhood in the 80s (I turned 13 in 1990) and Erin entered her teen years during this decade. Beyond that, the 1980s had Reagan, Thatcher, and Gorbachev. Charles and Diana got married. The Berlin Wall came down and AIDS was on the rise. The 80s also had Saturday morning cartoons, neon (so much neon), THE MOTHERFUCKING FRAGGLES, big hair, and the Brat Pack.  It also saw the birth of MTV (you know, back when it played music) which helped launch or sustain the career of so many artists including these guys:
Rick Springfield, "Jessie's Girl". Quite possibly one of the best songs ever written. Okay, in my (Erin's) opinion, at least. Jana says: "Love Somebody" is a better song and also, Rick Springfield is my favorite Australian.
Billy Idol, "Rebel Yell". Yes, the obvious choice because it's just so, so good. Jana says: I have yet to hear a Billy Idol song and NOT had it stuck in my head for days afterwards.
David Lee Roth, "Just Like Paradise" because when he broke from Van Halen, I (Erin) refused to pick sides. Jana says: I didn't give a shit when that happened but this is a great song.
Bobby Brown, "My Prerogative". This was before drugs, alcohol, and arrests. He was awesome. Jana says: Sadly, who could've predicted he'd be the last one from that family still standing.
LL Cool J, "I'm Bad". This lady (Erin) certainly does love cool James. "I'm Bad" is probably the first rap song I (Erin) knew word for word. Jana says: When I was pregnant with The Child, we called her LL (for little Lynch). We're so clever. Also, did you notice LL never dies in any movie he's in? WHY IS THAT?
Elton John, "I'm Still Standing". A new personal anthem for me (Jana). Also a fun song. And there's a great cover of it in the movie Sing.
Eric Carmen, "Make Me Lose Control". There are no words to accurately convey how I feel about this song. I simply love it.
John Mellencamp, "Authority Song". The struggle was real picking a JM song. Too many good options to choose from but I (Jana) settled on this one since I crank it to 11 when I listen to it. Erin opted for R.O.C.K in the U.S.A. which, incidentally, was my second choice.
Steve Winwood, "Back in the High Life". Another one I (Jana) find beautiful and absolutely love.
Phil Collins, "Don't Lose My Number". Confession: I (Jana) LOVE PHIL COLLINS. Almost as much as I love Billy Joel. Actually considered flying to Ireland to see him in concert in June #notajoke
We could probably list all the reason we love all the men and songs on this list (full playlist below) but instead, we'll just do our In Memoriam and get to the music.
All of these men redefined how we think of a man, all of these men (well, three of four) empowered women, and all of them were influential, phenomenal musicians whose impact will be felt for decades to come. That, and their music is just fucking timeless. There's no editorial on these as the music speaks for itself.
RIP.
George Michael, "Father Figure".
David Bowie, "Modern Love"
Michael Jackson, "Man in the Mirror"
Prince, "Let's Go Crazy". I could not find a decent video or a link to accompany this song which is a fucking shame. This song is incredible and showcases everything Prince was capable of.
And here's the whole playlist:
What are some of your favorite 80s songs performed by men?
Save